Tufpac 458mm x 328mm Capacity A3 Cardboard Envelope (Box of 75)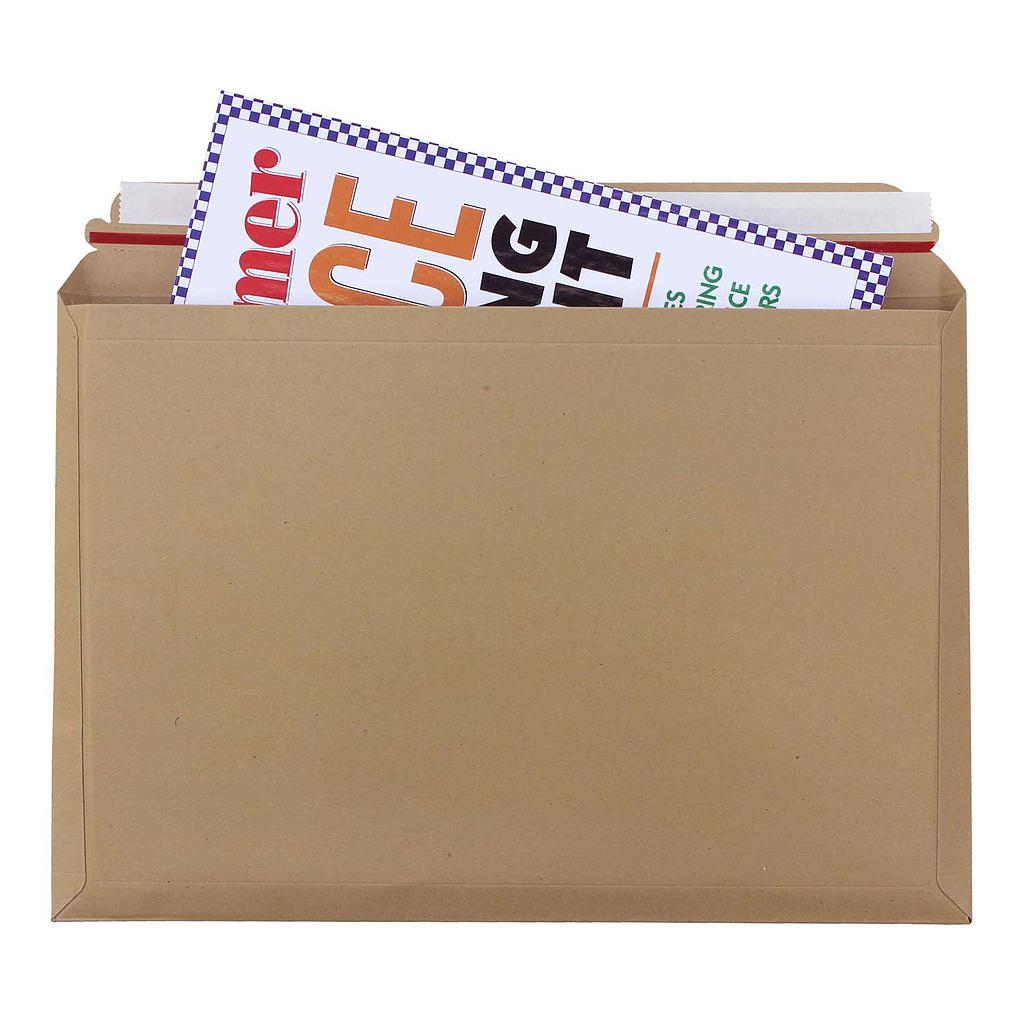 Tufpac 458mm x 328mm Capacity A3 Cardboard Envelope (Box of 75)
A3 sized solid board cardboard mailer envelope for mailing large books, A3 sized documents and posters. 400gsm all board courier envelopes like these are great for helping to keep large flat items safe and crease free.
Product Type

:

Cardboard Mailer
A3 Cardboard Envelope
A good quality A3 cardboard envelope manufactured from rigid solid wall cardboard. These A3 sized mailers can be used for sending a range of A3 sized items such as calendars, prints, photo frames, and many other A3 items. The strong cardboard helps to keep the contents flat and free from creasing.
These mailers feature a quick and easy self seal closure strip as well as a frustration free tear open strip, perfect for packing online orders and keeping your customers happy. The cardboard is also biodegradable, recyclable, and is even made from over 75% recycled paper content.
When it comes to safeguarding and presenting important documents, A3 cardboard envelopes are a trusted choice that combines practicality with a professional touch. These envelopes are specifically designed to accommodate A3-sized papers, offering a secure and sleek solution for mailing, storage, or organizing.
Crafted from durable and eco-friendly cardboard material, these envelopes ensure that your documents remain unscathed during transit. The sturdy construction prevents bending, creasing, or tearing, providing a reliable shield against the hazards of the journey. Whether you're sending delicate artwork, legal contracts, architectural plans, or marketing materials, A3 cardboard envelopes offer the assurance that your contents will arrive in pristine condition.
Beyond their protective prowess, A3 cardboard envelopes exude a polished and presentable appearance. The smooth, clean surface of the envelopes allows for easy labeling, stamping, or customization, ensuring that your brand or identity is elegantly showcased. This makes them an ideal choice for businesses looking to make a lasting impression while maintaining the integrity of their enclosed materials.
The user-friendly design of these envelopes includes a secure adhesive seal, simplifying the packaging process. Whether you're a small business owner, a creative professional, or an individual sending personal documents, A3 cardboard envelopes offer convenience without compromising on quality.
In conclusion, A3 cardboard envelopes seamlessly merge functionality and aesthetics, making them an indispensable tool for preserving, transporting, and presenting your important documents. With their robust protection and versatile application, these envelopes demonstrate that even in today's digital age, tangible materials deserve the utmost care and consideration. Choose A3 cardboard envelopes – a reliable choice for both safeguarding and elevating your valuable contents.
A3 Cardboard Envelope Features
- Rigid and durable 400gsm solid wall cardboard.
- Large 50mm capacity with internal capacity creases.
- 100% recyclable, biodegradable, and contains up to 50% recycled material.
- Fast peel & seal closure.
- Frustration free easy-tear opening.
- Can be used for sending items up to A3 in size.
Bulk Buy Pricing on A3 Cardboard Envelopes
Our A3 cardboard envelopes are available to buy in bulk pallet quantities for those looking for wholesale rates. We are a very competitive source for large quantities.
A3 Cardboard Envelope Specification
Product Code: TPSBE40
Internal Dimensions:
Length: 458mm*
Width: 328mm*
Depth: up to 40mm
*Length and width will decrease as depth increases
Material: Solid Board 400gsm
Weight of Mailer: 156g (0.156 kg)
Finish: Brown
Quantity per Pack: 75
Quantity per Pallet: 3000 (40 packs)
Royal Mail Postal Size: PiP Small Parcel
Easy Open Tear Strip: Yes
Self Seal Strip: Yes
Eco Packaging Score: 4/5
 - Recyclable: Yes
 - Biodegradable: Yes
 - Sustainable Materials: Yes
 - Plastic Free: Yes
 - Carbon Neutral: No