Tufpac 249mm x 352mm Large Letter Cardboard Envelopes (Box of 100)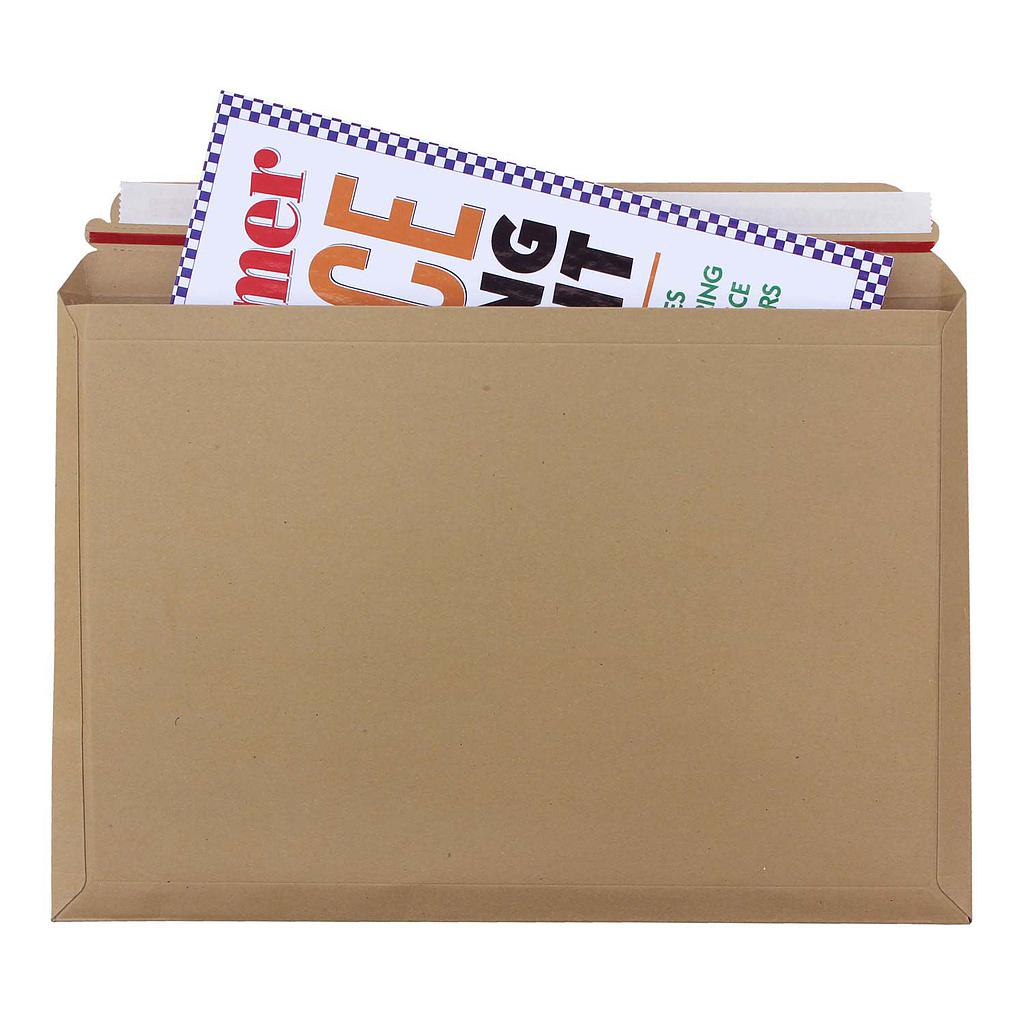 Tufpac 249mm x 352mm Large Letter Cardboard Envelopes (Box of 100)
A Maximum large letter envelope made from strong and stiff solid cardboard that can be used to send books and a range of online orders via Royal Mail as a Large Letter.
Product Type

:

Cardboard Mailer
Large Letter Cardboard Envelopes
A large letter size capacity cardboard mailer in an envelope style that can be used to pack and send online orders via Royal Mail. These sturdy cardboard envelopes are the correct size to send as a large letter, helping you to save on postage costs. The durable cardboard gives good corner protection and great puncture resistance. Envelope style mailers are super fast to pack. We believe in ultra fast packing for eCommerce stores. That's why we've written a blog post on why fast packaging is so important for packing online orders. It's all about volume. The more orders you can pack and send out the more money your eCommerce operation will make. Pack your e-commerce orders at high speed with our stock range of capacity ecommerce packaging mailers.
Large letter cardboard mailers have a high recycled material content for eco-friendly packing, and the envelope style makes these one of the most protective and cost effective mailers in our range. They are significantly more protective than bubble lined mailing bags, so if you are currently using jiffy bags our cardboard mailers are sure to help you pack better. A handy peel & seal closure strip and a tear open strip makes these pip envelopes very convenient. Like most of our ecommerce packaging range they are designed to be frustration free for your customer to receive and unpack.
Large Letter Cardboard Envelope Features:
Maximum large letter PiP size

Rigid solid cardboard construction

High puncture resistance

Envelope style for fast packing

Peel & seal closure

Frustration free tear open strip
Other Sizes in the Cardboard Mailer Range:
180mm x 235mm x 0-50mm

194mm x 292mm x 0-50mm

234mm x 334mm x 0-50mm

278mm x 400mm x 0-50mm

467mm x 321mm x 0-50mm

What You Need to Know about Large Letter Cardboard Envelopes
Large letter cardboard envelopes are a versatile and practical packaging solution designed to accommodate and protect various types of flat or slightly bulky items during shipping or storage. These envelopes are typically made from durable and rigid corrugated cardboard material, which offers excellent resistance to bending, folding, and impacts, ensuring the safety of the contents within.
One of the key advantages of large letter cardboard envelopes is their ability to qualify for lower postal rates due to their specific size and weight criteria. This makes them an economical choice for sending documents, books, photographs, artwork, and other flat objects through postal and courier services. Their slim and sleek profile not only minimizes shipping costs but also allows for easier handling and stacking, optimizing storage and transportation efficiency.
Large letter cardboard envelopes often feature a secure closure mechanism, such as a peel-and-seal strip or a sturdy adhesive flap, ensuring that the envelope remains tightly sealed during transit. Some variants may even incorporate tear strips or perforations for easy opening by the recipient.
Businesses and individuals alike appreciate the professional appearance that large letter cardboard envelopes offer. They provide a clean and organized presentation for important documents or promotional materials, enhancing the overall impression on the recipient. Additionally, these envelopes can be customized with branding, logos, or labeling to reinforce the sender's identity or convey specific handling instructions.
When selecting large letter cardboard envelopes, it's essential to consider the dimensions, weight restrictions, and postal regulations of the destination country or shipping service. Adhering to these guidelines helps ensure a seamless shipping process and prevents potential delays or surcharges.
In conclusion, large letter cardboard envelopes combine practicality, cost-effectiveness, and visual appeal, making them a preferred choice for sending flat or slightly bulky items through postal services. Their sturdy construction and efficient design help protect contents while minimizing shipping expenses, making them an indispensable tool for businesses and individuals engaged in mailing and shipping activities.
Large Letter Cardboard Envelope Specifications

Product Code: TPSBE23

Internal Dimensions:
Length: 249mm*
Width: 352mm*
Depth: up to 40mm
*Length and width will decrease as depth increases

Material: Solid Board 400gsm
Weight of Mailer: 91g (0.091 kg)
Finish: Brown Recycled


Features:
- Rigid and durable 400gsm solid wall cardboard.
- Recyclable, biodegradable, and contains recycled material.
- Fast peel & seal closure.
- Frustration free easy-tear opening.
- Easily send as Royal Mail large letter size.

Quantity per Pack: 100
Quantity per Pallet: 6'000 (60 packs)

Royal Mail Postal Size: PiP Large Letter
Easy Open Tear Strip: Yes
Self Seal Strip: Yes

Eco Packaging Score: 4/5
 - Recyclable: Yes
 - Biodegradable: Yes
 - Sustainable Materials: Yes
 - Plastic Free: Yes
 - Carbon Neutral: No