Tufpac 249mm x 352mm Large Letter Cardboard Envelopes (Box of 100)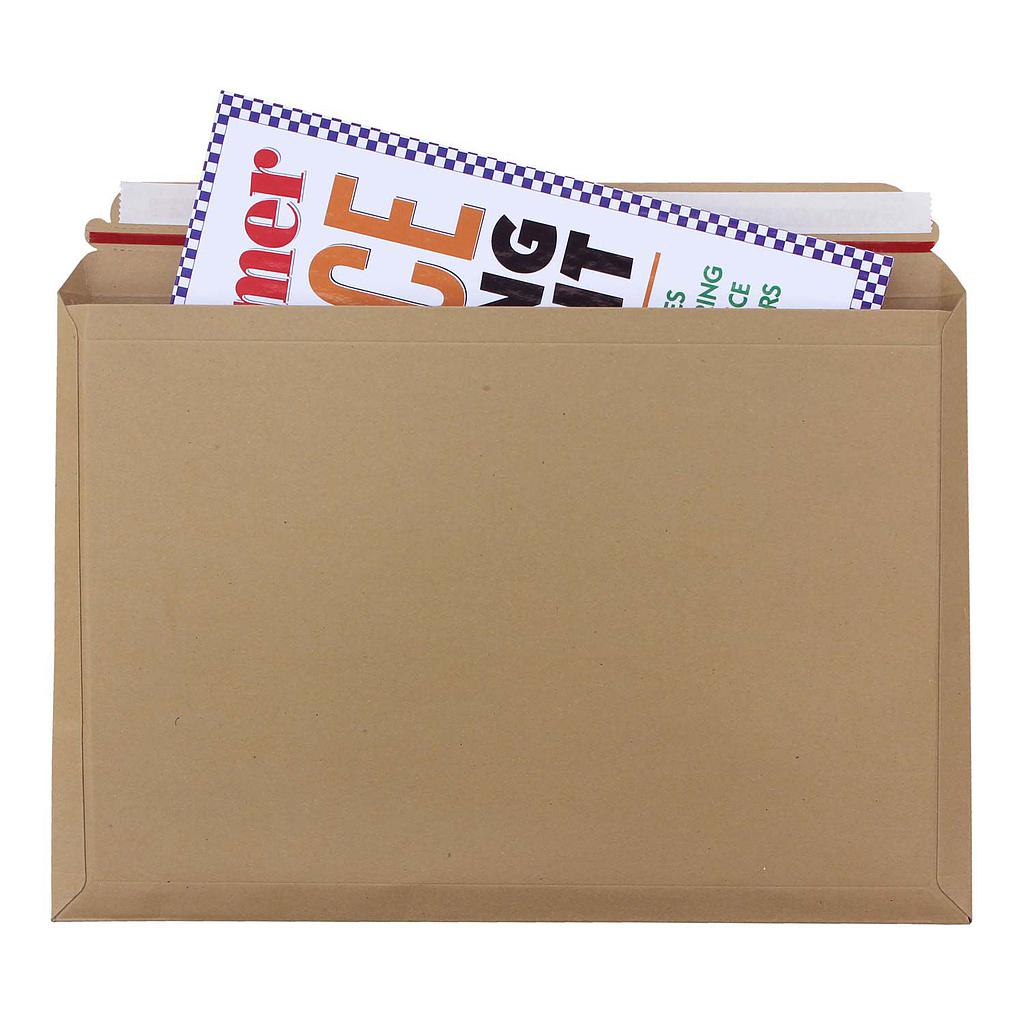 Tufpac 249mm x 352mm Large Letter Cardboard Envelopes (Box of 100)
A Maximum large letter envelope made from strong and stiff solid cardboard that can be used to send books and a range of online orders via Royal Mail as a Large Letter.
Product Type

:

Cardboard Mailer
Large Letter Cardboard Envelopes
A large letter size capacity cardboard mailer in an envelope style that can be used to pack and send online orders via Royal Mail. These sturdy cardboard envelopes are the correct size to send as a large letter, helping you to save on postage costs. The durable cardboard gives good corner protection and great puncture resistance. Envelope style mailers are super fast to pack. We believe in ultra fast packing for eCommerce stores. That's why we've written a blog post on why fast packaging is so important for packing online orders. It's all about volume. The more orders you can pack and send out the more money your eCommerce operation will make. Pack your e-commerce orders at high speed with our stock range of capacity ecommerce packaging mailers.
Large letter cardboard mailers have a high recycled material content for eco-friendly packing, and the envelope style makes these one of the most protective and cost effective mailers in our range. They are significantly more protective than bubble lined mailing bags, so if you are currently using jiffy bags our cardboard mailers are sure to help you pack better. A handy peel & seal closure strip and a tear open strip makes these pip envelopes very convenient. Like most of our ecommerce packaging range they are designed to be frustration free for your customer to receive and unpack.
Large Letter Cardboard Envelope Features:
Maximum large letter PiP size

Rigid solid cardboard construction

High puncture resistance

Envelope style for fast packing

Peel & seal closure

Frustration free tear open strip
Other Sizes in the Cardboard Mailer Range:
180mm x 235mm x 0-50mm

194mm x 292mm x 0-50mm

234mm x 334mm x 0-50mm

278mm x 400mm x 0-50mm

467mm x 321mm x 0-50mm

Large Letter Cardboard Envelope Specifications

Product Code: TPSBE23

Internal Dimensions:
Length: 249mm*
Width: 352mm*
Depth: up to 40mm
*Length and width will decrease as depth increases

Material: Solid Board 400gsm
Weight of Mailer: 91g (0.091 kg)
Finish: Brown Recycled


Features:
- Rigid and durable 400gsm solid wall cardboard.
- Recyclable, biodegradable, and contains recycled material.
- Fast peel & seal closure.
- Frustration free easy-tear opening.
- Easily send as Royal Mail large letter size.

Quantity per Pack: 100
Quantity per Pallet: 6'000 (60 packs)

Royal Mail Postal Size: PiP Large Letter
Easy Open Tear Strip: Yes
Self Seal Strip: Yes

Eco Packaging Score: 4/5
 - Recyclable: Yes
 - Biodegradable: Yes
 - Sustainable Materials: Yes
 - Plastic Free: Yes
 - Carbon Neutral: No