Tufpac 234mm x 334mm Capacity A4 Cardboard Envelope (Box of 100)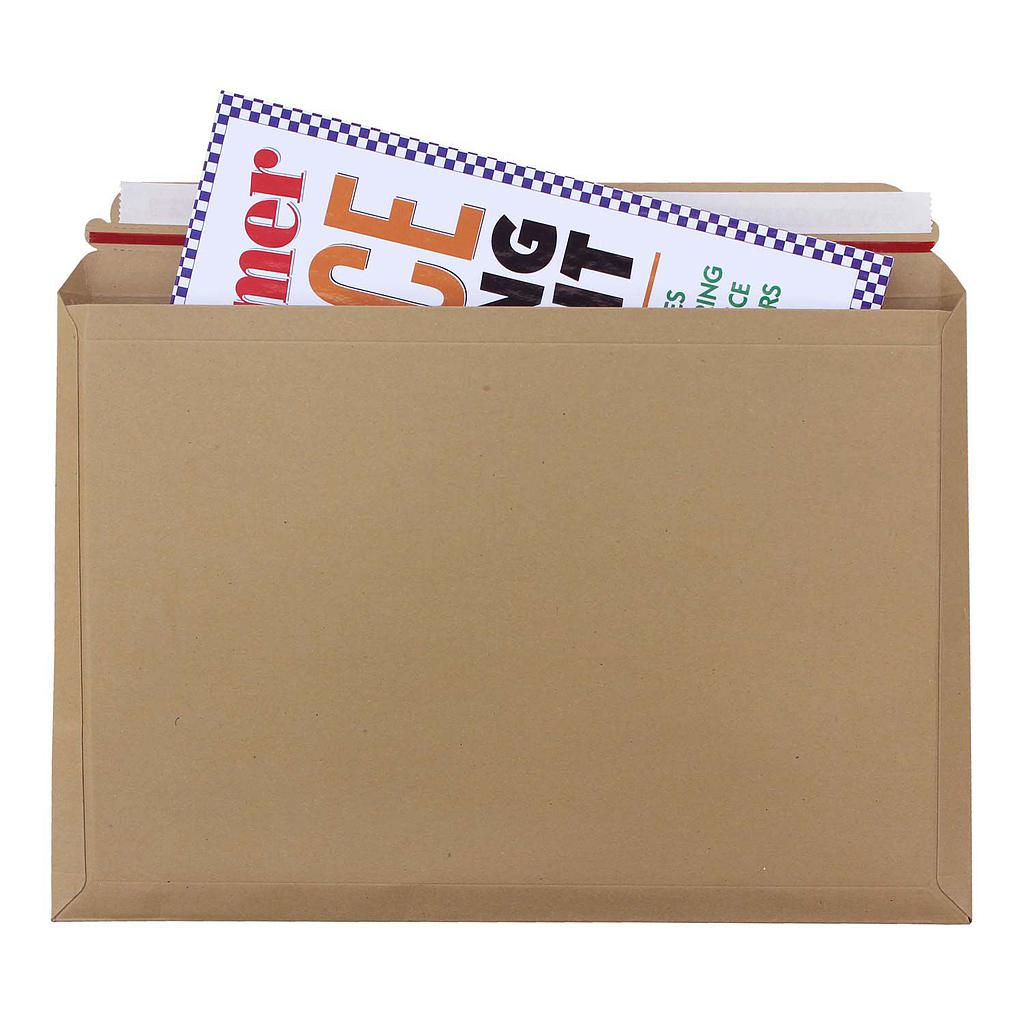 Tufpac 234mm x 334mm Capacity A4 Cardboard Envelope (Box of 100)
A strong and stiff solid board cardboard mailer envelope that can be used to send A4 books and a range of online orders. Capacity envelopes like these are fast and easy for posting products through the post or courier system.
Product Type

:

Cardboard Mailer
A4 Cardboard Envelope Mailer
An A4 cardboard envelope mailer that is a perfect choice for cost effective shipping of books, posters, documents, and many other similar items. The sturdy solid wall cardboard gives a surprising amount of protection, particularly better corner protection and crease resistance. These A4 cardboard mailers have been tested to protect better than a bubble lined mailer, helping you to cut damages and returns rates. The all cardboard construction makes them recyclable in most kerbside recycling schemes, and doesn't contain any plastic that has to be separated before recycling.
The self seal glue strip makes these one of the fastest methods of packing small online orders. The preglued envelope style means that it takes just a few seconds to open the mailer and insert the item, before using the handy peel & seal strip to seal the envelope closed. It doesn't stop there either, with a frustration free tear opening strip your customer can easily tear the envelope open when they receive the parcel. The A4 cardboard envelope is a great mailer, an all round winner.
These envelope mailers are meticulously designed to provide a secure and professional packaging option for A4-sized materials, ensuring both protection and presentation. Crafted from durable and eco-friendly cardboard material, A4 envelope mailers offer robust defense against the rigors of transit. Your documents remain safeguarded from bending, folding, or creasing, arriving at their destination in impeccable condition. Whether you're sending legal contracts, reports, photographs, or marketing materials, these mailers provide a dependable shield against potential damage.
The versatility of A4 cardboard envelope mailers extends to their user-friendly design. With a convenient peel-and-seal adhesive strip, packing becomes hassle-free – simply seal and send. The clean surface of the envelope mailers is ideal for labeling, printing, or customization, allowing you to effortlessly add your brand identity or shipping information.
Ideal for businesses of all sizes, creative professionals, and individuals alike, A4 cardboard envelope mailers are a practical and efficient solution for both domestic and international mailing. Enhance the professionalism of your correspondence while ensuring the safety of your valuable contents.
In a digital age where tangible documents retain their significance, A4 cardboard envelope mailers bridge the gap between tradition and modernity. Elevate your mailing experience with these envelope mailers – a testament to reliability, functionality, and visual appeal. Choose A4 cardboard envelope mailers and make a lasting impression while ensuring the integrity of your mailed materials.
A4 Cardboard Envelope Mailer Features:
- Made in a strong 400gsm solid wall cardboard.
- Manufactured from recycled material and is 100% recyclable, and biodegradable.
- Super fast peel & seal closure.
- Frustration free easy-tear opening.

- Easily send as Royal Mail large letter size.


Bulk Buy Pricing on A4 Cardboard Envelopes
Our A4 cardboard envelopes are available to buy in bulk pallet quantities for those looking for wholesale rates. We are a very competitive source for large quantities.
A4 Cardboard Envelope Specifications
Product Code: TPSBE20
Internal Dimensions:
Length: 234mm*
Width: 334mm*
Depth: up to 40mm
*Length and width will decrease as depth increases
Material: Solid Board 400gsm
Weight of Mailer: 82g (0.082 kg)
Finish: Brown
Quantity per Pack: 100
Quantity per Pallet: 5'400 (54 packs)
Royal Mail Postal Size: PiP Large Letter
Paper Format Size: A4 (229mm x 324mm)
Easy Open Tear Strip: Yes
Self Seal Strip: Yes
Eco Packaging Score: 4/5
 - Recyclable: Yes
 - Biodegradable: Yes
 - Sustainable Materials: Yes
 - Plastic Free: Yes
 - Carbon Neutral: No