Tufpac 194mm x 292mm Capacity Cardboard Envelope (Box of 100)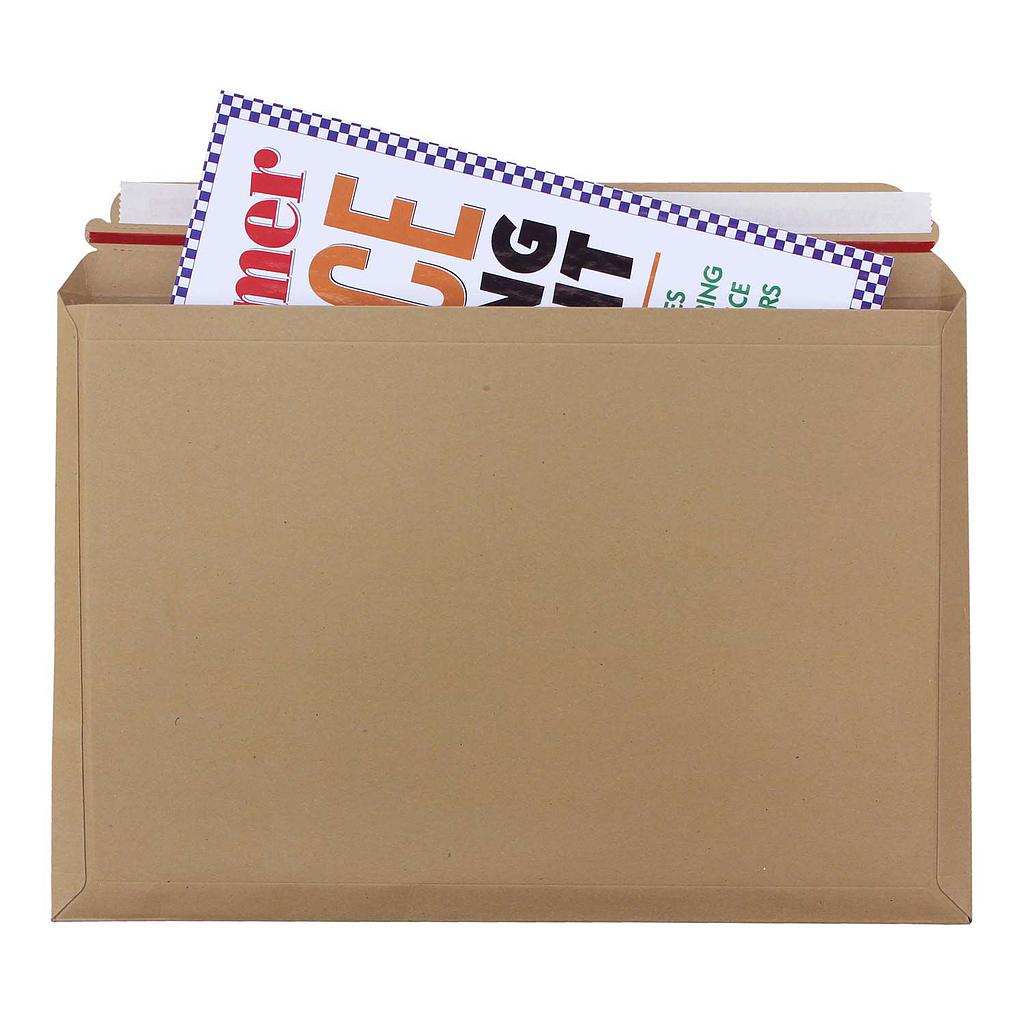 Tufpac 194mm x 292mm Capacity Cardboard Envelope (Box of 100)
The perfect small cardboard mailer envelope for sending online orders. The mailer wallet style of these envelopes help you to quickly and easily pack any small or flat item with ease, and the strong 400gsm all board back and front offers exceptional rigidity.
Product Type

:

Cardboard Mailer
Small Cardboard Envelopes
These small cardboard envelopes in a popular 194 x 292mm size are great for packing small online orders, cosmetics, small gifts, media items, and many more similar products. They are made from a sturdy 400gsm cardboard that makes a surprisingly rigid mailer with great corner protection. These little mailers make a good alternative to bubble lined mailers; they are only made from cardboard making them recyclable and compostable, and they offer much better corner protection than bubble mailers. Damaged corners are one of the most common damages in the postal service, so choosing a mailer that offers a high level of corner protection can help you reduce damages and improve customer experience.
Small cardboard envelopes are tailored to accommodate petite items without compromising on protection. Whether it's delicate jewelry, important notes, photographs, or small keepsakes, these envelopes provide a safe haven during transit. Constructed from sturdy cardboard, they shield your contents from potential damage, ensuring that they reach their destination in pristine condition.
The simplicity of their design amplifies their practicality. Small cardboard envelopes often feature a peel-and-seal adhesive closure, streamlining the packaging process. Just seal and send – it's that effortless. The clean surface of the envelopes also allows for easy labeling, customization, or branding, ensuring a professional and personalized touch to your mailings.
Ideal for boutique retailers, artists, crafters, and anyone seeking to make a lasting impression with their small parcels, these envelopes exude a touch of elegance while maintaining the utmost functionality. Their compact size makes them an eco-friendly choice, minimizing excess packaging and reducing your carbon footprint.
Small cardboard envelopes bridge the gap between compact yet crucial contents and the need for reliable, presentable packaging. In a world where attention to detail speaks volumes, these envelopes rise to the occasion, embodying the perfect balance of protection, aesthetics, and practicality. Elevate your small-scale mailings with small cardboard envelopes – a miniature marvel that ensures your items arrive securely and stylishly.
Small Cardboard Envelope Key Features:
- Manufactured from premium 400gsm solid wall cardboard.
- Fully recyclable, biodegradable, and contains recycled material.
- Quick and easy peel & seal closure.
- Frustration free easy-tear opening.
- Can be used to send online orders via Royal Mail large letter size.
Cardboard Envelope Size Range:
180mm x 235mm x 0-50mm
194mm x 292mm x 0-50mm
234mm x 334mm x 0-50mm
249mm x 342mm x 0-40mm
278mm x 400mm x 0-50mm
467mm x 321mm x 0-50mm
Bulk Buy Pricing on Small Cardboard Envelopes
Our small cardboard envelopes are available to buy in bulk pallet quantities for those looking for wholesale rates. We are a very competitive source for large quantities.
Small Cardboard Envelope Specifications
Product Code: TPSBE10
Internal Dimensions:
Length: 194mm*
Width: 292mm*
Depth: up to 40mm
*Length and width will decrease as depth increases
Material: Solid Board 400gsm
Weight of Mailer: 55g (0.055 kg)
Finish: Brown
Quantity per Pack: 100
Quantity per Pallet: 6000 (60 boxes)
Royal Mail Postal Size: PiP Large Letter
Easy Open Tear Strip: Yes
Self Seal Strip: Yes
Eco Packaging Score: 4/5
 - Recyclable: Yes
 - Biodegradable: Yes
 - Sustainable Materials: Yes
 - Plastic Free: Yes
 - Carbon Neutral: No
People who purchased this item found it by searching for: TPSBE10, Mail Jacket Size 194, Amazon Style Mailers Size 194, 292mm Card Mailers, MailJacket Size 194, 194 x 292mm, MJ194, Capacity Book Mailers, A194 Cardboard Envelopes, Lil A194