Tufpac 278mm x 400mm Capacity Cardboard Envelope (Box of 100)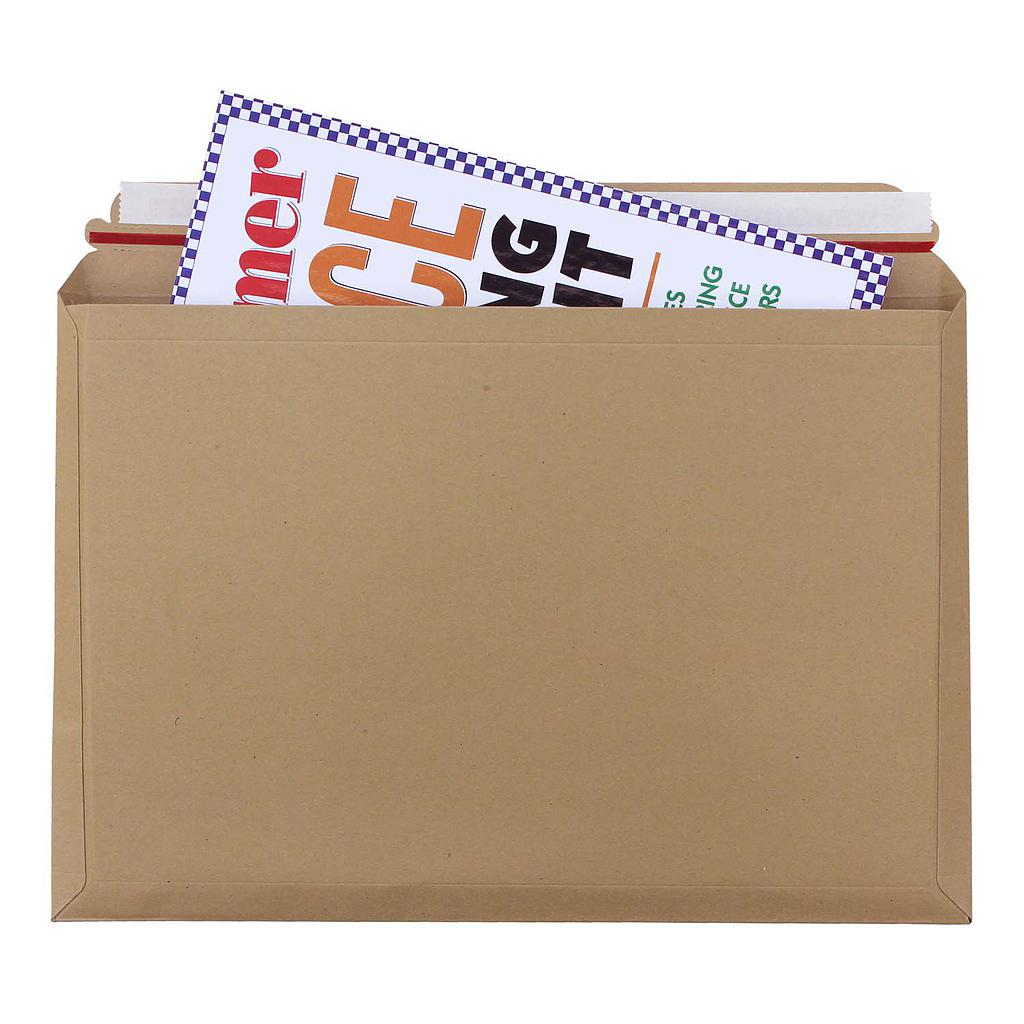 Tufpac 278mm x 400mm Capacity Cardboard Envelope (Box of 100)
Recyclable oversize solid board cardboard envelope mailer for sending small online orders and larger books. These biodegradable & compostable book envelopes are made from stiff cardboard with a very high recycled fibre content, a great eco-conscious choice.
Product Type

:

Cardboard Mailer
278mm x 400mm Capacity Book Mailer Envelope
A 278mm x 400mm size capacity book mailer envelope for packing larger size books, prints, and other similar items. Our capacity envelopes are manufactured from 400gsm solid wall cardboard for a premium grade mailer that is just 2mm thick. This thin but strong mailer allows you to save on postage costs and protect your products better. Solid board capacity mailers are a great alternative to bubble lined mailers, they offer greater rigidity, higher corner impact protection, and are fully recyclable and compostable. 
Designed to revolutionize the way you send and receive books, documents, and other valuable items, the 278mm x 400mm Capacity Book Mailer Envelope combines generous dimensions with unparalleled durability. This envelope is a game-changer for book lovers, businesses, and individuals seeking a secure and efficient mailing solution.
Crafted with meticulous attention to detail, the envelope's dimensions of 278mm x 400mm provide ample space to accommodate books and documents of various sizes. No more struggling with ill-fitting packaging – this mailer is tailored to meet your needs, ensuring a snug and secure fit for your items.
The envelope's ingenious construction showcases its commitment to protection. Crafted from high-quality materials, it guards your contents against the perils of the postal journey. Say goodbye to bent corners, creased pages, or damaged covers. The book mailer envelope is a fortress of defense, preserving your materials in pristine condition.
Practicality meets innovation with its user-friendly design. The envelope features a peel-and-seal adhesive strip, making packing a breeze. Effortlessly secure your items, and enjoy the peace of mind that comes with knowing they're well-protected.
Perfect for online retailers, authors, publishers, and individuals alike, the 278mm x 400mm Capacity Book Mailer Envelope redefines the art of mailing. Elevate the way you send and receive books and documents – order now and experience a new level of convenience, security, and professionalism. Your valuable items deserve nothing less than the best, and this mailer envelope delivers on every front.
Capacity Book Mailer Envelope Key Features
 - Rigid and durable 400gsm solid wall cardboard.
 - Capacity creases give a capacity up to 50mm thick.
 - An eco-friendly mailer made from recycled material - fully recyclable, and biodegradable.
 - Quick and easy peel & seal closure for super fast packing.
 - Frustration free easy-tear opening for happy customers.
Bulk Buy Pricing on 287 x 400mm Capacity Envelopes
287 x 400mm capacity envelopes are available to buy in bulk pallet quantities for those looking for wholesale rates. We supply many of these throughout the UK so are a very competitive source for large quantities.
278 x 400mm Capacity Envelope Specifications
Product Code: TPSBE30
Internal Dimensions:
Length: 400mm*
Width: 278mm*
Depth: up to 40mm
*Length and width will decrease as depth increases
Material: Solid Board 400gsm
Weight of Mailer: 103g (0.103 kg)
Finish: Brown
Quantity per Pack: 100
Quantity per Pallet: 4'500 (45 packs)
Royal Mail Postal Size: Small Parcel
Easy Open Tear Strip: Yes
Self Seal Strip: Yes
Eco Packaging Score: 3/5
 - Recyclable: Yes
 - Biodegradable: Yes
 - Sustainable Materials: Yes
 - Plastic Free: No
 - Carbon Neutral: No
People who purchased this item found it by searching for: TPSBE30, large book mailers, Solid Board Envelopes, Mail Jacket Size 3, Amazon Style Mailers Size 3, Print Mailers, MailJacket Size 3, 278 x 400mm, MJ3, Capacity Envelope Mailers, Lil A4