Tufpac 278mm x 400mm Capacity Cardboard Envelope (Box of 100)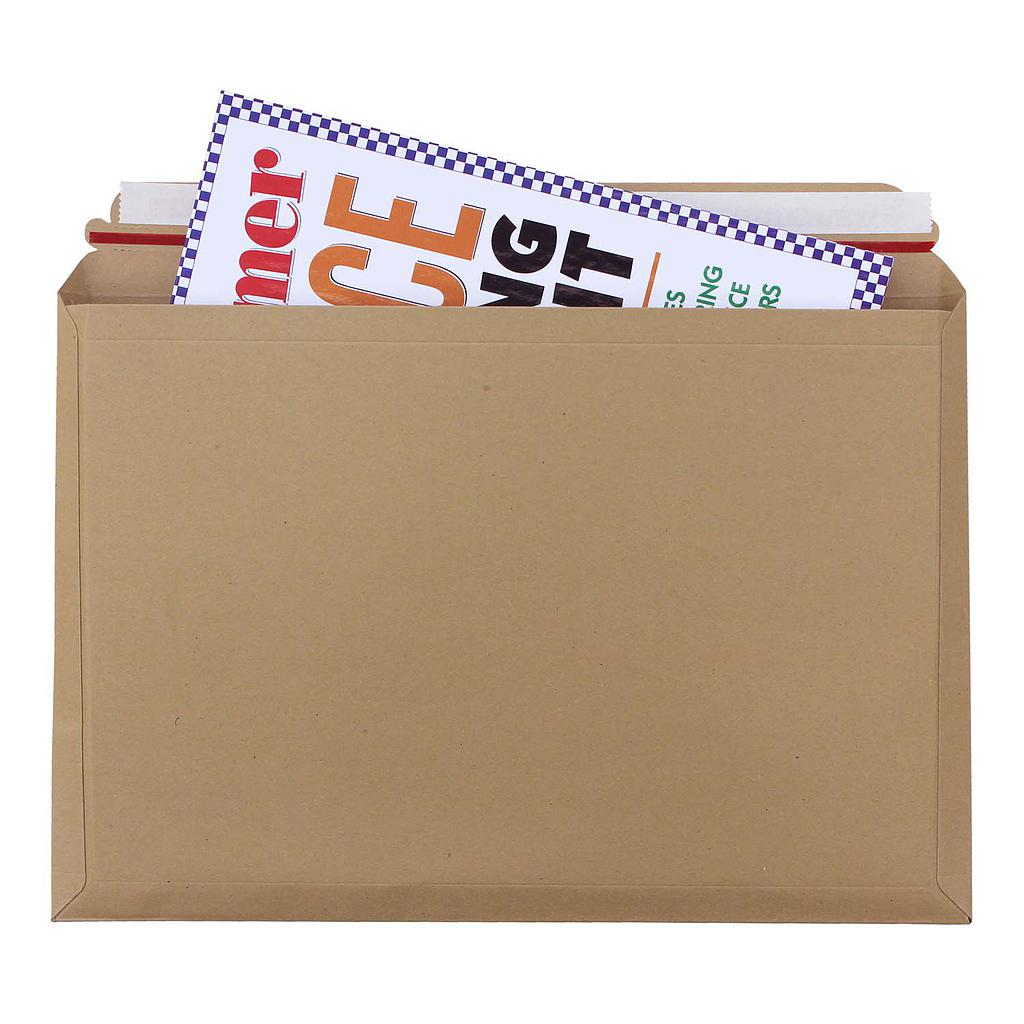 Tufpac 278mm x 400mm Capacity Cardboard Envelope (Box of 100)
Recyclable oversize solid board cardboard envelope mailer for sending small online orders and larger books. These biodegradable & compostable book envelopes are made from stiff cardboard with a very high recycled fibre content, a great eco-conscious choice.
Product Type

:

Cardboard Mailer
278mm x 400mm Capacity Book Mailer Envelope
A 278mm x 400mm size capacity book mailer envelope for packing larger size books, prints, and other similar items. Our capacity envelopes are manufactured from 400gsm solid wall cardboard for a premium grade mailer that is just 2mm thick. This thin but strong mailer allows you to save on postage costs and protect your products better. Solid board capacity mailers are a great alternative to bubble lined mailers, they offer greater rigidity, higher corner impact protection, and are fully recyclable and compostable. 
Capacity Book Mailer Envelope Key Features
 - Rigid and durable 400gsm solid wall cardboard.
 - Capacity creases give a capacity up to 50mm thick.
 - An eco-friendly mailer made from recycled material - fully recyclable, and biodegradable.
 - Quick and easy peel & seal closure for super fast packing.
 - Frustration free easy-tear opening for happy customers.
Bulk Buy Pricing on 287 x 400mm Capacity Envelopes
287 x 400mm capacity envelopes are available to buy in bulk pallet quantities for those looking for wholesale rates. We supply many of these throughout the UK so are a very competitive source for large quantities.
278 x 400mm Capacity Envelope Specifications
Product Code: TPSBE30
Internal Dimensions:
Length: 400mm*
Width: 278mm*
Depth: up to 40mm
*Length and width will decrease as depth increases
Material: Solid Board 400gsm
Weight of Mailer: 103g (0.103 kg)
Finish: Brown
Quantity per Pack: 100
Quantity per Pallet: 4'500 (45 packs)
Royal Mail Postal Size: Small Parcel
Easy Open Tear Strip: Yes
Self Seal Strip: Yes
Eco Packaging Score: 3/5
 - Recyclable: Yes
 - Biodegradable: Yes
 - Sustainable Materials: Yes
 - Plastic Free: No
 - Carbon Neutral: No
People who purchased this item found it by searching for: TPSBE30, large book mailers, Solid Board Envelopes, Mail Jacket Size 3, Amazon Style Mailers Size 3, Print Mailers, MailJacket Size 3, 278 x 400mm, MJ3, Capacity Envelope Mailers, Lil A4