Tufpac 180mm x 235mm Capacity A5 Cardboard Envelope (Box of 100)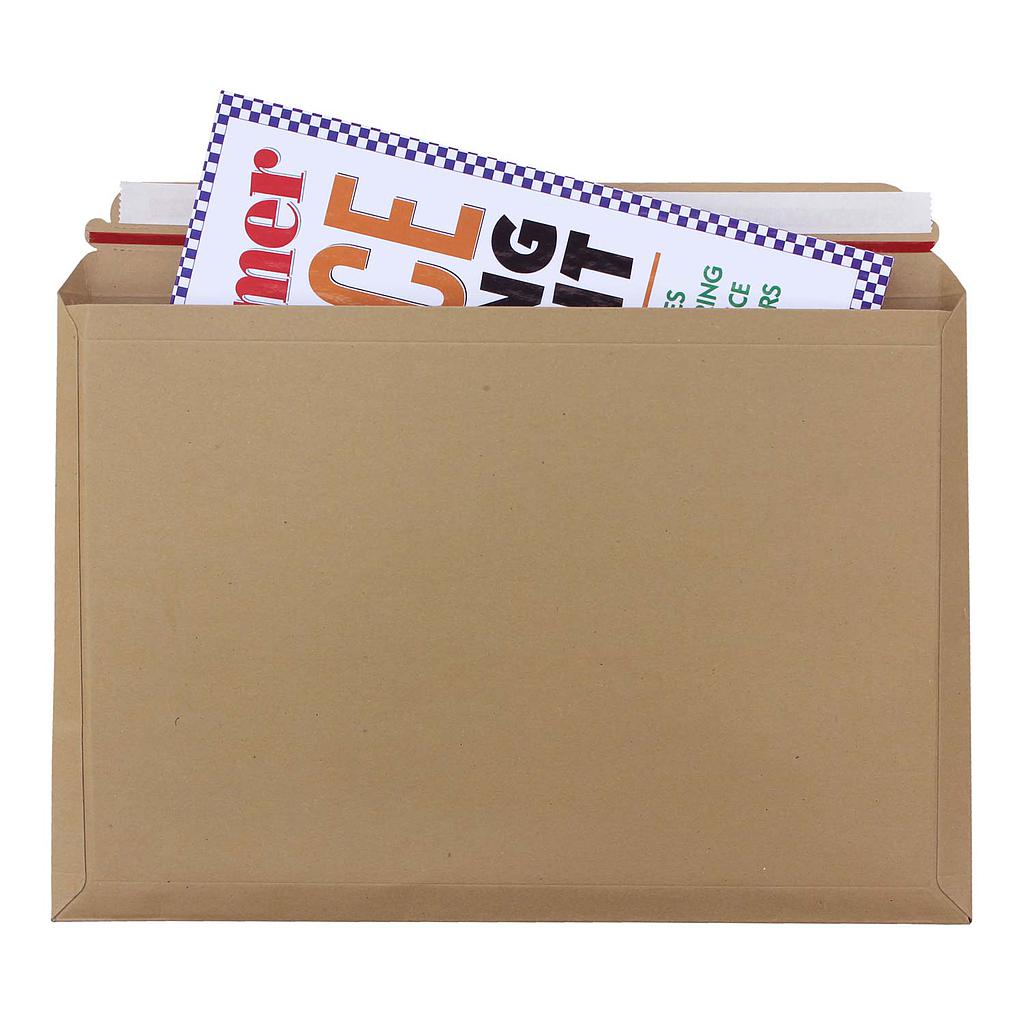 Tufpac 180mm x 235mm Capacity A5 Cardboard Envelope (Box of 100)
Solid board cardboard mailer envelope perfect for mailing books, DVD's, documents and many other small online orders. These lil' envelopes are a great alternative to jiffy bags helping you to pack faster and reduce damages in the post.
Product Type

:

Cardboard Mailer
A5 Cardboard Envelope (C5)
180mm x 235mm A5 cardboard envelopes are cardboard mailers ideally suited for posting small paperback books, DVDs, and other similar size items. They are often used as a stronger and more protective alternative to bubble lined mailers; as the rigid cardboard construction offers more rigidity and better corner protection. A5 cardboard mailers are very popular with many online stores for posting small online orders because they are so fast to pack with and cost effective too. The easy to pack envelope style allows a packer to quickly open the mailer, slide in the items to be packed, and quickly seal closed. Typical packing times for self seal mailers like these can be as low as 5 seconds.
These small cardboard envelopes feature a fast self seal strip for sealing the cardboard envelope closed, and a convenient tear open strip for frustration free opening. They are also very eco friendly as they are manufactured from a high percentage of recycled cardboard fibre as well as being recyclable and biodegradable at the end of their useful life.
A5 cardboard envelopes stand as a testament to durability and practicality. Crafted from premium cardboard material, they offer a robust shield against the hazards of transit, safeguarding your contents from creases, bends, or tears. Whether you're sending photographs, brochures, invitations, or other A5-sized items, these envelopes ensure that your materials arrive at their destination in impeccable condition.
With a user-friendly design, A5 cardboard envelopes simplify the packaging process. Many feature a convenient peel-and-seal adhesive strip, enabling effortless sealing without the need for additional tools or accessories. The smooth surface of the envelopes allows for easy labeling, printing, or customization, adding a personalized touch to your mailings.
Versatility is a hallmark of A5 cardboard envelopes. Whether you're a business owner, creative professional, or an individual with specialized mailing needs, these envelopes cater to diverse applications. They exude a professional appeal, making them ideal for corporate correspondence, while their protective attributes make them equally suitable for personal mailings.
Embrace a seamless marriage of protection and aesthetics with A5 cardboard envelopes. Elevate your mailing experience, whether you're sending invitations, promotional materials, or important documents. Choose A5 cardboard envelopes as your trusted packaging companion – a testament to reliability, elegance, and practicality that ensures your mailed materials make a lasting impression.
A5 Cardboard Envelope Key Features:
- Rigid and durable 400gsm solid wall cardboard.
- Recyclable, biodegradable, and contains recycled material.
- Fast peel & seal closure.
- Frustration free easy-tear opening.
- Easily send as Royal Mail large letter size.
Frequently Asked Questions about A5 Cardboard Envelopes
The following questions about A5 cardboard mailers are regularly asked by our customers, if you have any other questions please get in touch with our cardboard mailer team on
02476 611234
or email sales@datecpackaging.com.
Are Cardboard Envelope Mailers better than Bubble Lined Bags?
Yes they are better than bubble lined bags for some items because they are made from stiff cardboard. This gives them better rigidity and higher corner protection which bubble lined bags don't offer.
Do Cardboard Mailers take up less space than Bubble Lined Bags?
Yes, cardboard mailers are just 2mm thick which is well over half the thickness of bubble lined mailers. Great for storage and good for fitting them through the large letter slot too.
How heavy are A5 Cardboard Mailers?
C5 cardboard mailers are just 42 grams each so very light considering they are a very stiff and strong mailer.
A5 Cardboard Envelope Specifications

Product Code: TPSBE05

Internal Dimensions:
Length: 235mm*
Width: 180mm*
Depth: up to 40mm
*Length and width will decrease as depth increases

Material: Solid Board 400gsm
Weight of Mailer: 42g (0.042 kg)
Finish: Brown Recycled


Features:
- Rigid and durable 400gsm solid wall cardboard.
- Recyclable, biodegradable, and contains recycled material.
- Fast peel & seal closure.
- Frustration free easy-tear opening.
- Easily send as Royal Mail large letter size.

Quantity per Pack: 100
Quantity per Pallet: 9'000 (90 packs)

Royal Mail Postal Size: PiP Large Letter
Easy Open Tear Strip: Yes
Self Seal Strip: Yes

Eco Packaging Score: 4/5
 - Recyclable: Yes
 - Biodegradable: Yes
 - Sustainable Materials: Yes
 - Plastic Free: Yes
 - Carbon Neutral: No
People who purchased this item found it by searching for: TPSBE05, A5 Cardboard Mailers, C5 Solid Board Envelopes, Mail Jacket Size 1, Amazon Style Mailers Size 1, C5 Card Mailers, MailJacket Size 1, 180 x 235mm, MJ1, Capacity Envelope Mailers, A1 Cardboard Envelopes, Lil A1