Card Edge Protector 35mm x 35mm x 3mm 1000mm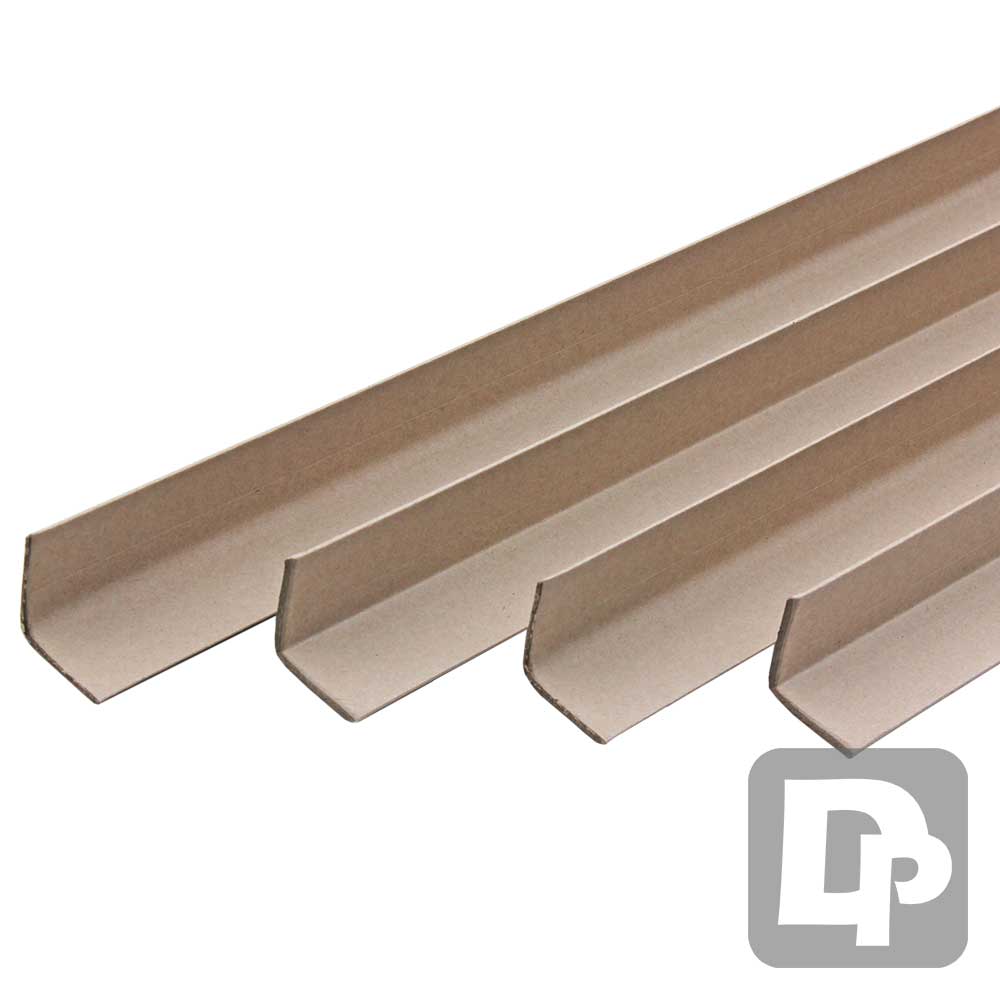 Card Edge Protector 35mm x 35mm x 3mm 1000mm
Cardboard edge protection strips for protecting corners of pallets from impact damage and strapping indents. Corner cardboard is popular as pallet edge protectors, but also can be used as packaging corner protection for furniture and cabinets.
Product Type

:

Cardboard Corners
Cardboard Edge Protector
A 1m long cardboard edge protector in a 35mm x 35mm L profile shape for protecting the corners of pallets and cabinets. Cardboard edge protection is a very rigid and strong corner cardboard profile that will protect from high impact damage. It is made from layers of cardboard that have been tightly compressed to form the profile shape. This process of forming the corner shape during the manufacturing process makes a rigid cardboard corner that holds its shape.
Cardboard pallet corners are often used for stabilising pallets when strapping or wrapping with stretch wrap. The card corners help to bind the pallet load together and provide a stabilising effect, helping to keep your pallets stable and safe during transit.
1m Cardboard Corner Protector Key Features:
 - Stabilises pallet loads & protects corners from damage
 - Will absorb high levels of impact
 - Made from recycled paper
 - Recyclable & compostable
Bulk Buy Pricing on Cardboard Edging Strips
Cardboard edging strips are available to buy in bulk pallet quantities for those looking for wholesale rates. We are a very competitive source for large quantities.
1m Cardboard Edge Protector Specification
Product Code: EPC100
Strap Dimensions: 35mm x 35mm x 1000mm 3mm
Width: 35mm x 35mm
Thickness: 3mm
Length: 1000mm
Material: Recycled Paper
Weight of Reel: 130g (0.13 kg)
Finish: Brown Recycled
Quantity per Pack: 50 strips
Quantity per Pallet: 6000 strips (120 packs)
Eco-Conscious Score: 5/5
 - Recyclable: Yes
 - Biodegradable: Yes
 - Sustainable Materials: Yes (recycled content)
 - Plastic Free: Yes
 - Reduced Carbon Footprint: Yes (Made in the UK)