Card Edge Protector 35mm x 35mm x 3mm 1000mm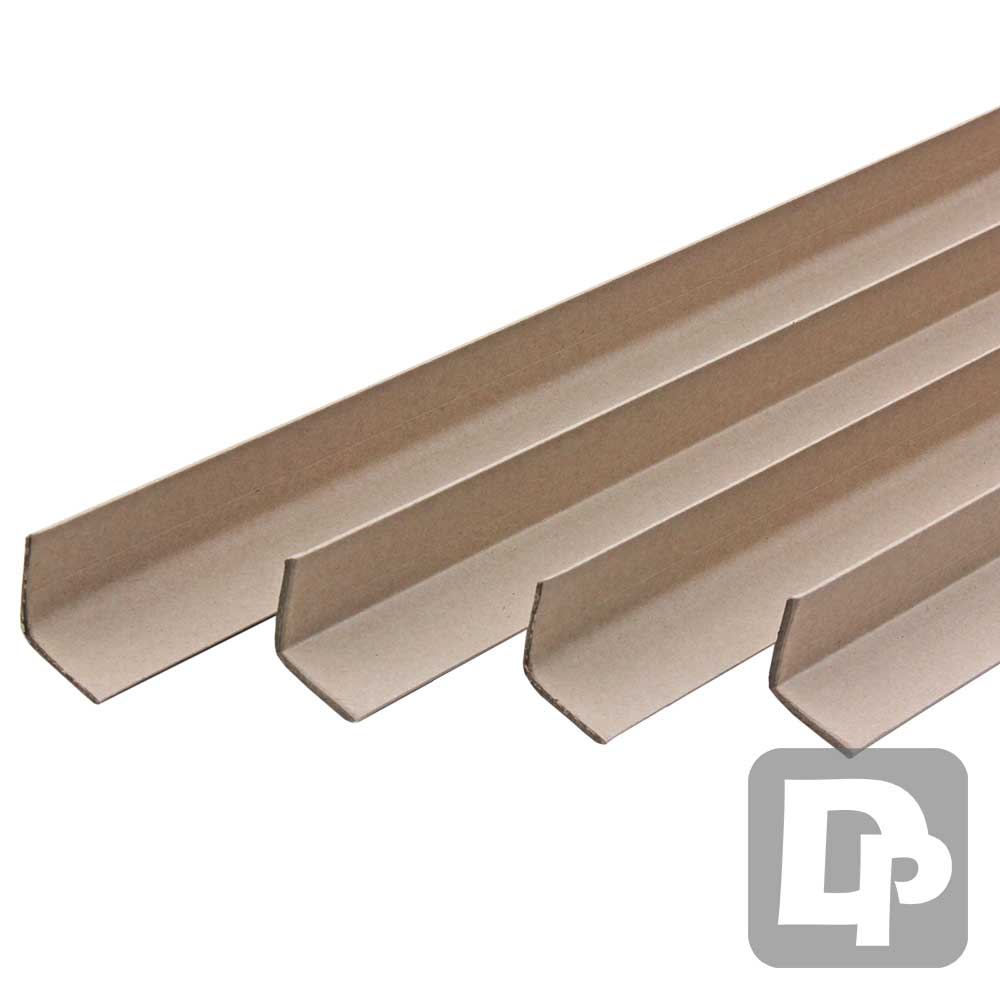 Card Edge Protector 35mm x 35mm x 3mm 1000mm
Cardboard edge protection strips for protecting corners of pallets from impact damage and strapping indents. Corner cardboard is popular as pallet edge protectors, but also can be used as packaging corner protection for furniture and cabinets.
Product Type

:

Cardboard Corners
Secure Your Products with Confidence: Introducing Our 35 x 35mm Card Edge Protector

A 1m long cardboard edge protector in a 35mm x 35mm L profile shape for protecting the corners of pallets and cabinets. Cardboard edge protection is a very rigid and strong corner cardboard profile that will protect from high impact damage. It is made from layers of cardboard that have been tightly compressed to form the profile shape. This process of forming the corner shape during the manufacturing process makes a rigid cardboard corner that holds its shape.
Cardboard pallet corners are often used for stabilising pallets when strapping or wrapping with stretch wrap. The card corners help to bind the pallet load together and provide a stabilising effect, helping to keep your pallets stable and safe during transit.
Product Features:
Premium Construction: Our Card Edge Protector is crafted using high-quality materials, ensuring exceptional strength and durability. With a thickness of 3mm, it offers robust support and impact resistance, delivering an additional layer of defense against potential damages.

Optimal Dimensions: Measuring 35mm x 35mm x 1000mm, this edge protector is specifically engineered to fit a wide range of products, from small parcels to larger items. Its versatile dimensions make it an indispensable asset for businesses across various industries.

Versatile Applications: The Card Edge Protector boasts a versatile design, making it suitable for a myriad of applications. Whether you're shipping delicate electronics, transporting fragile glassware, or storing valuable artwork, this edge protector guarantees utmost protection throughout the entire process.

Easy Application: Applying the edge protector is a seamless process. Simply slide it over the edges or corners of your product, and it instantly provides a cushioned barrier against impacts and abrasions. Its user-friendly design saves valuable time and effort, seamlessly integrating into your packaging or storage workflow.

Reusable and Recyclable: Designed for reusability, our Card Edge Protector offers a cost-effective and eco-friendly solution. Its durable construction ensures multiple uses without compromising its protective capabilities. Additionally, it is recyclable, reflecting our commitment to sustainable packaging practices and environmental responsibility.

Streamlined Aesthetics: The sleek and understated design of the edge protector enhances the appearance of your products without adding unnecessary bulk. Its discreet profile maintains a clean and professional look while delivering essential protection.
Applications:
Shipping and Logistics: Ideal for safeguarding product edges and corners during shipping and handling, preventing damages and customer complaints.

Warehousing and Storage: Perfect for reinforcing vulnerable edges during storage, ensuring your inventory remains in pristine condition until it reaches its final destination.

Fragile Items: Suitable for protecting delicate electronics, glassware, ceramics, and other fragile items, reducing the risk of breakage during transit.
Elevate your packaging and storage solutions with our Card Edge Protector. Invest in this reliable and versatile tool to ensure your products arrive safely and retain their quality throughout their entire journey. Trust in our edge protector for premium protection and peace of mind.
1m Cardboard Corner Protector Key Features:
 - Stabilises pallet loads & protects corners from damage
 - Will absorb high levels of impact
 - Made from recycled paper
 - Recyclable & compostable
Bulk Buy Pricing on Cardboard Edging Strips
Cardboard edging strips are available to buy in bulk pallet quantities for those looking for wholesale rates. We are a very competitive source for large quantities.
1m Cardboard Edge Protector Specification
Product Code: EPC100
Strap Dimensions: 35mm x 35mm x 1000mm 3mm
Width: 35mm x 35mm
Thickness: 3mm
Length: 1000mm
Material: Recycled Paper
Weight of Reel: 130g (0.13 kg)
Finish: Brown Recycled
Quantity per Pack: 50 strips
Quantity per Pallet: 6000 strips (120 packs)
Eco-Conscious Score: 5/5
 - Recyclable: Yes
 - Biodegradable: Yes
 - Sustainable Materials: Yes (recycled content)
 - Plastic Free: Yes
 - Reduced Carbon Footprint: Yes (Made in the UK)