eComBag® Bio 225 x 345 + 60mm Gusset A4 Paper Mailing Bag Brown (100/pk)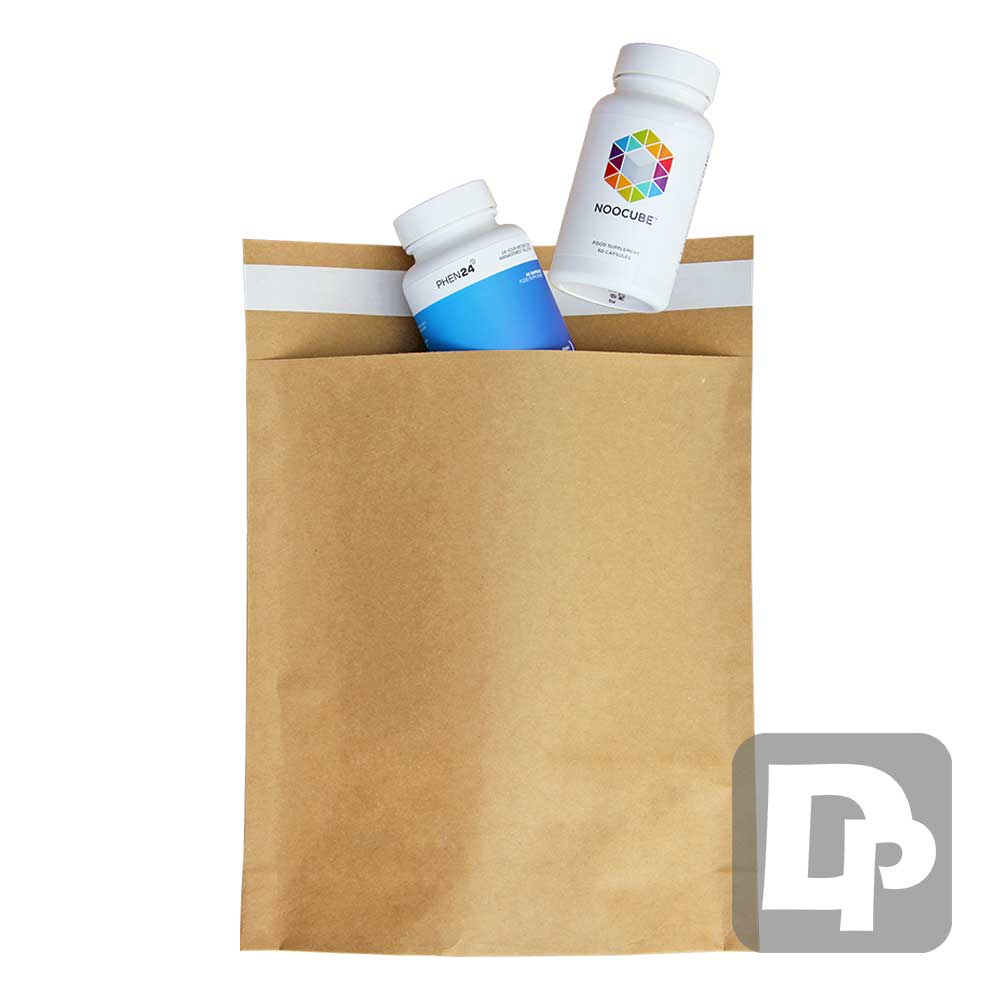 eComBag® Bio 225 x 345 + 60mm Gusset A4 Paper Mailing Bag Brown (100/pk)
eComBag® bio A4 paper mailing bags. Durable and water resistant mailing bags manufactured completely from paper.
A4 Paper Mailing Bag
Our eComBag A4 paper mailing bags are recyclable, biodegradable, and made from sustainable and recycled materials. They are designed to replace plastic poly mailing bags so you can deliver your online orders in an eco friendly ecommerce bag made from paper. Many question the water resistance of kraft mailing bags, but we can assure you they will withstand wet rainy conditions for many hours before even starting to let the water seep through. The secret to this water resistance is that the paper is pressure sealed, meaning the paper fibres have be pressed so hard together that it takes many hours for water to get through. This means the paper can sustain periods of rainfall without water ingress, keeping your items dry and protected.
The handy 225mm x 345mm internal size allows you to fit A4 size items in with ease. Pack documents, files, A4 prints, samples, clothing, and many other similar size items quickly and efficiently. To allow you to fit larger items in easier they also have a bottom gusset which opens out to up to 60mm. A useful integrated self seal strip makes packing these ecommerce bags a breeze, far quicker than using a packing box.

A4 Paper Mailing Bag Key Features
 - Manufactured using high quality kraft paper
 - Fits Royal Mail large letter size.
 - Specially sized to fit A4 items.
 - Premium alternative to plastic mailing bags
 - Very eco-friendly; recycled, biodegradable, and compostable
 - Special printed message thanking your customer for their order and telling your customers it's a biodegradable bag.
Bulk Buy Pricing on A4 Paper Mailing Bags
A4 kraft mailing bags are available to buy in bulk pallet quantities for those looking for wholesale rates on ecommerce mailers. We bulk purchase them and keep large stocks here in the UK so are a very competitive source for large quantities.
A4 Paper Mailing Bag Specifications
Product Code: ECBB0914
Internal Dimensions: 
Opening Width: 225mm
Depth: 345mm
Gusset: 60mm*
*Width and length will decrease as thickness increases.
Material: Premium 120gsm Kraft Paper
Weight of Bag: 24g (0.024 kg)
Finish: Brown Kraft
Quantity per Pack: 100
Quantity per Pallet: 5000 (50 packs)
Royal Mail Postal Size: PiP Large Letter
Paper Format Size: A4 (210 x 297 mm)
Self Seal Strip: Yes
Eco Packaging Score: 4/5
 - Recyclable: Yes
 - Biodegradable: Yes
 - Sustainable Materials: Yes
 - Plastic Free: Yes
 - Carbon Neutral: No