Woven Polyester Strapping 19mm x 500m 725kg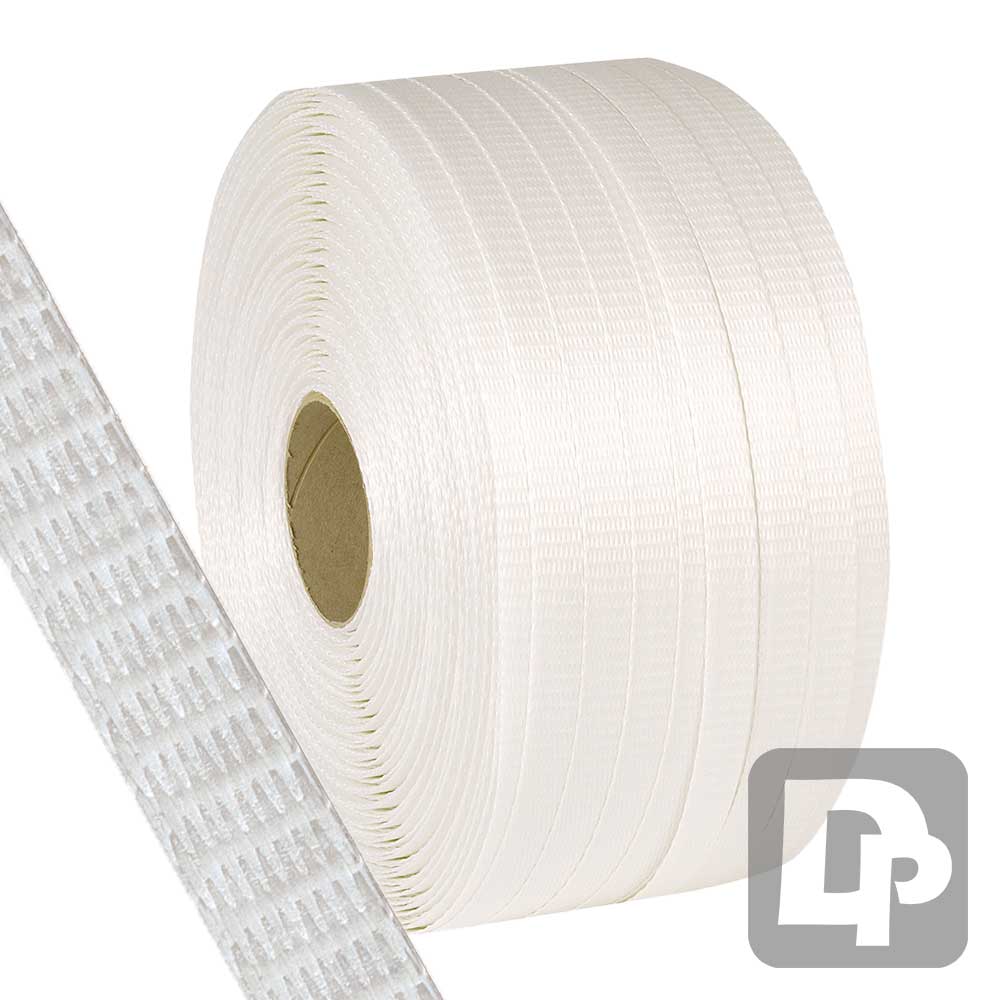 Woven Polyester Strapping 19mm x 500m 725kg
A heavy duty woven polyester pallet strapping in a 19mm width giving a very high breaking strain of 725kg. Woven PP strap is a great alternative to steel strapping offering exceptional strength with the added benefit of being easy to use.
Woven Polyester Strapping 19mm x 500m - Secure Your Loads with Unyielding Strength
Our 19mm wide woven polyester strapping is a very strong strapping product with a breaking strain of over 700 kg. This type of strapping is made from strands of polyester woven in a crossweave pattern to make a material type strapping. Woven polyester strap is soft and has low abrasion properties compared with many other strapping products. This soft material feel makes it easy to use and much faster than other straps of similar breaking strains. Polyester strapping is a great replacement for steel strapping; it is much easier to use, easier for your customer to cut when they receive the pallet, and kinder to your products too.
Woven PE strap is secured with strapping buckles which grip the strapping forming a tight seal. This method of securing the strap means that it is easy to re-tension strapping, with a strapping tensioner, if the palletised items settle in transit.
Ensure your shipments are fortified with unparalleled strength using our Woven Polyester Strapping, measuring 19mm in width and stretching to a generous 500 meters in length. Crafted with multiple interwoven polyester fibers, this strapping boasts a remarkable 725kg breaking strain, making it the ultimate solution for securing heavy loads during shipping and packaging.
Key Features:
1. Superior Strength and Durability: Our Woven Polyester Strapping is designed to handle the toughest challenges with ease. The interwoven fibers create a robust and tear-resistant material, ensuring reliable load security during transit.
2. 725kg Breaking Strain: With a staggering 725kg breaking strain, this strapping offers an exceptional level of load-bearing capacity, making it perfect for heavy-duty applications.
3. Shock Absorption and Flexibility: This strapping's inherent flexibility allows it to absorb shocks and impacts during transportation, safeguarding your products from potential damage.
4. Resistant to Abrasion and UV Rays: Built to withstand harsh environmental conditions, our strapping is abrasion-resistant and UV-stable, maintaining its integrity even when exposed to sunlight.
5. Safe Handling: Smooth edges ensure safe and injury-free handling during application or removal, making it a user-friendly choice for your packaging needs.
6. Cost-Effective and Reusable: Investing in our Woven Polyester Strapping proves cost-effective in the long run, as its durability and reusability minimize the need for frequent replacements.
7. Versatile Applications: From shipping and logistics to manufacturing and construction, our strapping is versatile enough to secure a wide range of loads across various industries.
8. Environmentally Conscious: Our strapping is made from recyclable materials, aligning with eco-friendly practices and contributing to a greener packaging approach.
9. Easy Dispensing and Storage: Supplied in a convenient roll, our strapping ensures easy dispensing during packaging, while its compact size allows for efficient storage in your workspace.
10. Compliant with Industry Standards: Rest assured, our Woven Polyester Strapping meets industry standards for load security, ensuring your shipments meet the highest levels of safety and protection.
Whether you're shipping goods locally or internationally, our Woven Polyester Strapping 19mm x 500m delivers the robustness and reliability needed to keep your shipments secure during transit. Invest in the best, and gain peace of mind knowing your valuable products are safeguarded with unyielding strength and superior protection.
Bulk Buy Pricing on 19mm Woven Polyester Strapping
Woven PE strapping is available to buy in bulk pallet quantities for those looking for wholesale rates. We import strapping so are a very competitive source for large quantities.
19mm Woven PE Strapping Specification
Product Code: WPH65
Strap Dimensions: 19mm x 500m
Width: 19mm
Length: 500m
Material: Polyester with recycled material
Weight of Reel: 6.1 kg
Breaking Strain: 725kg
Finish: White Flexible Crossweave
Quantity per Box: 3 Reels
Quantity per Pallet: 144 Reels (48 boxes)
Eco Packaging Score: 3/5
 - Recyclable: Yes
 - Biodegradable: No
 - Sustainable Materials: Yes (recycled content)
 - Plastic Free: No
 - Reduced Carbon Footprint: Yes