Woven Polyester Strapping 19mm x 500m 725kg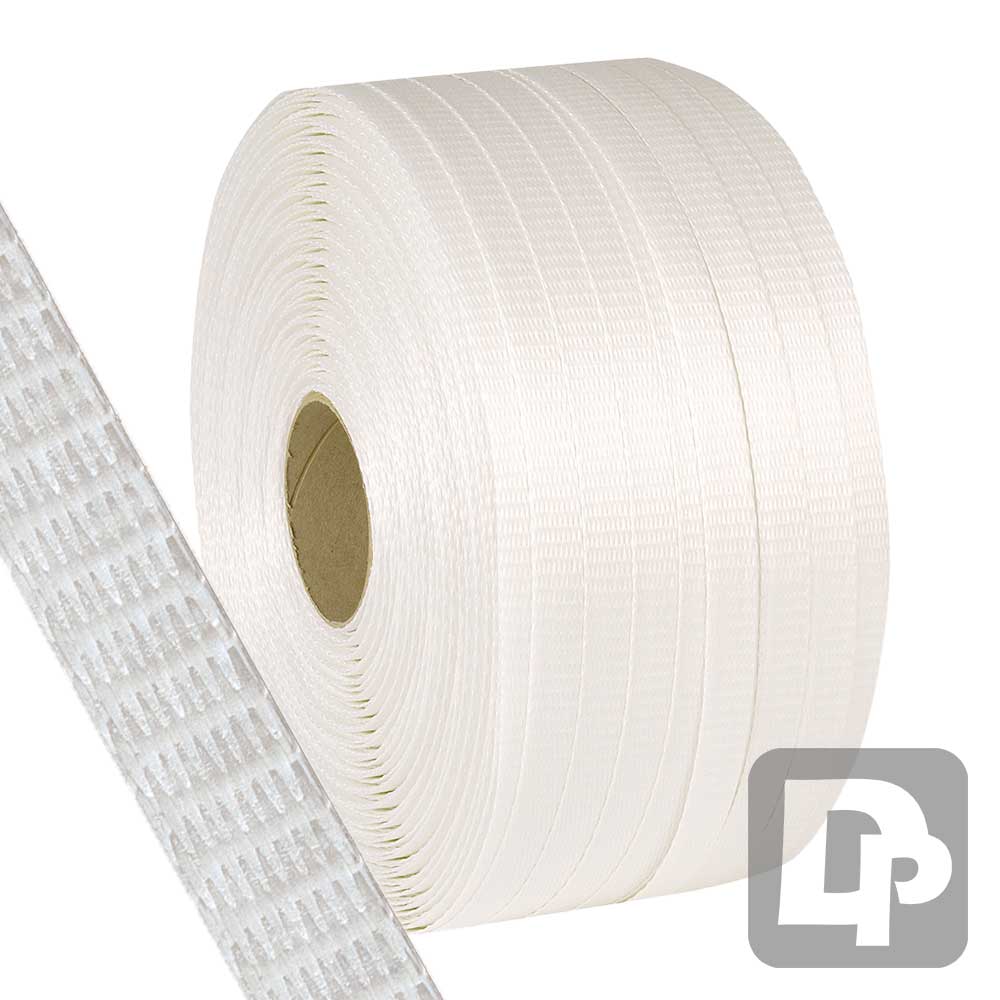 Woven Polyester Strapping 19mm x 500m 725kg
A heavy duty woven polyester pallet strapping in a 19mm width giving a very high breaking strain of 725kg. Woven PP strap is a great alternative to steel strapping offering exceptional strength with the added benefit of being easy to use.
19mm Woven Polyester Strapping
Our 19mm wide woven polyester strapping is a very strong strapping product with a breaking strain of over 700 kg. This type of strapping is made from strands of polyester woven in a crossweave pattern to make a material type strapping. Woven polyester strap is soft and has low abrasion properties compared with many other strapping products. This soft material feel makes it easy to use and much faster than other straps of similar breaking strains. Polyester strapping is a great replacement for steel strapping; it is much easier to use, easier for your customer to cut when they receive the pallet, and kinder to your products too.
Woven PE strap is secured with strapping buckles which grip the strapping forming a tight seal. This method of securing the strap means that it is easy to re-tension strapping, with a strapping tensioner, if the palletised items settle in transit.
19mm Woven Polyester Strapping Key Features:
 - Very high 725kg breaking strain
 - Replaces steel strapping in most applications
 - Soft material like construction to limit product damage
 - Can be used with reusable buckles.
Bulk Buy Pricing on 19mm Woven Polyester Strapping
Woven PE strapping is available to buy in bulk pallet quantities for those looking for wholesale rates. We import strapping so are a very competitive source for large quantities.
19mm Woven PE Strapping Specification
Product Code: WPH65
Strap Dimensions: 19mm x 500m
Width: 19mm
Length: 500m
Material: Polyester with recycled material
Weight of Reel: 6.1 kg
Breaking Strain: 725kg
Finish: White Flexible Crossweave
Quantity per Box: 3 Reels
Quantity per Pallet: 144 Reels (48 boxes)
Eco Packaging Score: 3/5
 - Recyclable: Yes
 - Biodegradable: No
 - Sustainable Materials: Yes (recycled content)
 - Plastic Free: No
 - Reduced Carbon Footprint: Yes