Vinyl Label 108mm x 79mm 'This Way Up' (Roll of 500)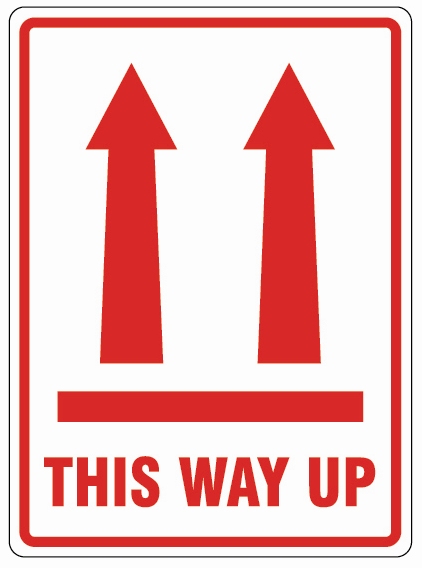 Vinyl Label 108mm x 79mm 'This Way Up' (Roll of 500)
A 108mm x 79mm parcel label printed with 'This Way Up' arrows and red text for indicating the correct orientation for parcels during shipping. This way up parcel labels can be used for any parcels that need to be kept the right way up during transit.
This Way Up Parcel Labels
Introducing our Vinyl Label 108mm x 79mm 'This Way Up' – the ultimate solution for enhancing the safety and efficiency of your shipping and packaging processes. This roll of 500 high-quality vinyl labels is designed to communicate a crucial message: 'This Way Up'.
Each label measures 108mm by 79mm, providing ample space for clear visibility and easy identification. The vibrant, durable vinyl material ensures these labels remain intact and legible throughout the rigors of transit, preventing any misunderstanding about the proper orientation of your parcels.
With the universally recognized arrow symbol pointing upwards and the clear text "This Way Up," these labels effectively communicate the need for proper handling to prevent damage to fragile contents. Whether you're shipping delicate electronics, glassware, or valuable artwork, these labels serve as a visual reminder to your carriers, handlers, and recipients to keep your packages in the correct orientation.
The convenience of a roll format with 500 labels ensures that you'll have an ample supply for your shipping needs. Whether you're a small business owner, an eCommerce seller, or a shipping department in a larger organization, these labels are a must-have addition to your packaging arsenal.
Key Features:
Roll of 500 vinyl labels, each measuring 108mm x 79mm.
Clear and universally recognized "This Way Up" arrow symbol.
Durable vinyl material for lasting visibility and protection.
Prevent mishandling and damage to fragile items during transit.
Ideal for businesses of all sizes, online sellers, and shipping departments.
Enhance package safety, reduce returns, and maintain customer satisfaction.
Invest in the safety and security of your shipments with the Vinyl Label 108mm x 79mm 'This Way Up'. These labels ensure that your parcels are handled correctly and arrive at their destination in the best possible condition. Streamline your shipping process and provide peace of mind to your customers, all while maintaining the professional image your business deserves. Order your roll today and take a significant step toward efficient, damage-free shipping.