Vinyl Label 108mm x 79mm 'Do Not Stack' (Roll of 500)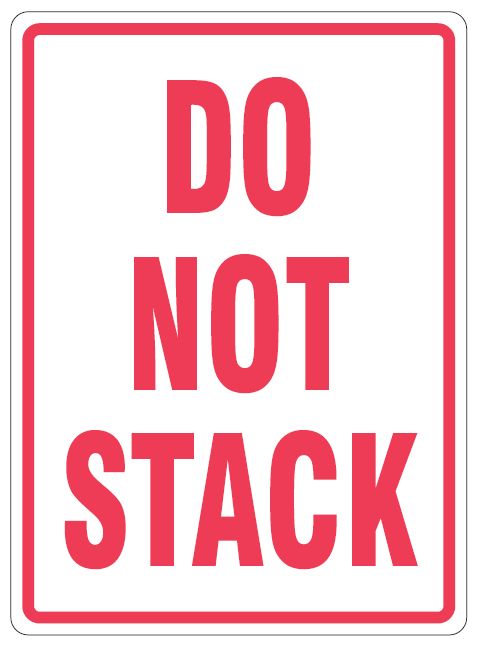 Vinyl Label 108mm x 79mm 'Do Not Stack' (Roll of 500)
A 108 x 79mm warning label printed 'Do Not Stack' in bold red letters for warning couriers and handlers not to stack other pallets or parcels on top. Used for crushable or delicate parcels and pallets.
Do Not Stack Warning Labels for Pallets & Parcels
Presenting our Vinyl Label 108mm x 79mm 'Do Not Stack' – the ultimate solution to safeguard your shipments and prevent unnecessary damage during transit. This roll of 500 premium vinyl labels is designed to convey a crucial message: 'Do Not Stack'.
Measuring 108mm by 79mm, these labels offer ample space for unmistakable visibility, ensuring your shipments are handled with the care they deserve. Crafted from durable vinyl material, these labels are built to withstand the challenges of the shipping journey, guaranteeing that your instructions remain intact and legible.
The unmistakable symbol of stacked boxes crossed out, paired with the clear text "Do Not Stack", sends a powerful message to carriers, handlers, and recipients alike. Whether you're shipping delicate electronics, perishable goods, or items susceptible to pressure, these labels act as a visual reminder to keep your packages free from the weight of other parcels.
In a roll format containing 500 labels, these are an indispensable addition to your packaging toolkit. Whether you're a business owner seeking to protect your merchandise's integrity or an eCommerce seller aiming to deliver unblemished products, these labels are a testament to your commitment to quality.
Key Features:
Roll of 500 vinyl labels, each measuring 108mm x 79mm.
Clear "Do Not Stack" symbol for universal recognition.
Robust vinyl material ensures labels endure transit challenges.
Preserve your shipments' condition by preventing stacking damage.
Ideal for businesses, online sellers, and shipping departments.
Elevate package security, minimize returns, and bolster customer satisfaction.
Elevate your shipping game with the Vinyl Label 108mm x 79mm 'Do Not Stack'. These labels exemplify your dedication to ensuring that your packages arrive in impeccable condition. Simplify your shipping process, demonstrate your commitment to customer satisfaction, and protect your valuable shipments from avoidable harm. Don't wait – order your roll now and pave the way for worry-free shipping experiences.