Vinyl Label 108mm x 79mm 'Handle With Care' (Roll of 500)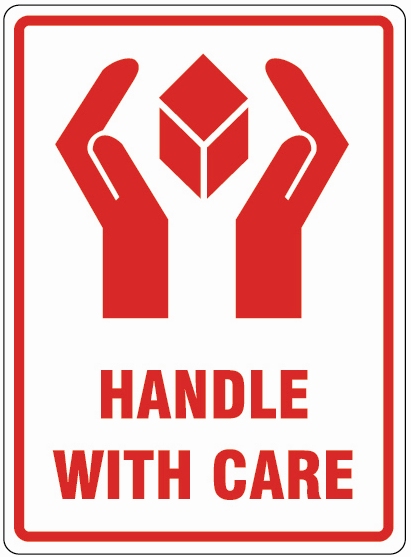 Vinyl Label 108mm x 79mm 'Handle With Care' (Roll of 500)
A 'Handle With Care' parcel label with universally recognised bold red symbol and text for clear identification of delicate parcels. Labels printed with Handle With Care can be used for any parcels containing breakable items.
Handle With Care Printed Warning Parcel Labels
Introducing our Vinyl Label 108mm x 79mm 'Handle With Care' – your go-to solution for ensuring that your shipments receive the delicate treatment they deserve. This roll of 500 top-quality vinyl labels is designed to communicate a critical message: 'Handle With Care'.
Measuring 108mm by 79mm, these labels provide ample space for clear visibility, making sure your instructions are impossible to miss. Crafted from durable vinyl material, these labels are built to withstand the challenges of the shipping process, ensuring that your message remains intact and easily readable.
The unmistakable "Handle With Care" text paired with an icon of fragile contents being cradled sends a powerful message to carriers, handlers, and recipients. Whether you're shipping delicate glassware, electronics, or any items requiring special attention, these labels serve as a visual reminder to treat your packages with the utmost care.
With 500 labels in a roll, you're equipped for seamless and responsible packaging across a range of shipments. Whether you're a business owner prioritizing the safety of your products or an eCommerce seller seeking to enhance customer satisfaction, these labels are a testament to your dedication to quality.
Key Features:
Roll of 500 vinyl labels, each measuring 108mm x 79mm.
Clear "Handle With Care" message combined with a fragile icon.
Resilient vinyl material guarantees labels endure the rigors of transit.
Safeguard your shipments by reminding handlers to treat them gently.
Ideal for businesses, online sellers, and shipping departments.
Elevate package security, minimize returns, and enhance customer trust.
Elevate your shipping practices with the Vinyl Label 108mm x 79mm 'Handle With Care'. These labels communicate your commitment to ensuring the safe arrival of your products. Simplify your shipping process, communicate your brand's dedication to quality, and protect your valuable shipments from unnecessary harm. Don't wait – secure your roll now and usher in a new era of safer, more thoughtful shipping experiences.