Vinyl Hazard Label 100mm x 100mm 'Toxic' Class 6 (Roll of 250)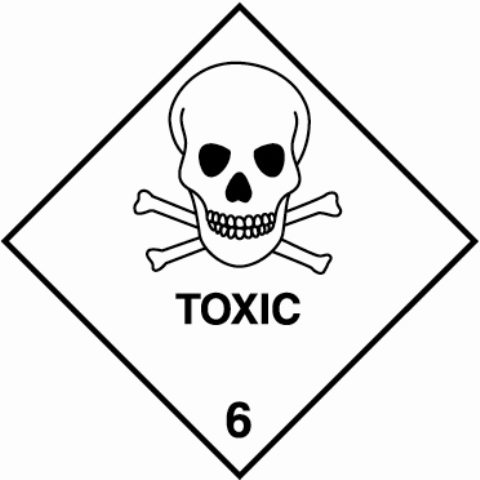 Vinyl Hazard Label 100mm x 100mm 'Toxic' Class 6 (Roll of 250)
Class 6 Hazard Warning Sticker for Toxic Substances
Introducing our Class 6 Vinyl Hazard Label, a reliable and essential tool for effectively communicating potential dangers associated with toxic substances. Designed with precision and clarity, this label measures 100mm x 100mm, providing a prominent visual indicator to alert and inform individuals about the presence of toxic materials in accordance with Class 6 hazardous classification.
Key Features:
High-Quality Vinyl: Crafted from durable vinyl material, this hazard label is built to withstand various environmental conditions, ensuring long-lasting visibility and performance.

Distinctive Design: The label features a striking 'Toxic' symbol, universally recognized as a skull and crossbones, set against a stark black background. This design ensures immediate recognition, alerting individuals to exercise caution and follow appropriate safety protocols.

Clear Text: Accompanying the symbol is the explicit 'Toxic' text, enhancing clarity and comprehension. This concise messaging underscores the critical nature of the hazard, making it an indispensable addition to any hazardous material containment.

Adhesive Backing: The label is equipped with a strong adhesive backing, facilitating easy and secure attachment to a variety of surfaces, including containers, equipment, storage units, and vehicles.

Regulatory Compliance: Our Vinyl Hazard Label is compliant with relevant industry standards and regulations, meeting the stringent requirements for hazard communication and safety.
Safeguard your environment and personnel with the assurance that comes from clear, effective hazard communication. Trust our Vinyl Hazard Label to serve as your visual ally in preventing exposure to toxic substances and promoting a safer, more secure workplace.
Enhance your hazard management strategy today. Order the Vinyl Hazard Label 100mm x 100mm 'Toxic' Class 6 and reinforce your commitment to safety.