Vinyl Hazard Label 100mm x 100mm 'Flammable Liquid' Class 3 (Roll of 250)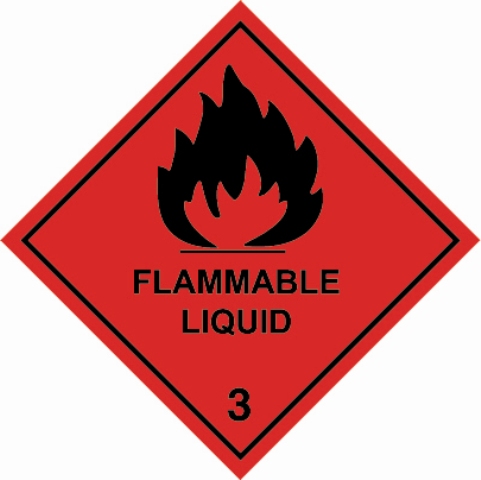 Vinyl Hazard Label 100mm x 100mm 'Flammable Liquid' Class 3 (Roll of 250)
Class 3 Hazard Warning Sticker for Flammable Liquids
Introducing our dependable Vinyl Hazard Label, meticulously designed to signify the presence of flammable liquids in accordance with Class 3 hazardous classification. Measuring 100mm x 100mm, each label within this roll of 250 serves as a vital visual cue, promoting heightened awareness and responsible handling practices.
Key Features:
Premium Vinyl Build: Crafted from durable vinyl material, these hazard labels are engineered to withstand varying conditions, ensuring long-lasting visibility and effectiveness.

'Flammable Liquid' Indication: The label features clear and bold 'Flammable Liquid' text, serving as an unmistakable warning of the potential fire hazard associated with the substance.

Roll of 250 Labels: With 250 labels per roll, this product provides a cost-effective solution, ensuring you have an ample supply to meet your hazard communication needs.

Effortless Application: Equipped with a reliable adhesive backing, these labels adhere securely to a variety of surfaces, such as containers, drums, equipment, and storage units. Their straightforward application ensures seamless integration into your safety protocols.

Regulatory Compliance: Our Vinyl Hazard Labels conform to industry standards and regulations, underscoring proper hazard communication and reinforcing your dedication to safety.
Elevate your safety measures with precision. Secure the Vinyl Hazard Label 100mm x 100mm 'Flammable Liquid' Class 3 (Roll of 250) to enhance your hazard awareness strategy. With these labels, you're taking a proactive step towards mitigating fire risks associated with flammable liquid materials.
Prioritize safety without compromise. Take action today to optimize your hazardous material management with confidence. Place your order now and equip your surroundings with the tools essential for responsible handling and storage of flammable liquids within Class 3 hazardous classification.