Tuftwist® TP15 350 x 350 x 0-40mm Peel & Seal Vinyl Record Mailer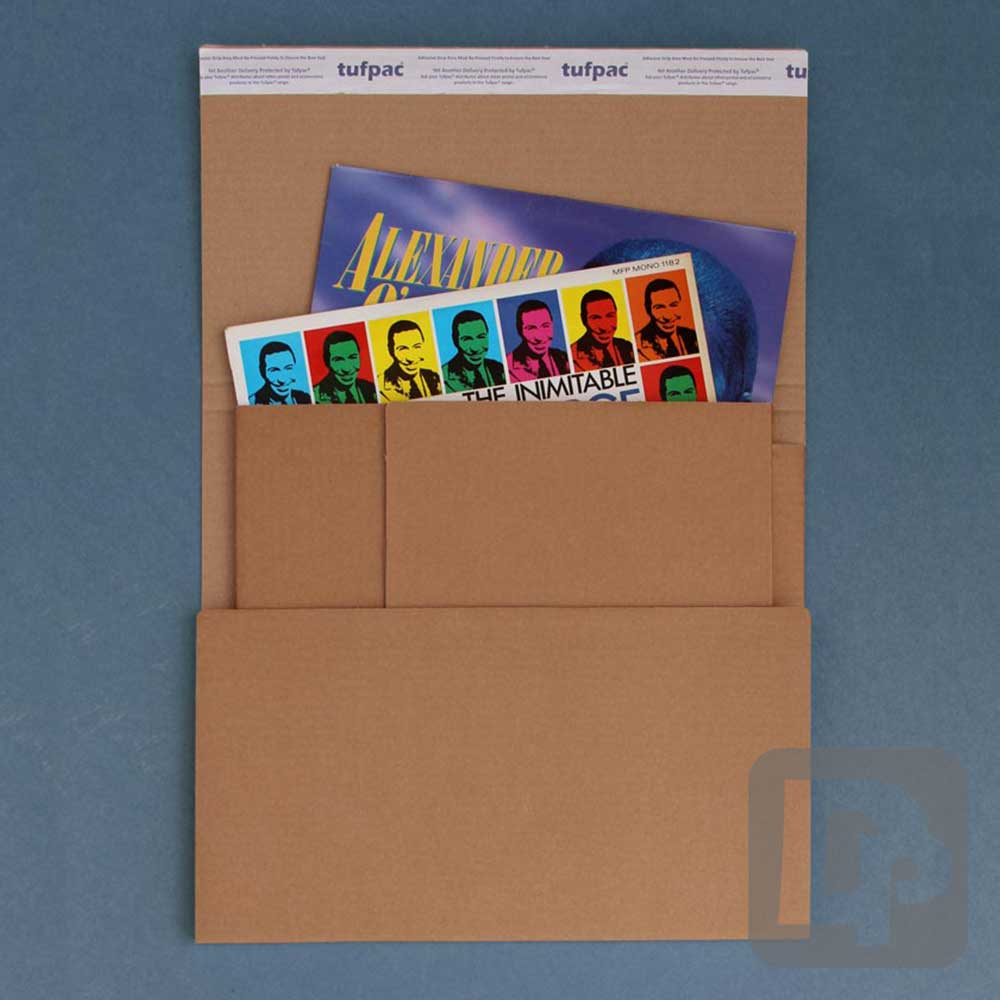 Tuftwist® TP15 350 x 350 x 0-40mm Peel & Seal Vinyl Record Mailer
A very protective postal wrap for LP records, big and strong enough to send multiple vinyl records at a time. Twist style record mailers are sturdy cardboard wrap around packaging mailers that protect LP vinyl records very well when sending through the post.
Vinyl Record Mailer
Strong cardboard vinyl record mailers for packing vinyl LP records for sending by post. At a generous 350mm x 350mm size they are ideal for vinyl records with larger than usual sleeves as well as the usual sizes, and allow the adding of extra protection such as bubble wrap or cardboard stiffeners. The twist style record packaging design features a 90 degree twist action that gives cross dimensional fluting for maximum stiffness. Cross dimensional fluting means the fluting goes vertically and horizontally helping to prevent creasing in both directions; unlike usual book wrap styles that can crease easier in one direction. The strong B flute corrugated cardboard in a 150K board grade also adds to its strength.
Twist style record mailers feature strong crumple zones at each end of the pack protecting the corners from damage. These crumple zones are created by the larger outer panels extending over the inner panels. Corner protection is vital in ensuring your LP records arrive at the customer in perfect condition as the corners of the outer sleeves are very vulnerable.
Record Mailer Features:
- Strong and rigid corrugated cardboard keeps your vinyl records flat.
- Twist style construction give a strong crease resistant mailer.
- Built in crumple zones to absorb any corner impact during shipping.
- Peel & Seal closure helping you pack fast, and keeping your parcels looking good and free from plastic tape.
- Fully recyclable, biodegradable, and manufactured from recycled material.
- Personalisable with logos and patterns, please speak to our sales team.
Bulk Buy Pricing on Vinyl Record Mailers for LP's
Vinyl LP Mailers are available to buy in bulk pallet quantities for those looking for wholesale rates on record mailers. They are manufactured here in the UK so are a very competitive source for large quantities.
Frequently Asked Questions on Vinyl LP Mailers
The following questions about Vinyl LP Mailers are regularly asked by our customers, if you have any other questions please get in touch with our LP Mailer team on 02476 611234 or email sales@datecpackaging.com.
How Many LP Records can Vinyl LP Mailers Pack?
Vinyl LP mailers can pack up to 40mm thick so it does depend how thick the LP records are and how much protective packaging you add in. As a guide these LP mailers will fit approx. 10 vinyl records.
Are Vinyl LP Mailers Waterproof?
Vinyl LP mailers are water resistant but not waterproof. They will generally protect against a short shower but if you want to protect against heavy rain you need to pack your LP records in an LP size poly mailer.
Vinyl LP Record Mailer Specification
Product Code:
 TP15PS
Internal Dimensions:
Length: 350mm*
Width: 350mm
Depth: up to 40mm*
*Length and depth are variable to fit item being packed
Material:
 Corrugated Cardboard 150KT B Fluting approx. 3mm thick
Weight of Wrap:
 272g (0.272 kg)
Finish:
 Brown Kraft Outside, Brown Recycled Inside
Quantity per Pack:
 25
Quantity per Pallet:
 900 (36 packs)
Royal Mail Postal Size: 
PiP Medium Parcel
Easy Open Tear Strip:
 Yes
Self Seal Strip:
 Yes
Eco Packaging Score:
 4/5
 - Recyclable: 
Yes
 - Biodegradable: 
Yes
 - Sustainable Materials: 
Yes
 - Plastic Free: 
Yes
 - Carbon Neutral: No
People who purchased this item found it by searching for: LP Mailers, Record Mailers, Vinyl Mailers, CP030.08, vinyl packaging, record shipping boxes