530 x 720 x 50mm Corrugated Board Envelope (Pack of 20)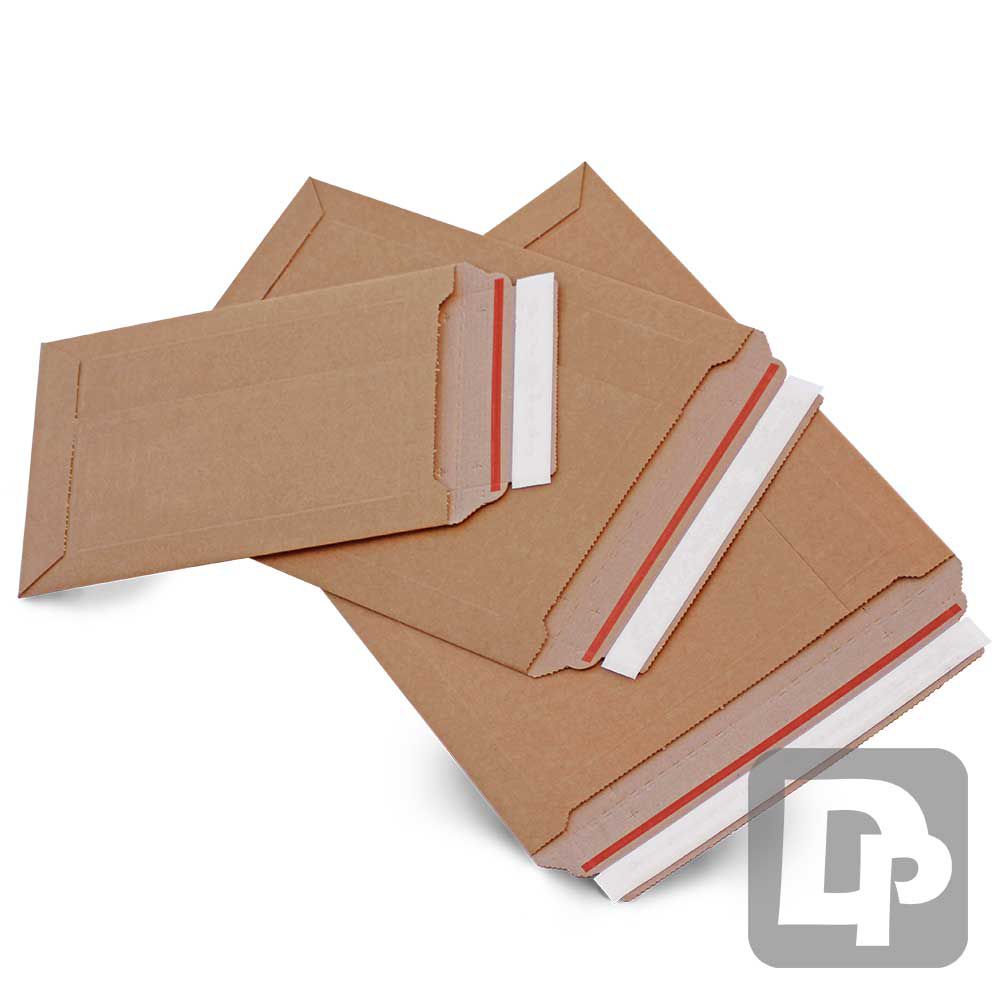 530 x 720 x 50mm Corrugated Board Envelope (Pack of 20)
A large rigid envelope made from e-flute corrugated cardboard with a brown kraft finish. These big board envelopes will pack items up to 20" x 28" making then one of the biggest cardboard envelopes on the market.
Product Type

:

Corrugated Envelope
Large Corrugated Envelopes
Size: 530 x 720mm (with 50mm Gusset) | Quantity: Pack of 20  *Please Note: As the depth of the envelopes increases, the length and width reduce. Request samples if in doubt*.
Experience the pinnacle of packaging innovation with our 530 x 720mm + 50mm Gusset Corrugated Board Envelope. This envelope redefines the boundaries of protection and capacity, offering a unique combination of ample space and unparalleled durability.
Key Features:
Spacious Excellence: With dimensions of 530 x 720mm and an extra 50mm gusset, this envelope boasts an expansive interior that accommodates bulkier or larger items with ease. Whether you're sending oversized documents, artwork, or textiles, this envelope ensures a snug fit without compromising on protection.

Gusseted Design: The integrated 50mm gusset expands to accommodate thicker contents, providing flexibility and versatility in packaging. No more struggling to squeeze items into tight spaces – our gusseted envelope adjusts to your needs.

Corrugated Strength: Crafted from robust corrugated board, this envelope exemplifies durability. Its rugged construction safeguards your contents against bumps, shocks, and handling, ensuring that your items arrive unscathed and intact.

Secure Closure: The self-sealing adhesive strip simplifies the packaging process. Just peel and seal for instant protection. This user-friendly feature saves time while ensuring that your items remain securely enclosed.

Pack of 20: This offering includes a pack of 20 envelopes, ensuring you have an ample supply for various projects, shipments, or storage needs. Whether you're a business owner, a creative professional, or an individual with unique mailing requirements, this quantity guarantees you're prepared for any task.
Why Choose Our Corrugated Board Envelope:
Efficiency Redefined: Streamline your packaging routine with our gusseted envelope's convenient design. Its spaciousness and durability are matched only by its simplicity and ease of use.

Versatility at Its Core: From industrial components to artwork, this envelope adapts to diverse contents. Its gusseted feature accommodates various thicknesses, making it a versatile choice for a wide array of items.

Unwavering Protection: Trust in the corrugated board's resilience to shield your items from external elements and handling challenges. Rest assured that your contents will reach their destination unharmed.
Elevate your packaging standards with the 530 x 720mm + 50mm Gusset Corrugated Board Envelope. This envelope combines capaciousness with durability, making it the ultimate choice for protecting and transporting your valuable contents. Order now and experience a new level of secure and spacious packaging that meets the demands of your unique needs. Your items deserve the best, and our gusseted envelope delivers on every front.