Ripack 2200 Gas Heat Shrink Gun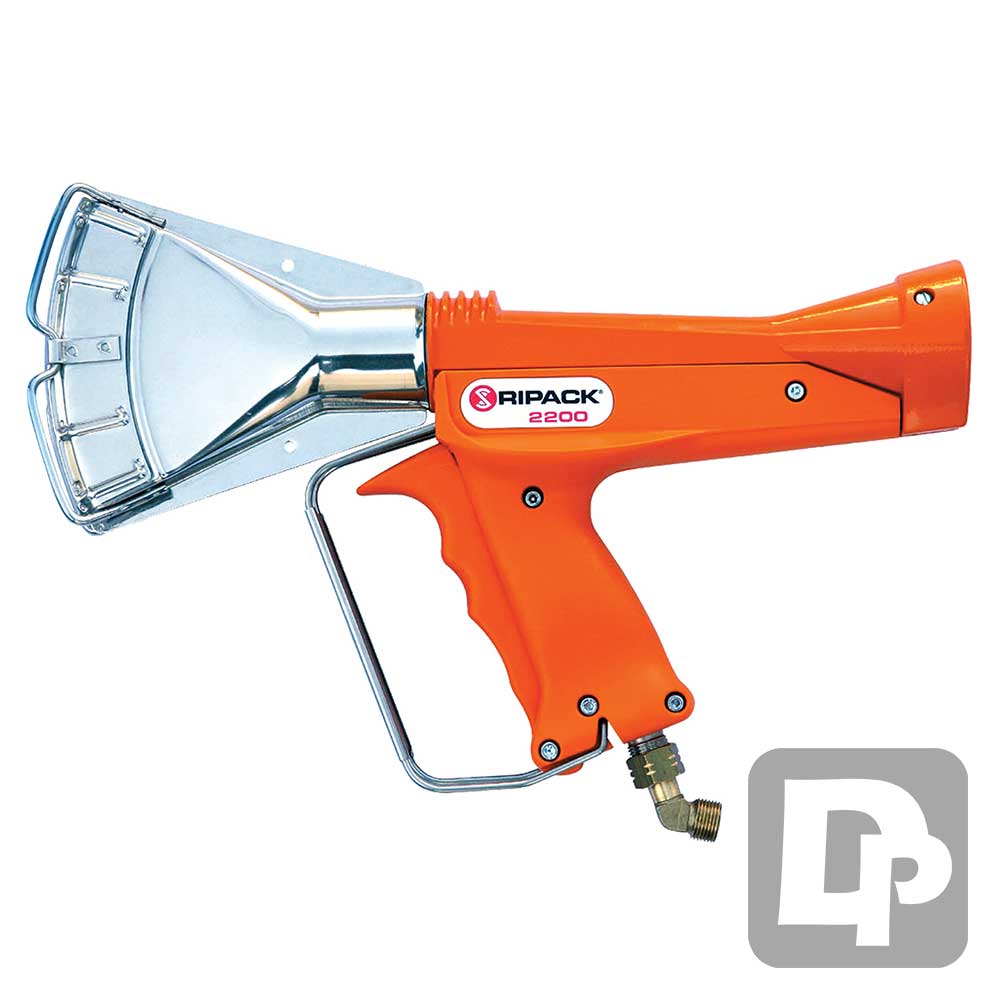 Ripack 2200 Gas Heat Shrink Gun
Ripack 2200: The Industry-Leading Gas Heat Shrink Gun for Professionals.
Discover the Power and Precision of the Ripack 2200 Gas Heat Shrink Gun
In the fast-paced world of packaging and delivery, efficiency and precision are paramount. The Ripack 2200 Gas Heat Shrink Gun, renowned for its high performance and reliability, stands tall as the industry's gold standard. Let's delve deeper into what makes this ergonomic heat gun an essential for professionals worldwide.
Unparalleled Performance: Equipped with an advanced gas mechanism, the Ripack 2200 gas-powered shrink tool delivers consistent and uniform heat for optimal shrinking. Whether it's wrapping pallets or safeguarding delicate items, expect nothing less than perfection.
User-Friendly Design: Comfort and ease of use are at the heart of the Ripack 2200's design. Its ergonomic handle ensures a comfortable grip, while its intuitive controls offer hassle-free operation and precision heat application, making prolonged use and uniform heat shrinking a breeze.
Safety First: Safety is no afterthought with the Ripack 2200. Integrated safety measures, including an automatic shut-off and cool-to-touch nozzle, safeguard users and reduce potential risks.
Eco-Friendly Operation: In an era of environmental consciousness, the Ripack 2200's efficient gas consumption not only ensures cost savings but also reduces the carbon footprint, making this eco-friendly heat gun a responsible choice for the eco-conscious.
Diverse Applications: From industrial packaging to arts and crafts, the versatility of the Ripack 2200 is unmatched. Its adjustable heat settings cater to an array of applications, making it perfect for multi-purpose safe shrink wrapping.
A high speed and durable professional heat shrink gun for shrinking polythene pallet hoods and shrink film. Light and easy to handle, fatigue free and fast working, the rotating nozzle and swivel gas connection prevent the hose twisting and enhance operator performance.
Frequently Asked Questions:

What makes the Ripack 2200 stand out from other heat shrink guns?

The Ripack 2200 combines unparalleled performance, user-friendly design, built-in safety features, and an eco-conscious approach, making it the preferred choice for professionals.

Is the Ripack 2200 suitable for prolonged use?

Absolutely. Its ergonomic design ensures comfort during extended usage, and its durable construction guarantees longevity.

How does the Ripack 2200 contribute to eco-friendly operations?

The Ripack 2200 is designed for efficient gas consumption, reducing waste and ensuring a lesser carbon footprint.

Can I adjust the heat settings on the Ripack 2200?

Yes, the Ripack 2200 comes with adjustable heat settings to cater to a wide range of applications.

Is the Ripack 2200 safe for beginners?

Certainly. With its integrated safety measures like automatic shut-off and cool-to-touch nozzle, the Ripack 2200 is suitable for both beginners and professionals.