Polyprop Strapping Starter Kit with Static Dispenser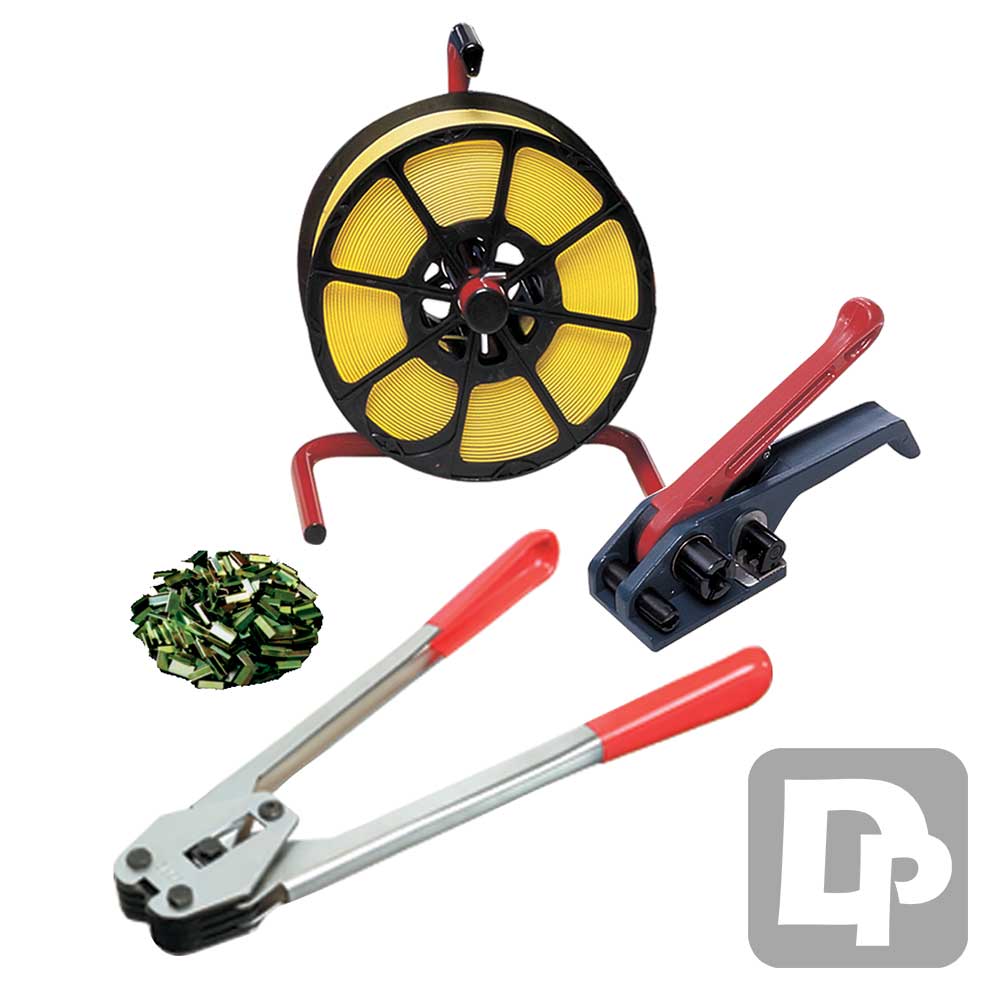 Polyprop Strapping Starter Kit with Static Dispenser
Small handy low cost strapping starter kit for low volume pallet strapping applications.
This strapping kit contains:
- Small compact dispenser frame that is easy to handle and store.
- Rugged tensioning tool suitable for most general purpose strapping.
- A reel of 12m Polyprop strapping suitable for strapping most pallets.
- Strapping sealer for crimping seals onto the strap after tensioning.
- A box of 1000 general purpose 12mm strapping seals.
Polyprop Strapping Starter Kit with Static Dispenser - Your Complete Packaging Solution
Discover the ultimate packaging solution with our Polyprop Strapping Starter Kit, complete with a static dispenser for effortless and efficient strapping applications. Designed for small businesses, warehouses, and retail environments, this comprehensive kit provides all the essential tools and materials needed to securely package and protect your valuable goods during shipping and storage.
Key Features:
High-Quality Polypropylene Strapping: Our starter kit includes a roll of premium-grade polypropylene strapping in 12mm width. Polypropylene offers excellent strength and flexibility, making it ideal for securing a wide range of loads.
Static Dispenser for Easy Handling: The included static dispenser holds the strapping rolls securely, allowing for smooth and controlled dispensing during the packaging process. Say goodbye to tangled or unruly strapping with this convenient accessory.
Tensioner Tool for Secure Strapping: Our kit features a robust tensioner tool, enabling you to apply the perfect amount of tension to the strapping, ensuring a secure and tight hold on your packages.
Sealer Tool for Reliable Sealing: Achieve professional results with the included sealer tool, effortlessly crimping or sealing the ends of the strapping together, creating a dependable closure for your packages.
Safe and Efficient Strap Cutter: The integrated strap cutter is part of the tensioning tool and allows for safe and precise cutting of excess strapping after it has been tensioned and sealed, promoting a tidy and professional finish.
User-Friendly Instruction Manual: Our starter kit includes a comprehensive instruction manual, guiding you through the proper use of each tool and component, ensuring a seamless strapping experience.
Strapping Seals for Added Security: For an extra layer of load security, our kit includes strapping seals, ensuring your packages are firmly held together after tensioning.
Versatile Applications: Whether you are bundling products for retail display or preparing shipments for delivery, our Polyprop Strapping Starter Kit suits a wide range of packaging needs across various industries.
Cost-Effective and Time-Saving: Invest in our starter kit for long-term cost savings and enhanced packaging efficiency. This all-inclusive solution eliminates the need for multiple purchases and helps you get started right away.
Ensure Your Shipments' Safety: With our reliable strapping tools and materials, you can have peace of mind knowing your goods are protected and secured throughout their journey.
Experience hassle-free and secure packaging with our Polyprop Strapping Starter Kit with Static Dispenser. Elevate your packaging process with this all-in-one solution, providing the tools and materials needed to enhance your load containment and shipping efficiency. Order now and embark on a journey of reliable and professional packaging excellence.