Green Polyester Strapping 15.5mm x 0.6 mm x 2000m Embossed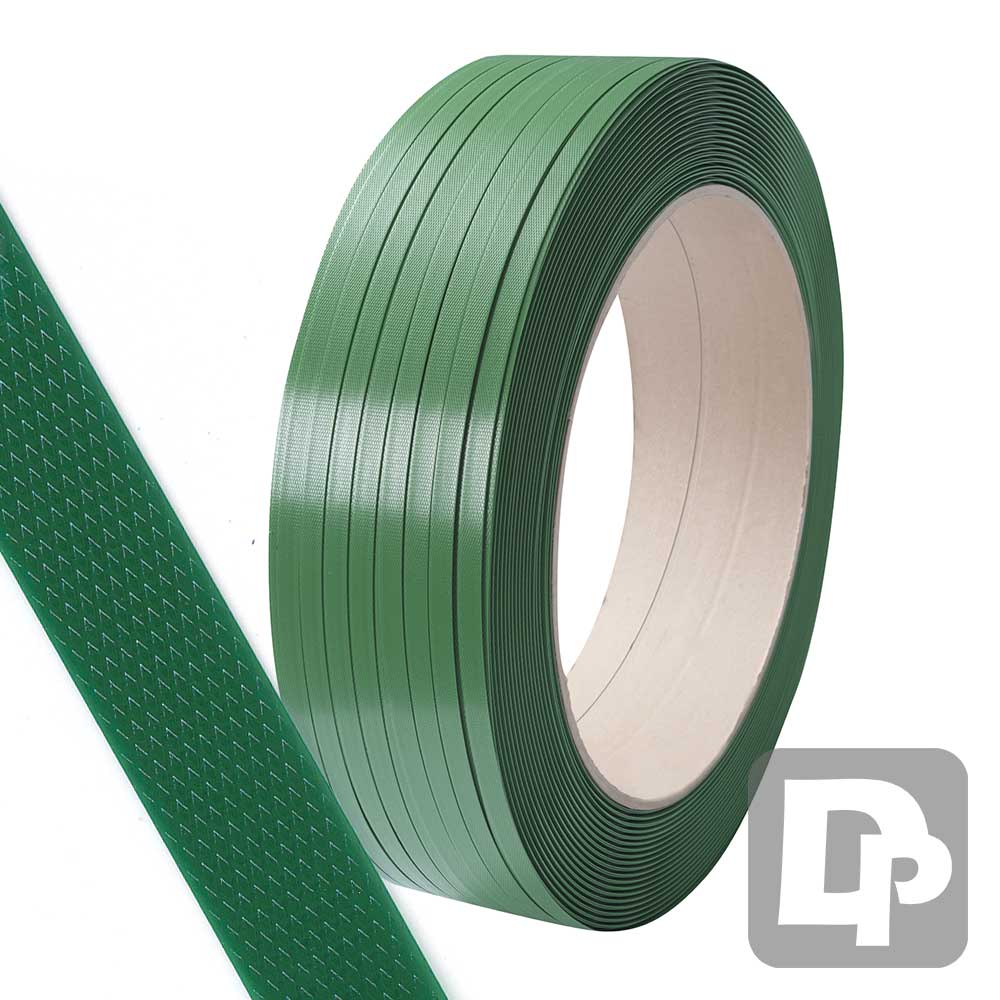 Green Polyester Strapping 15.5mm x 0.6 mm x 2000m Embossed
16mm Green Polyester Strapping
Our 16mm green polyester strapping is an extruded polyester strapping with a high percentage of recycled PE material content. Extruded polyester strap is a solid PE strap rather than woven polyester threads like the woven polyester strapping. Extruding PE in one solid strap like this means it can be used with friction heat welding tools. Polyester machine strap has a much higher breaking strain than polyprop strapping so is popular for use in automated strapping machinery where higher tension is needed. Polyester is also a much tougher material than polyprop so resists abrasion and damage better. This makes it better for use with high abrasion products or critical applications such as building materials, automated packaging lines, and heavy pallets such as drinks.
16mm Green Polyester Strapping Key Features
 - Slightly narrower 15.5mm strap for smoother running on automated machinery
 - Embossed surface for better grip on strapping seals and tensioning tools
 - Very high breaking strain
 - Excellent alternative to steel strapping
 - Up to 80% recycled PE content
Bulk Buy Pricing on 16mm Green PE Machine Strapping
Polyester machine strapping is available to buy in bulk pallet quantities for those looking for wholesale rates. We import strapping so are a very competitive source for large quantities.
16mm Green PE Strapping Specification
Product Code: PETS1560E
Strap Dimensions: 15.5mm x 0.6mm x 2000m
Width: 15.5mm
Thickness: 0.6mm
Length: 2000m
Material: Polyester with recycled material
Weight of Reel:  kg
Breaking Strain: 310kg
Finish: Green Embossed
Quantity per Box: 1 Reels
Quantity per Pallet: 60 Reels (60 boxes)
Eco Packaging Score: 2/5
 - Recyclable: Yes
 - Biodegradable: No
 - Sustainable Materials: Yes (recycled content)
 - Plastic Free: No
 - Reduced Carbon Footprint: No