White Polycloth Tape 50mm x 50m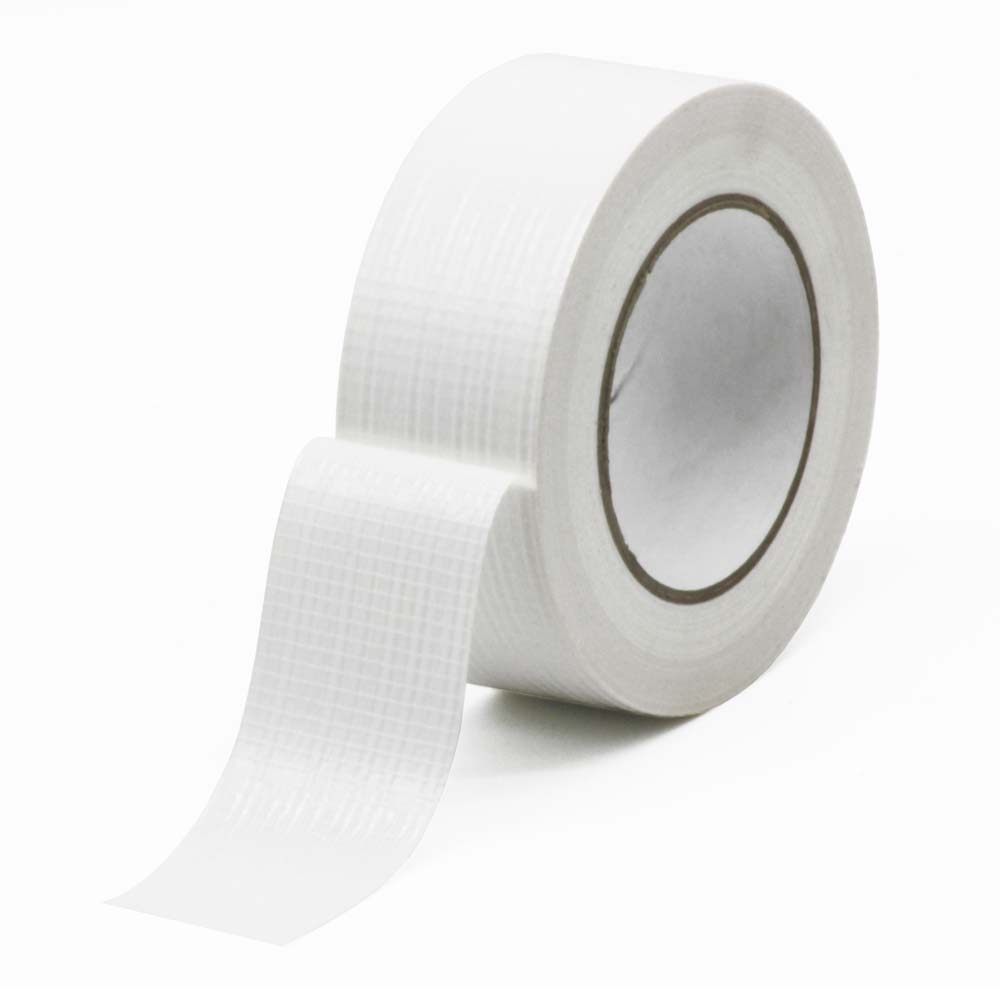 White Polycloth Tape 50mm x 50m
White waterproof poly cloth tape made from a fibre reinforced backing with a strong high tack adhesive. Also known as white duck tape or white duct tape and used for demanding taping requirements.
White Polycloth Tape 50mm x 50m - The Versatile and Reliable Adhesive Solution
Introducing our White Polycloth Tape, a premium-grade adhesive tape engineered to meet your diverse sealing and fastening needs. With its impressive performance, this tape has become a go-to choice for professionals and DIY enthusiasts alike. Measuring 50mm in width and extending 50 meters in length, it offers an ample supply of adhesive power to tackle a wide range of applications with ease.
Uncompromising Strength and Durability:
Crafted from a blend of high-quality materials, our White Polycloth Tape delivers uncompromising strength and durability. Its robust composition ensures exceptional resistance to tearing, abrasion, and other external stresses, making it an ideal choice for both light and heavy-duty tasks. Whether you need to secure cartons for shipping or fasten materials in construction projects, this tape provides a reliable and unyielding hold you can trust.
Versatility in Applications:
Our White Polycloth Tape's versatility knows no bounds. From crafting projects to professional applications, this adhesive tape excels in multiple scenarios. It adheres seamlessly to various surfaces, including cardboard, plastic, metal, fabric, and wood, allowing you to use it for an array of tasks without worry. Its superior adhesion ensures that your projects stay intact, regardless of the materials involved.
Weather Resistant and Long-Lasting:
With a weather-resistant design, our White Polycloth Tape stands up to the elements. It remains steadfast under diverse weather conditions, from scorching summers to freezing winters, ensuring your packages and repairs remain secure over time. This long-lasting performance saves you the hassle of frequent replacements, making it a cost-effective and efficient choice for both businesses and households.
Convenient Application and Handling:
Ease of use is a key feature of our White Polycloth Tape. Its smooth unwind and manageable thickness make it effortless to apply by hand or with tape dispensers. The tape's user-friendly design reduces the time and effort required for packaging and fastening tasks, allowing you to work with efficiency and precision.
Clean and Professional Finish:
The crisp white color of our Polycloth Tape adds a touch of professionalism to your packages and projects. Whether you're sealing boxes for shipments, bundling materials, or performing repairs, this tape delivers a clean and neat finish that enhances the overall presentation.
Discover the Power of White Polycloth Tape:
In conclusion, our White Polycloth Tape 50mm x 50m combines strength, versatility, and reliability to meet the demands of modern packaging, construction, and DIY projects. Its durable composition ensures a secure hold that lasts, while its ease of use and professional finish make it a valuable addition to your toolkit. Experience the convenience and performance of our White Polycloth Tape today and elevate your sealing and fastening tasks to new heights.