Eco-Friendly Brown Paper Tape 50mm x 50m Hot Melt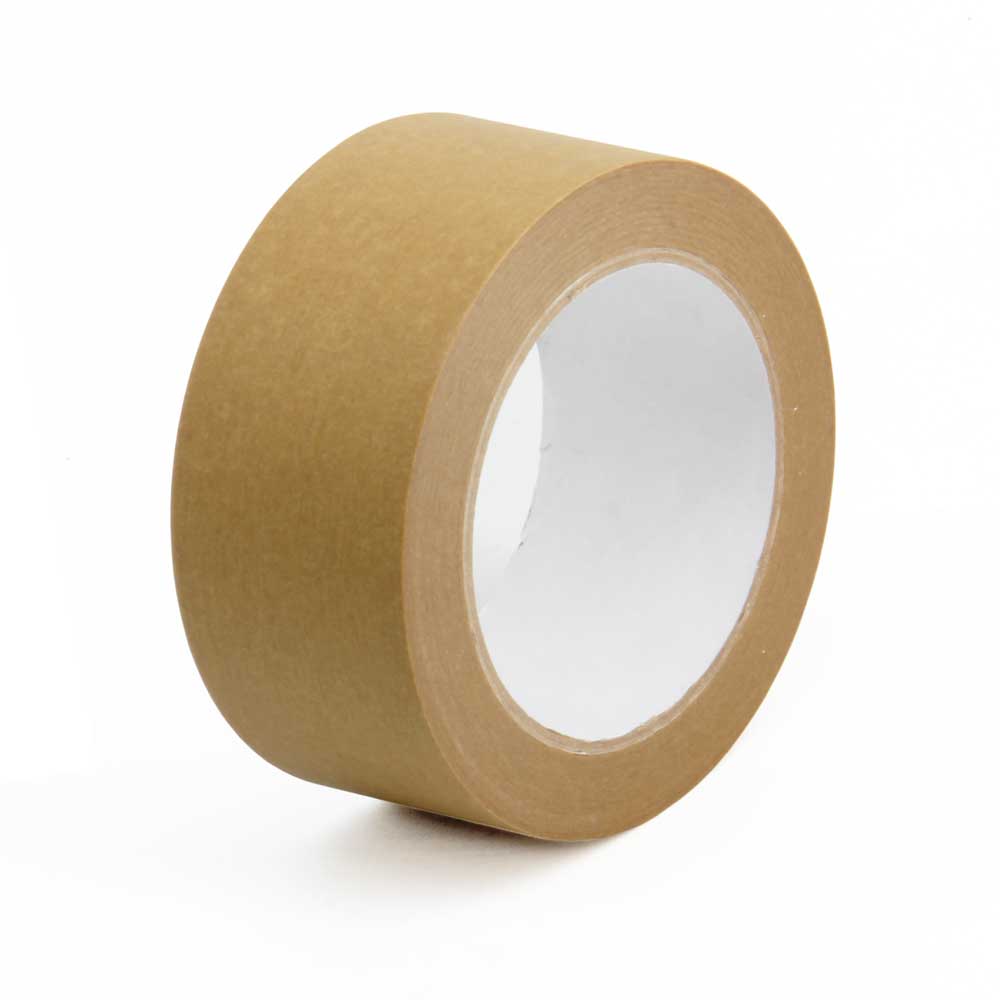 Eco-Friendly Brown Paper Tape 50mm x 50m Hot Melt
A self adhesive brown paper tape designed as an eco-logical alternative to plastic tape for taping parcels & general packaging requirements. This recyclable paper tape can be recycled along with the cardboard for an easy to recycled solution.
50mm Brown Paper Tape
Our 50mm wide brown paper tape is the natural choice for making your eCommerce boxes really stand out and look great! The matt finish and rough texture of the tape make for very premium presentation compared to plastic based tapes, as well as blending in to the boxes to complete the professional look. What's more, this tape shows your customers that you really care for the environment, as it is manufactured from renewable sources and therefore makes recycling super easy. More and more online customers are looking for companies who embrace recyclable materials in the supplying of their products, so our paper tape is a must for online stores to set your parcels a step above the rest.
Benefits of Using Self-adhesive Kraft Paper Tape
Self-adhesive Kraft paper tape offers several benefits that make it a popular choice for packaging, crafting, and various other applications. Here are some of the advantages of using self-adhesive Kraft paper tape:
Ease of Use: Self-adhesive Kraft paper tape eliminates the need for water or additional adhesives for activation. It is ready to use right out of the roll, making it a convenient option for quick and hassle-free application.

Time Savings: With self-adhesive Kraft paper tape, you can save time compared to traditional water-activated gummed paper tape, which requires moistening. The adhesive on the tape bonds instantly upon application, allowing you to work efficiently and speed up your packaging process.

Clean Application: Self-adhesive tape provides a clean and neat application. There's no need to deal with water mess or excess moisture, ensuring your packages and surfaces stay dry and free from potential damage.

Versatility: Self-adhesive Kraft paper tape is versatile and can be used for a wide range of applications, including packaging, crafting, labeling, and more. It adheres well to various surfaces, making it suitable for both lightweight and heavier items.

Strong Adhesion: Self-adhesive Kraft paper tape is designed with a strong adhesive that forms a reliable bond. It adheres securely to most materials, ensuring your packages stay sealed during transit and storage.

Tamper-Evident: Similar to traditional Kraft paper tape, self-adhesive versions also provide tamper-evident properties. Once applied, any attempt to remove or tamper with the tape becomes noticeable, enhancing the security of your packages.

Environmentally Friendly: Kraft paper is a natural and biodegradable material, making it an eco-friendly choice for packaging. Self-adhesive Kraft paper tape retains these environmental benefits while offering the convenience of self-adhesive application.

Professional Appearance: Self-adhesive Kraft paper tape adds a touch of rustic charm and professionalism to your packages. Its natural look and texture contribute to an aesthetically pleasing presentation that can enhance your brand image.

Customization: Many self-adhesive Kraft paper tapes can be easily written on, stamped, or printed on, allowing you to personalize your packages with labels, branding, or messages.

Cost-Effective: Self-adhesive Kraft paper tape is often more cost-effective than other sealing options, such as plastic tapes or specialized adhesives, while still providing a reliable and secure seal.
In summary, self-adhesive Kraft paper tape combines the natural appeal of Kraft paper with the convenience of self-adhesive application. It offers a range of benefits, from time savings and ease of use to tamper-evident security and eco-friendliness, making it a versatile and practical choice for various packaging and crafting needs.
Eco Friendly Brown Paper Tape Key Features:
- A strong crepe paper tape in a 50m hand roll.
- Can be used on most hand tape guns.
- Recyclable and eco-friendly alternative to plastic tape.
- Ideal for taping cardboard boxes.
Bulk Buy Pricing on Brown Self Adhesive Paper Tape
Brown self adhesive paper tape rolls are available to buy in bulk pallet quantities for those looking for wholesale rates. We import paper machine tape so we are a very competitive source for large quantities.
50mm Brown Paper Tape Specification
Product Code: ECO5050
Dimensions:
Width: 48mm (or 50mm)
Length: 50m
Material: Semi Creped Paper Backing with Hot Melt Adhesive
Weight of Roll:  
Finish: Brown Kraft
Quantity per Box: 36 rolls
Quantity per Pallet: 3024 rolls (84 boxes)
Eco Packaging Score: 3/5
 - Recyclable: Yes
 - Biodegradable: Yes
 - Sustainable Materials: Yes
 - Plastic Free: No
 - Carbon Neutral: No