eComBag® Padded 165mm x 180mm Biodegradable Mailing Bag (100/bx)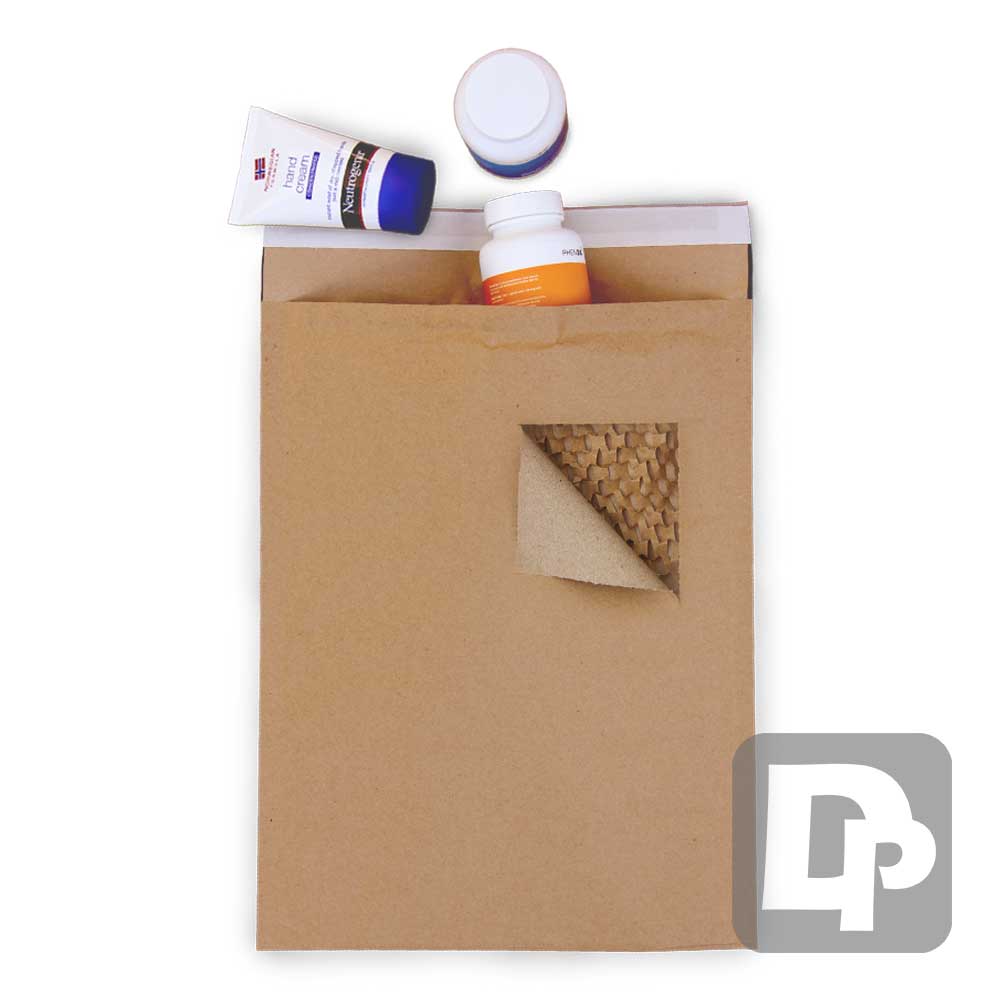 eComBag® Padded 165mm x 180mm Biodegradable Mailing Bag (100/bx)
A light and cost-effective padded mailing bag manufactured with an expanded honeycomb paper lining in a 165 x 180mm size. This mailing bag is a plastic free alternative to C/0 size jiffy mailer made completely from compostable, biodegradable, and recyclable paper.
Plastic-Free Bubble Envelopes: Elevating Protection and Sustainability in Shipping
In an era where environmental consciousness takes center stage, plastic-free bubble envelopes emerge as a transformative solution that seamlessly merges the need for secure shipping with a steadfast commitment to reducing plastic waste. These innovative envelopes redefine the art of packaging, offering an eco-friendly alternative that safeguards both your items and the planet.
Plastic-free bubble envelopes are meticulously crafted to provide exceptional protection while upholding environmental values. The conventional plastic bubble wrap interior is replaced with eco-conscious materials like recycled paper or biodegradable substances, ensuring your valuables are cocooned safely without imposing harm on nature.
The essence of plastic-free bubble envelopes lies in their harmonious union of protection and sustainability. The bubble lining forms a resilient barrier against external shocks, preserving your items' integrity during transit, while the plastic-free composition underscores a dedication to a cleaner, greener future.
What truly sets plastic-free bubble envelopes apart is their dedication to a circular lifecycle. After fulfilling their purpose, these envelopes can be disposed of responsibly, breaking down naturally without leaving behind lasting pollution. By choosing plastic-free bubble envelopes, you contribute to the global fight against plastic waste, embodying a proactive stance towards environmental preservation.
The embrace of plastic-free bubble envelopes extends beyond packaging – it symbolizes a conscious choice that resonates with diverse sectors. Businesses that opt for these envelopes exemplify a commitment to sustainable practices, aligning their shipping decisions with eco-friendly values and appealing to environmentally aware customers. On a personal level, plastic-free bubble envelopes offer an ethical way to send gifts, showcasing the significance of mindful choices that echo through generations.
In an era where innovative solutions are pivotal for tackling plastic pollution, plastic-free bubble envelopes stand as a beacon of progress. They redefine the notion of packaging, seamlessly intertwining protection, convenience, and eco-consciousness. By selecting plastic-free bubble envelopes, you embark on a journey of responsible shipping while actively contributing to a healthier planet – one envelope at a time.