eComBag® Paper Padded Black Biodegradable Mailing Bag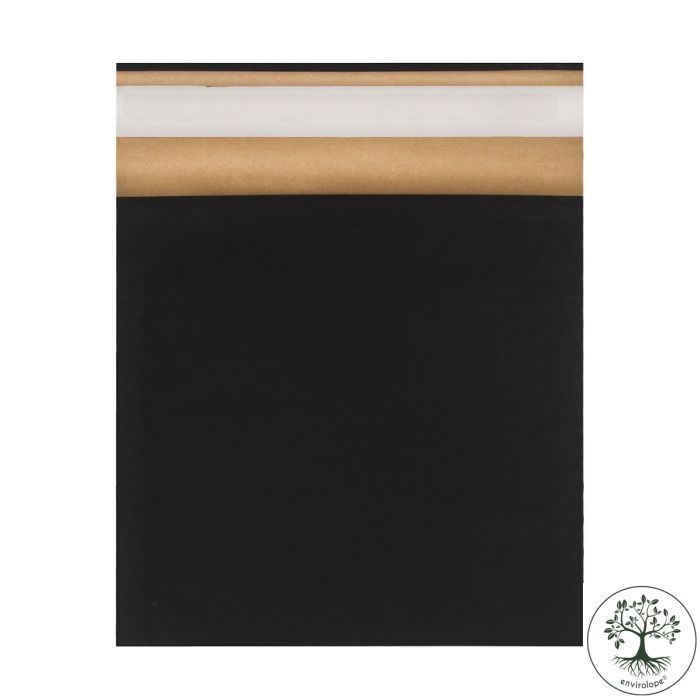 eComBag® Paper Padded Black Biodegradable Mailing Bag
Black coloured biodegradable & compostable paper padded mailing bags for impressive looking packaging when sending items in the post. Black paper padded mailers are made completely from paper making them a great eco-conscious choice for packaging.
Black Paper Padded Mailing Bags
Our range of paper padded mailing bags have some great environmental credentials, they are manufactured completely from paper so are recyclable, bio-degradable, and contain a high amount of recycled paper content.  These black coloured paper padded bags can be used for a wide range of different online orders and have enough padding for most general use applications.
Coloured packaging has long been known to add that extra WOW to online deliveries so if you are wanting to add that little bit more buying experience to help your brand stand out from your competitors then these black padded mailing bags are just what you need.  You can tell your customers that they are 100% recyclable and biodegradable and they'll look fabulous too.
Our black paper padded envelopes are so quick and easy to use, they have an internal paper lining so you can easily slip your items in with no snagging or catching and the handy peel & seal closure seals the envelope closed with a secure seal.  They are also surprisingly water resistant, with these bags you don't need to worry about your items getting wet. Our eComBag paper range is manufactured from pressure sealed paper which can last several hours in the rain without letting water through.
 - Black colour outer paper for a better looking package.
 - Range of sizes to match most popular Jiffy bag sizes.
 - Honeycomb internal paper padding.
 - Recycled, recyclable and biodegradable for a super eco-friendly mailing bag.
 - Environmentally friendly alternative to bubble lined mailing bags.
 - Lighter weight than jiffy padded bags for cheaper mailing costs.
Detailed Specification
Size Range:  100mm x 165mm, 165mm x 180mm, 150mm x 215mm, 180mm x 265mm.
Material Specification:  190gsm Kraft Paper, 3ply.
Closure Type:  Peel & Seal
Environmental Rating:  5/6 Star (recyclable, recycled content, biodegradable, sustainable, plastic free)
People who liked this searched for:  Paper Padded Envelopes, Paper Padded Bags, Paper Padded Jiffy Bags, Coloured Jiffy Bags