A5 Docs Enc Envelopes Printed 235mm x 175mm (Box of 1000)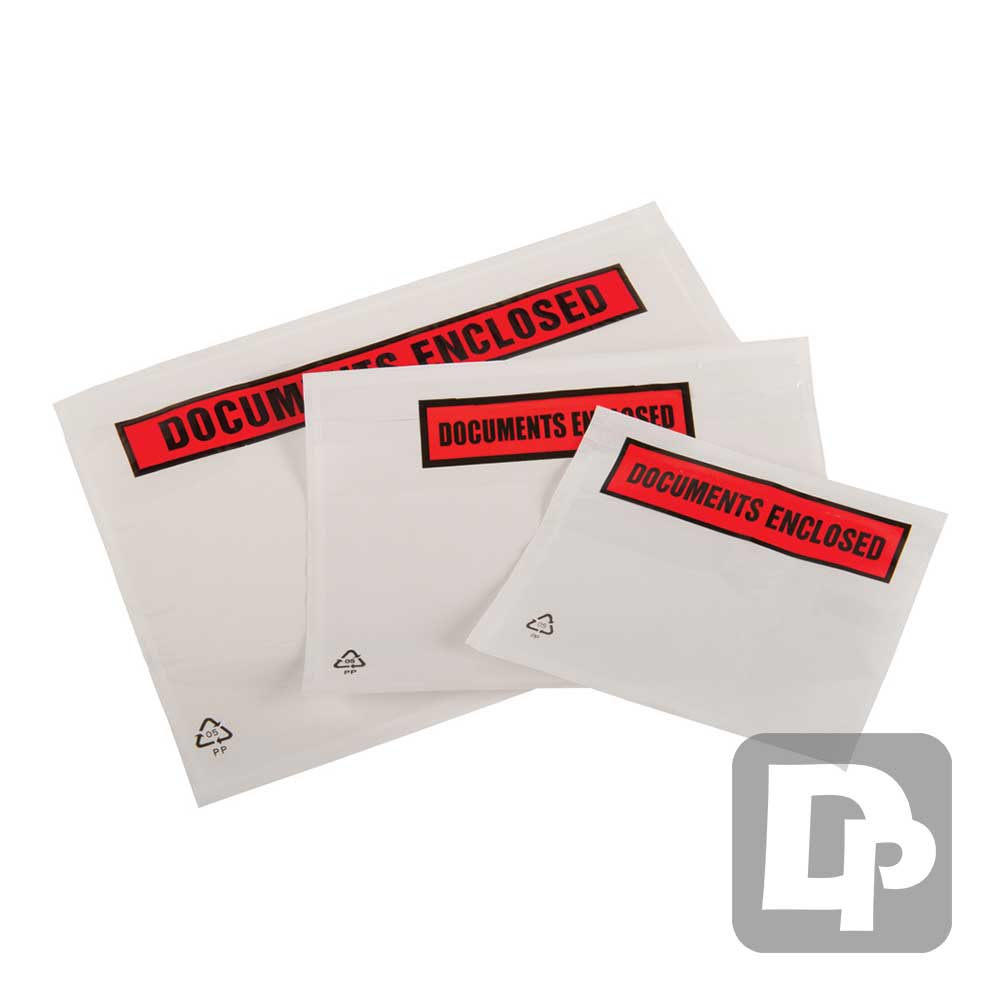 A5 Docs Enc Envelopes Printed 235mm x 175mm (Box of 1000)
Optimal Protection and Efficiency: A5 Document Enclosed Envelopes - Safeguarding Your Documents

Introducing our A5 Document Enclosed Envelopes - secure and organized document handling. These premium envelopes are meticulously crafted to perfectly fit A5-sized documents (235mm x 175mm) while providing outstanding protection and convenience for all your important paperwork.
Product Features:
Perfect Fit for A5 Documents: Our A5 Document Enclosed Envelopes are thoughtfully designed to snugly hold A5-sized documents, ensuring a secure and neat fit. Whether it's invoices, packing slips, or shipping labels, these envelopes keep your documents well-protected and easily accessible.

Durable and Protective: Made from high-quality materials, these envelopes offer exceptional strength and resistance against tearing, punctures, and moisture. Their robust construction shields your documents from environmental elements, ensuring they remain in pristine condition during transit and storage.

Transparent Window: Each envelope features a transparent window on the front, allowing instant visibility of the enclosed document. This practical feature eliminates the need to open the envelope for quick document verification, saving valuable time and streamlining your document management process.

Self-Adhesive Seal: Our A5 Document Enclosed Envelopes come with a user-friendly self-adhesive strip, providing a secure and hassle-free sealing experience. The self-seal closure ensures your documents stay safely enclosed throughout their journey.

Versatile Application: These envelopes cater to a wide range of applications, from e-commerce packaging and retail shipments to office communications and administrative tasks. They are a versatile tool for businesses aiming to streamline their document handling while maintaining a professional image.

Compliance and Convenience: Our A5 Document Enclosed Envelopes adhere to industry standards, making them suitable for international shipping and compliance with customs regulations. Their standardized sizing ensures easy integration into your shipping and packaging processes.

Organized and Efficient: Keep your documents well-organized and readily identifiable with these envelopes. Their clear window and custom printing options allow you to add important details, such as shipment information or return instructions, for enhanced efficiency and customer experience.
Applications:
E-commerce and Retail: A5 Document Enclosed Envelopes are indispensable for online retail and e-commerce businesses, ensuring the secure attachment of shipping labels and other essential documents.

Office and Administrative Use: These envelopes are perfect for organizing and protecting important office documents, such as contracts, reports, and invoices, maintaining a clutter-free workspace.

Shipping and Logistics: Utilize these envelopes to accompany shipments and keep essential paperwork visible and intact during transit, optimizing the efficiency of your shipping process.

Corporate Communication: A5 Document Enclosed Envelopes are an excellent choice for sending branded promotional materials, informational inserts, or corporate communications.
Upgrade your document handling and shipping process with our A5 Document Enclosed Envelopes. Experience the benefits of superior protection, efficient organization, and streamlined document management. Invest in these durable and versatile envelopes to elevate your professionalism and ensure your documents arrive at their destination with absolute integrity.