Corrugated Paper 900mm x 75m 100% Recycled Paper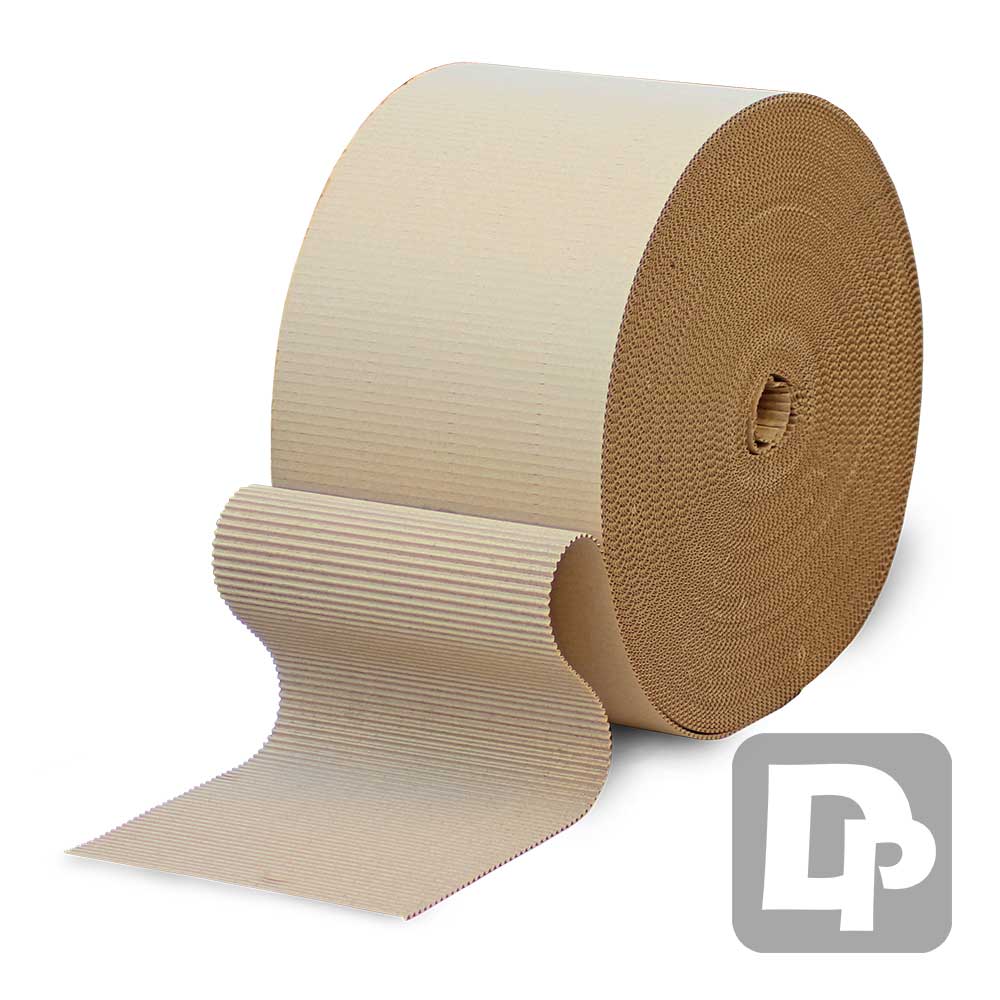 Corrugated Paper 900mm x 75m 100% Recycled Paper
A 900mm wide roll of cardboard in a single faced corrugated format for wrapping and packaging items up to 90cm wide. Cardboard roll is useful for packing both large and small items as it is flexible enough to wrap easily around corners and the long 75m length can be used to wrap large items.
900mm Wide Corrugated Paper Roll
Welcome to our eco-friendly haven of packaging solutions! Say hello to the Corrugated Paper Roll, where sustainability meets versatility in perfect harmony. Measuring 900mm in width and generously extending up to 75 meters, this roll is your gateway to a greener, more responsible way of packaging and creating.
Crafted from the finest 100% recycled paper, this Corrugated Paper Roll is a testament to our unwavering commitment to Mother Earth. Choosing this roll means you're not just opting for high-quality packaging material – you're becoming a steward of the environment, one thoughtful decision at a time.
With its distinctive corrugated texture, this paper is more than just a packaging essential; it's your partner in protection. Safeguard fragile items during transit or storage with the superior cushioning and shock absorption that only corrugated paper can provide. Your delicate treasures will arrive at their destination unscathed and ready to shine.
Product Highlights:
Dimensions: 900mm x 75m, offering abundant material for all your packaging needs.
Earth-Friendly: Crafted from 100% recycled paper, reducing landfill waste and conserving resources.
Multi-Purpose Marvel: From shipping precious goods to unleashing your artistic flair, it's your ultimate go-to.
Built for Creativity: Lightweight and easy to manipulate, it's perfect for crafting, school projects, and beyond.
Sustainable Elegance: Elevate your packaging game while making a positive impact on our planet.
Embrace the power of sustainability without compromising on quality or efficiency. Elevate your packaging, protect your valuables, and indulge your creative spirit with the Corrugated Paper Roll. It's time to redefine how you package, present, and protect – all while leaving a lighter footprint on our beautiful Earth. Join us in this journey towards a brighter, greener future.
Applications and Uses for 900mm Corrugated Paper Rolls
A 900mm wide corrugated paper roll offers a multitude of practical and creative uses across various industries and settings. Here are some innovative ways you can utilize this versatile product:
Packaging and Shipping: The primary purpose of corrugated paper is to provide cushioning and protection during transportation. Use the roll to wrap fragile items, electronics, glassware, ceramics, and other delicate objects. The corrugated texture enhances shock absorption, reducing the risk of damage during transit.

Crafting and Art Projects: Corrugated paper adds texture and dimension to artistic creations. Cut, fold, and shape the paper to make 3D sculptures, dioramas, model buildings, masks, and more. Its sturdiness and malleability make it a fantastic medium for both kids' crafts and professional art projects.

Home and Office Organization: Create custom dividers, compartments, and organizers for drawers, shelves, and storage boxes. The corrugated paper can help protect sensitive documents, separate items, and prevent scratches or dings.

DIY Home Improvement: Corrugated paper is excellent for protecting surfaces during painting, sanding, or other home improvement projects. It can also be used as a temporary floor covering to prevent damage from foot traffic.

Educational Activities: Teachers can use corrugated paper for interactive lessons, science projects, and hands-on learning. It can represent landscapes, geological formations, and architectural elements in classroom activities.

Event Decorations: Incorporate corrugated paper into event decorations, such as backdrop panels, table centerpieces, or signage. Its texture can add an interesting visual element to themed parties, weddings, and exhibitions.

Theatrical and Set Design: Corrugated paper can be used to create props, set designs, and stage decorations for theater productions, school plays, or amateur performances.

Photography Backdrops: Achieve unique and textured backgrounds for photoshoots, whether for professional photography studios or personal projects.

Product Displays: Retail businesses can use corrugated paper to create eye-catching and protective displays for merchandise, helping products stand out while maintaining their integrity.

Greenhouse and Gardening: Corrugated paper can be used to create plant protectors, seedling trays, and insulating covers for small gardening projects.

Pets and Animal Care: Craft cozy and insulated shelters for small animals or birds using corrugated paper. Its texture provides a natural-looking and comfortable habitat.

School Projects: Students can use corrugated paper for science fair projects, model building, presentations, and various creative assignments.
These are just a few of the many possible uses for a 900mm wide corrugated paper roll. Its flexibility, durability, and eco-friendly nature make it an essential tool for both practical applications and creative endeavors.