Heavy Duty Black Refuse Sack 457mm x 725mm x 975mm 250g Seine (Box of 100)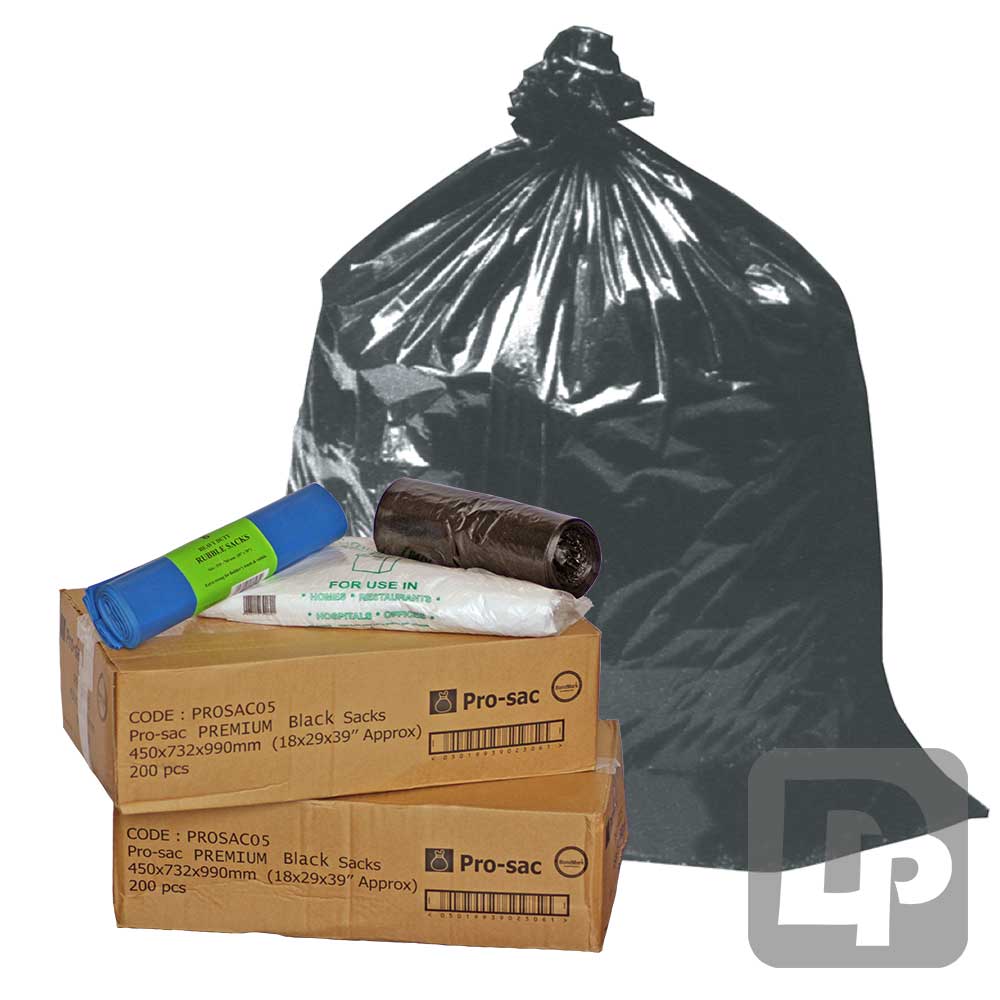 Heavy Duty Black Refuse Sack 457mm x 725mm x 975mm 250g Seine (Box of 100)
Heavy Duty Black Refuse Sack - Your Ultimate Black Sack for Waste Management
Introducing our Heavy Duty Black Refuse Sack, the ultimate solution for managing waste with unparalleled strength and reliability. Engineered to handle even the most demanding tasks, these refuse sacks are designed to provide you with the peace of mind you deserve when it comes to waste disposal.
Product Details:
Dimensions: 457mm x 725mm x 975mm
Thickness: 250 gauge
Key Features:
Exceptional Strength: Crafted from a robust 250-gauge material, these refuse sacks are built to withstand the heaviest loads and toughest waste materials. No matter if it's sharp objects, bulky items, or general refuse, our heavy-duty sack ensures containment without compromising on durability.

Generous Capacity: With dimensions of 457mm x 725mm x 975mm, these refuse sacks offer ample space to accommodate a significant volume of waste, reducing the need for frequent bag replacements and optimizing your waste management efficiency.

Secure Containment: The thick gauge material and reinforced design of our refuse sack provide excellent tear and puncture resistance. Say goodbye to leaks, spills, and unwanted messes, as our sack reliably contains waste materials until disposal.

Easy-to-Use: The practical sizing and user-friendly design make these refuse sacks suitable for a range of applications. Whether it's household waste, garden debris, or commercial waste, these sacks simplify the process of gathering and containing waste for hassle-free disposal.

Versatile Application: From busy kitchens to construction sites, our heavy-duty black refuse sacks are adaptable to various environments. Their reliability makes them an essential tool for homeowners, businesses, and industries alike.

Convenient Packaging: Each box contains a quantity of refuse sacks that ensures you have an adequate supply on hand. The conveniently packed sacks are ready to use, eliminating the need for excessive storage space.
Make waste management a breeze with our Heavy Duty Black Refuse Sack. Backed by top-tier strength and a commitment to quality, these sacks are a dependable choice for tackling waste of all kinds. Whether you're a homeowner seeking a robust solution for household waste or a professional managing larger-scale debris, our refuse sacks are designed to exceed your expectations. Choose durability, choose reliability – choose our Heavy Duty Black Refuse Sack for your waste containment needs.
Exploring the Uses for Heavy Duty Black Sacks
Heavy duty black sacks, also known as heavy-duty refuse sacks or garbage bags, have a wide range of uses and applications due to their durability and capacity to handle tough and bulky waste. Here are some common uses and applications for heavy duty black sacks:
Household Waste: Heavy duty black sacks are ideal for containing general household waste, including kitchen scraps, non-recyclable items, and miscellaneous debris.

Garden and Yard Waste: They are well-suited for collecting garden trimmings, leaves, branches, and other outdoor debris, making yard cleanup and maintenance more manageable.

Construction Sites: Heavy duty sacks are frequently used on construction sites to dispose of construction and demolition debris, such as broken materials, packaging, and other waste generated during building projects.

Renovation Projects: Whether you're renovating a room or an entire property, these sacks are perfect for collecting materials like old tiles, drywall, flooring, and other construction waste.

Industrial and Manufacturing Facilities: These sacks are used in industrial settings to manage and dispose of manufacturing waste, scraps, and byproducts generated during production processes.

Moving and Relocation: When moving houses or offices, heavy duty black sacks are handy for packing items that aren't suitable for boxes, like textiles, linens, and non-fragile items.

Event Clean-Up: After large events, such as festivals, concerts, or outdoor gatherings, heavy duty sacks can be used to collect and manage the considerable amount of waste generated by attendees.

Retail Environments: Stores and retail outlets use heavy duty sacks for disposing of unsellable items, damaged goods, and other waste generated during operations.

Hotel and Hospitality Industry: From linens to discarded amenities, these sacks help hotels manage waste generated by guests and daily operations.

Restaurant and Food Service: Heavy duty sacks are utilized in the food industry for disposing of food waste, packaging, and other materials generated in the kitchen and dining areas.

Medical and Healthcare Facilities: In medical settings, these sacks are used for disposing of non-hazardous waste, such as packaging materials and general refuse.

Outdoor Cleanup: Heavy duty sacks are valuable for cleaning up outdoor spaces, such as parks, streets, and public areas, where larger volumes of waste need to be collected.

Recycling Centers: While heavy duty sacks are typically for non-recyclable waste, they can also be used to manage recyclables in cases where separate collection isn't possible.
These are just a few examples of the diverse uses and applications for heavy duty black sacks. Their robust construction and generous capacity make them a versatile tool for waste management in various settings, helping to maintain cleanliness and organization while simplifying the disposal process.