General Purpose Black Bin Bags 457mm x 725mm x 975mm 180g Zambesi (Box of 200)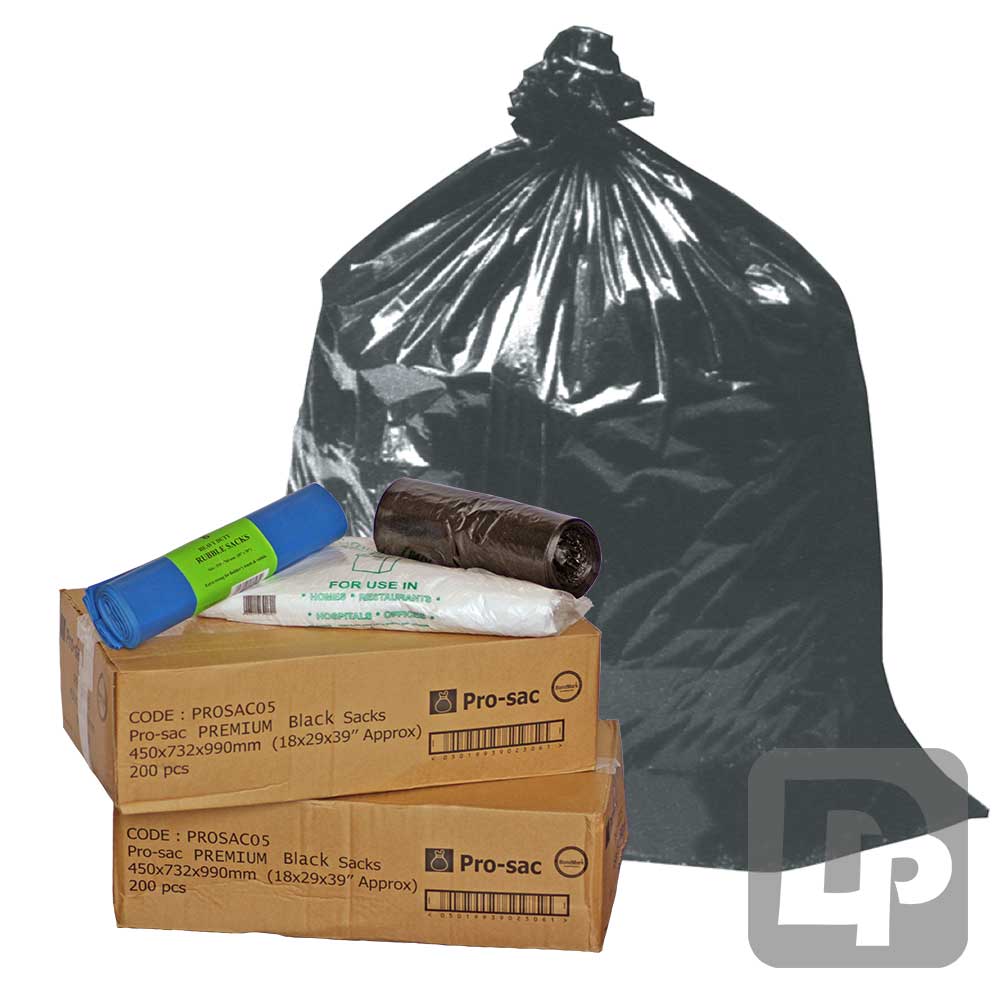 General Purpose Black Bin Bags 457mm x 725mm x 975mm 180g Zambesi (Box of 200)
A good quality general purpose black bin bag for rubbish clearing and bin lining. CHSA Rating: Heavy (up to 15kg weight capacity)
General Purpose Black Bin Bags
Introducing our General Purpose Black Bin Bags – your reliable solution for efficient waste management in any setting. Crafted with durability and convenience in mind, these bin bags are designed to streamline your waste disposal process while maintaining a clean and organized environment. Our 180g general purpose black bin bags are a good quality black bin liner for general purpose refuse collection. They are manufactured from 100% recycled plastic making them a very eco-conscious choice for those looking to reduce their environmental impact during waste disposal. The strong 180g (45mu) plastic is co-extruded LDPE and HDPE for a superior performance over standard LDPE or HDPE refuse sacks. The two different plastic materials work together allowing the best properties of both to make a stronger bag.
Product Details:
Dimensions: 457mm x 725mm x 975mm
Thickness: 180 gauge
Key Features:
Versatile Usage: Our General Purpose Black Bin Bags are tailored to meet your diverse waste disposal needs. Whether it's household waste, office debris, or light industrial materials, these bags are your go-to solution.

Optimal Capacity: With dimensions of 457mm x 725mm x 975mm, these bin bags offer ample space to accommodate a variety of waste items, reducing the need for frequent bag changes and enhancing overall efficiency.

Reliable Strength: Manufactured from durable 180-gauge material, these bin bags exhibit reliable strength and puncture resistance. Rest assured that your waste will remain securely contained without risk of tearing or leakage.

Effortless Handling: Designed for ease of use, our bin bags are conveniently sized and constructed for hassle-free loading and tying. Say goodbye to frustrating tangles or awkward fits – these bags make waste disposal a breeze.

Indoor and Outdoor Ready: Whether you're tidying up your home, maintaining your office, or managing waste outdoors, our General Purpose Black Bin Bags are engineered to handle it all, adapting to various environments with equal efficiency.

Cost-Effective Solution: With their generous size and reliable construction, these bin bags offer exceptional value, reducing the frequency of bag replacement and minimizing the resources needed for waste management.

Conscious Design: The sleek black color provides a discreet appearance, keeping unsightly waste out of view. Additionally, the bags are designed to be compatible with various waste containers, ensuring a snug fit and preventing spillage.

Convenient Packaging: Each package contains a quantity of bin bags, offering a practical and space-saving solution for your waste management needs.
Elevate your waste management experience with our General Purpose Black Bin Bags. Engineered for durability, ease of use, and versatility, these bags are your trusted partner in maintaining cleanliness and organization. Whether it's in your home, office, or other environments, our bin bags make waste disposal a seamless and efficient process. Choose reliability, choose convenience – choose our General Purpose Black Bin Bags for a cleaner and more organized space.
Our popular black bin liners are suitable for use as 100ltr dustbin liners, outdoor litter bin liners, and general mobile rubbish collection.
180g Black Bin Bag Key Features:
Good quality 180g (45mu) plastic for general purpose rubbish collection
LDPE/HDPE Co-extruded plastic for superior strength
Made from 100% recycled plastic
Fully recyclable
CHSA Rating: Heavy (up to 15kg weight capacity)
Bulk Buy Pricing on 180g Black Bin Bags
Our black bin bags are available to buy in bulk pallet quantities for those looking for wholesale rates. We import bags and sacks so are a very competitive source for large quantities.
| | | | |
| --- | --- | --- | --- |
| Box of 200 | Pallet of 50 Boxes | Pallet of 100 Boxes | Multiple Pallets |
| £34.31 per box | £23.04 per box | £20.55 per box | Call our team for prices |
180g Heavy Black Bin Bag Specification
Product Code: BRS18
Bag Dimensions: 457 x 725 x 975mm (18" x 29" x 39")
Width: 457/725mm Gusseted
Thickness: 180g (45mu)
Length: 975mm
Material: Recycled LDPE/HDPE co-ex
Weight: kg
CHSA Rating: Heavy (15kg)
Finish: Black Recycled
Quantity per Box: 200 sacks
Quantity per Pallet: 10000 sacks (100 boxes)
Eco Score: 3/5
 - Recyclable: Yes
 - Biodegradable: No
 - Sustainable Materials: Yes (100% recycled plastic)
 - Plastic Free: No
 - Reduced Carbon Footprint: Yes