General Purpose Black Bin Bags 457mm x 725mm x 975mm 180g (Box of 200)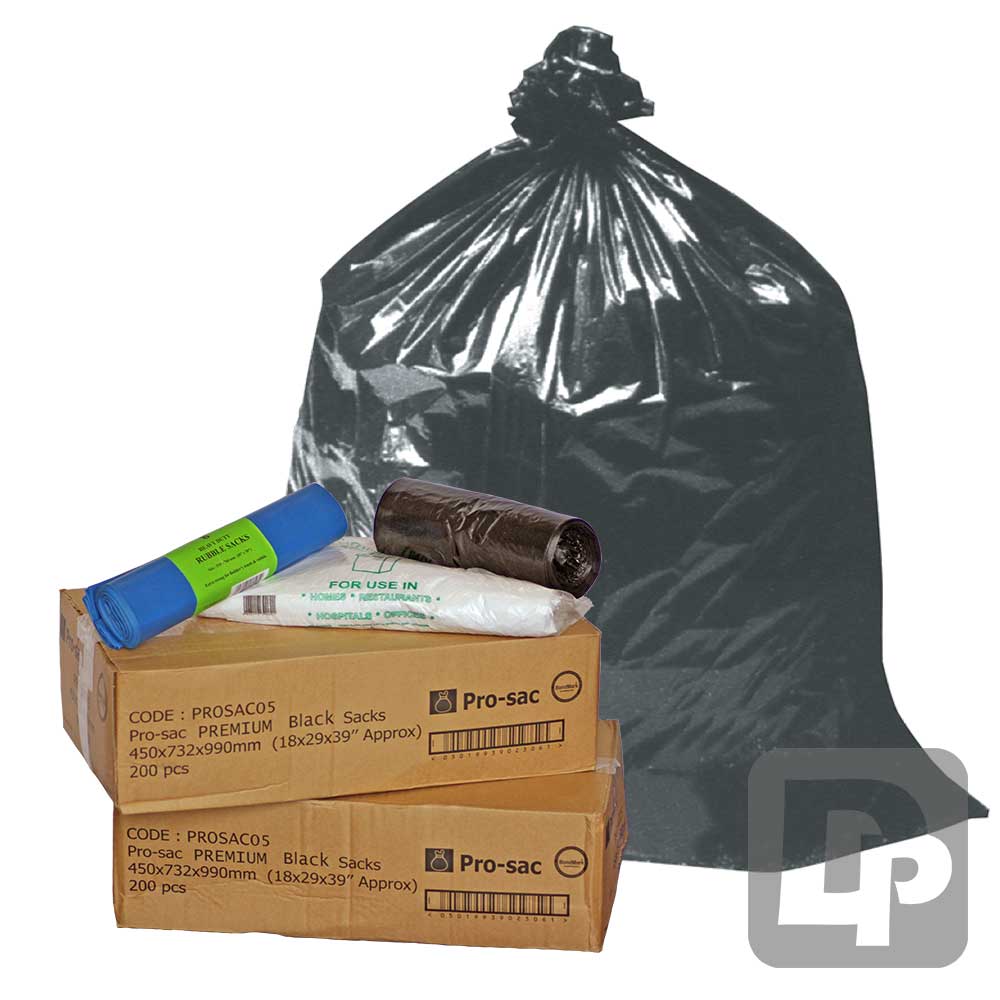 General Purpose Black Bin Bags 457mm x 725mm x 975mm 180g (Box of 200)
A good quality general purpose black bin bag for rubbish clearing and bin lining. CHSA Rating: Heavy (up to 15kg weight capacity)
General Purpose Black Bin Bags
Our 180g general purpose black bin bags are a good quality black bin liner for general purpose refuse collection. They are manufactured from 100% recycled plastic making them a very eco-conscious choice for those looking to reduce their environmental impact during waste disposal. The strong 180g (45mu) plastic is co-extruded LDPE and HDPE for a superior performance over standard LDPE or HDPE refuse sacks. The two different plastic materials work together allowing the best properties of both to make a stronger bag.
Our popular black bin liners are suitable for use as 100ltr dustbin liners, outdoor litter bin liners, and general mobile rubbish collection.
180g Black Bin Bag Key Features:
 - Good quality 180g (45mu) plastic for general purpose rubbish collection
 - LDPE/HDPE Co-extruded plastic for superior strength
 - Made from 100% recycled plastic
 - Fully recyclable
 - CHSA Rating: Heavy (up to 15kg weight capacity)
Bulk Buy Pricing on 180g Black Bin Bags
Our black bin bags are available to buy in bulk pallet quantities for those looking for wholesale rates. We import bags and sacks so are a very competitive source for large quantities.
| | | | |
| --- | --- | --- | --- |
| Box of 200 | Pallet of 50 Boxes | Pallet of 100 Boxes | Multiple Pallets |
| £34.31 per box | £23.04 per box | £20.55 per box | Call our team for prices |
180g Heavy Black Bin Bag Specification
Product Code: BRS18
Bag Dimensions: 457 x 725 x 975mm (18" x 29" x 39")
Width: 457/725mm Gusseted
Thickness: 180g (45mu)
Length: 975mm
Material: Recycled LDPE/HDPE co-ex
Weight: kg
CHSA Rating: Heavy (15kg)
Finish: Black Recycled
Quantity per Box: 200 sacks
Quantity per Pallet: 10000 sacks (100 boxes)
Eco Score: 3/5
 - Recyclable: Yes
 - Biodegradable: No
 - Sustainable Materials: Yes (100% recycled plastic)
 - Plastic Free: No
 - Reduced Carbon Footprint: Yes