​​​​Envosafe J/6 300mm x 445mm White Bubble Lined Bag (Box of 50)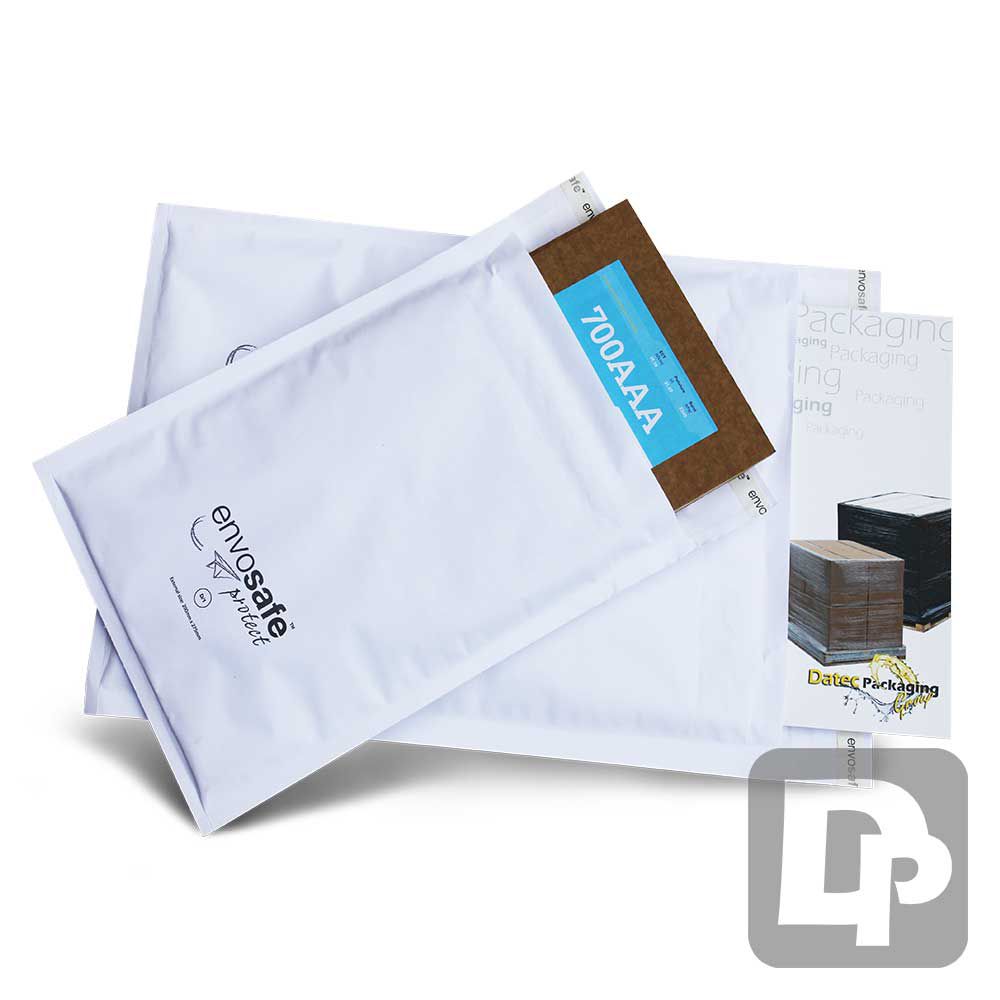 ​​​​Envosafe J/6 300mm x 445mm White Bubble Lined Bag (Box of 50)
**Half price if you order 5 or more boxes**
J/6 size Jiffy mailmiser for items up to 300 x 445mm. Mailmiser envelopes are a lightweight mailer that is made from a strong paper outer with a bubble padded lining made with Astrobubble® for reliable protection.
J/6 300mm x 445mm Jiffy Bags: Your Reliable Packaging Solution for Secure Shipments
In the dynamic world of e-commerce and shipping, choosing the right packaging materials is crucial to ensure your products reach their destination safely and securely. J/6 300mm x 445mm Jiffy bags are the ultimate packaging solution, offering a perfect blend of protection, versatility, and convenience. In this comprehensive guide, we will explore the features and benefits of J/6 Jiffy bags and why they are an excellent choice for businesses and individuals seeking reliable shipping solutions.
1. Introduction to J/6 Jiffy Bags:
Jiffy bags, also known as padded envelopes or bubble mailers, are well-renowned for their exceptional protective qualities. The J/6 size, measuring 300mm x 445mm, is specifically designed to accommodate larger items while ensuring optimal cushioning during transit. These bags boast a unique blend of materials, featuring a robust outer layer combined with a bubble-lined interior. This innovative design offers an unparalleled level of protection, making them ideal for a wide range of products, from clothing and books to electronics and fragile items.
2. Superior Protective Cushioning:
One of the standout features of J/6 Jiffy bags is the bubble lining. The interior of each bag is lined with numerous air-filled bubbles, which act as a reliable shock absorber, cushioning your items against impacts, vibrations, and bumps during shipping. This superior protective cushioning minimizes the risk of damage, ensuring that your products arrive in perfect condition at their destination. Whether you're shipping delicate electronics or valuable collectibles, J/6 Jiffy bags provide the peace of mind that your items are well-protected throughout the shipping journey.
3. Versatile Size for Various Items:
The J/6 size of these Jiffy bags offers ample space for a wide variety of products. Measuring 300mm x 445mm (11.8 inches x 17.5 inches), these bags are perfect for shipping larger items such as A4 documents, clothing, magazines, books, and other bulkier goods. Their generous dimensions ensure that you can confidently use J/6 Jiffy bags for various shipping needs, eliminating the need for multiple packaging options and simplifying your shipping process.
4. Lightweight and Cost-Effective:
In addition to their protective qualities, J/6 Jiffy bags are exceptionally lightweight. The combination of bubble lining and a lightweight outer layer means that these bags add minimal weight to your shipments. As a result, you can reduce shipping costs, making J/6 Jiffy bags a cost-effective solution for businesses looking to optimize their shipping expenses. Lighter packages also contribute to a greener shipping process, as they require less fuel during transportation, making them an environmentally conscious choice.
5. Easy and Secure Closure:
Efficiency and security go hand in hand with J/6 Jiffy bags. Each bag is equipped with a practical and user-friendly self-sealing strip. This self-sealing feature ensures a hassle-free packing process, saving valuable time during fulfillment. Simply peel off the protective strip, fold over the flap, and press to seal the bag securely. The reliable closure mechanism prevents accidental openings and tampering during transit, giving you peace of mind that your shipments are in safe hands.
6. Professional Presentation:
First impressions matter, and J/6 Jiffy bags help elevate your brand's image. The clean and professional appearance of these bags adds a touch of sophistication to your shipments, making a positive impact on your customers. Additionally, Jiffy bags provide a suitable surface for branding stickers or labels, allowing you to reinforce your brand identity with each package you send.
7. Time-Saving and Convenient:
As a busy business owner or individual shipper, time is of the essence. J/6 Jiffy bags offer a time-saving and convenient packaging solution. The bags are ready to use, requiring no additional assembly or preparation. Simply insert your items, seal the bag, and your shipment is ready for dispatch. This convenience streamlines your packing process, allowing you to focus on other essential aspects of your business.
8. Environmentally Friendly Option:
J/6 Jiffy bags are designed with sustainability in mind. The outer layer is often made from recycled materials, making them an eco-friendly packaging option. By choosing J/6 Jiffy bags, you contribute to a greener shipping process and demonstrate your commitment to environmentally responsible practices, appealing to eco-conscious customers.
9. Secure International Shipping:
J/6 Jiffy bags are perfect for both domestic and international shipping. Their durable construction and protective bubble lining make them an excellent choice for long-distance shipments. Whether sending products across town or overseas, these bags provide the reliability and security needed to ensure your items arrive intact, no matter the distance they travel.
10. Customization Options:
For businesses looking to add a personal touch to their packaging, J/6 Jiffy bags offer customization options. Depending on your requirements, you can add your logo, branding, or other unique designs to the bags, creating a branded unboxing experience for your customers. Customized Jiffy bags not only enhance brand recognition but also leave a lasting impression, encouraging repeat business and customer loyalty.
Conclusion:
J/6 300mm x 445mm Jiffy bags are the ultimate packaging solution for safe and secure shipping. Combining superior protective cushioning, versatility, convenience, and eco-friendliness, these bags provide the ideal shipping experience for businesses and individuals alike. Whether shipping large items, delicate electronics, or valuable goods, J/6 Jiffy bags offer the peace of mind that your products will reach their destination in perfect condition. Embrace the reliability and convenience of J/6 Jiffy bags today and elevate your shipping process to a new level of excellence.