​Envosafe H/5 270mm x 360mm White Protect (Box of 100)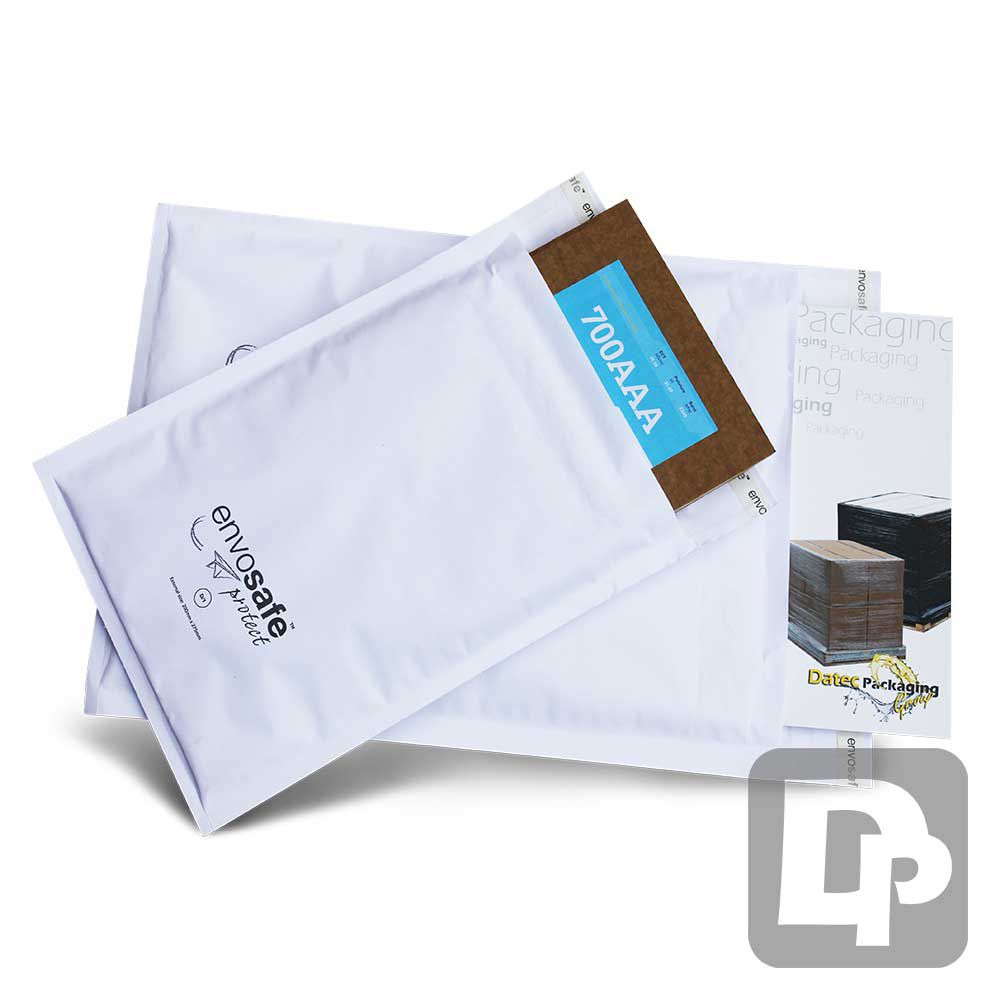 ​Envosafe H/5 270mm x 360mm White Protect (Box of 100)
A large Jiffy envelope in H/5 size for mailing items up to 270 x 360mm. Clean white paper outer with a protective bubble wrap lining makes these padded envelopes very popular for sending large items by post or courier.
Envosafe H/5 270mm x 360mm White Bubble Lined Mailing Bags: Protecting Your Shipments with Confidence
When it comes to shipping goods, ensuring that they arrive at their destination safely and securely is of paramount importance. The Envosafe H/5 270mm x 360mm White Bubble Lined Mailing Bags are a reliable and efficient packaging solution designed to protect your shipments while maintaining a professional and sleek appearance. Let's explore why these mailing bags are an excellent choice for your shipping needs.
Superior Protection:
The Envosafe H/5 mailing bags are constructed with high-quality materials that offer superior protection for your items during transit. The outer layer is made of durable, white kraft paper that resists tearing and punctures, safeguarding the contents from potential damage caused by rough handling or external elements.
Bubble Lining Technology:
What sets these mailing bags apart is the innovative bubble lining technology. The interior is lined with a layer of air-filled bubbles, acting as a cushion that absorbs shocks and impacts during transportation. This added layer of protection minimizes the risk of breakage or scratches, making these bags ideal for delicate and fragile items like electronics, glassware, or ceramics.
Lightweight and Cost-Effective:
Despite their protective features, the Envosafe H/5 mailing bags are surprisingly lightweight. This characteristic is advantageous for reducing shipping costs, especially when considering the potential savings in postage fees for both domestic and international shipments. Additionally, their lightweight design makes them easy to handle, which can streamline your packing process and improve overall efficiency.
Secure Seal:
A secure closure is crucial to ensuring the contents of your shipment remain intact throughout the journey. The mailing bags feature a strong adhesive strip that firmly seals the bag once it's packed, preventing accidental openings and unauthorized access. This tamper-evident seal adds an extra layer of security and gives your customers peace of mind, knowing that their order has not been tampered with during transit.
Professional Presentation:
First impressions matter, and the clean, white exterior of these mailing bags presents a professional and polished image to your customers. Whether you're a small online business or a large-scale enterprise, using Envosafe H/5 mailing bags conveys a commitment to quality and care for your products and customers.
Environmentally Friendly:
In today's eco-conscious world, choosing environmentally friendly packaging solutions is crucial. The Envosafe H/5 mailing bags are fully recyclable, making them an eco-friendly option for your shipping needs. By using these bags, you can reduce your carbon footprint and demonstrate your commitment to sustainability, which resonates positively with eco-conscious consumers.
Versatile and Spacious:
With dimensions of 270mm x 360mm, the Envosafe H/5 mailing bags offer ample space for a wide range of products. Whether you're shipping clothing, books, cosmetics, or other small to medium-sized items, these bags provide a versatile packaging solution that can accommodate various products and shapes.
Conclusion:
In conclusion, the Envosafe H/5 270mm x 360mm White Bubble Lined Mailing Bags combine durable construction, advanced bubble lining technology, and a professional appearance to provide an ideal shipping solution for businesses of all sizes. With their superior protection, secure closure, and eco-friendly design, you can ship your products with confidence, knowing they will arrive at their destination intact and in excellent condition. Upgrade your packaging strategy today and invest in Envosafe H/5 mailing bags to elevate your shipping experience and delight your customers with every delivery.