​180mm x 265mm D/1 Jiffy Bag White A5 Padded Envelope Envosafe Protect (Box of 100)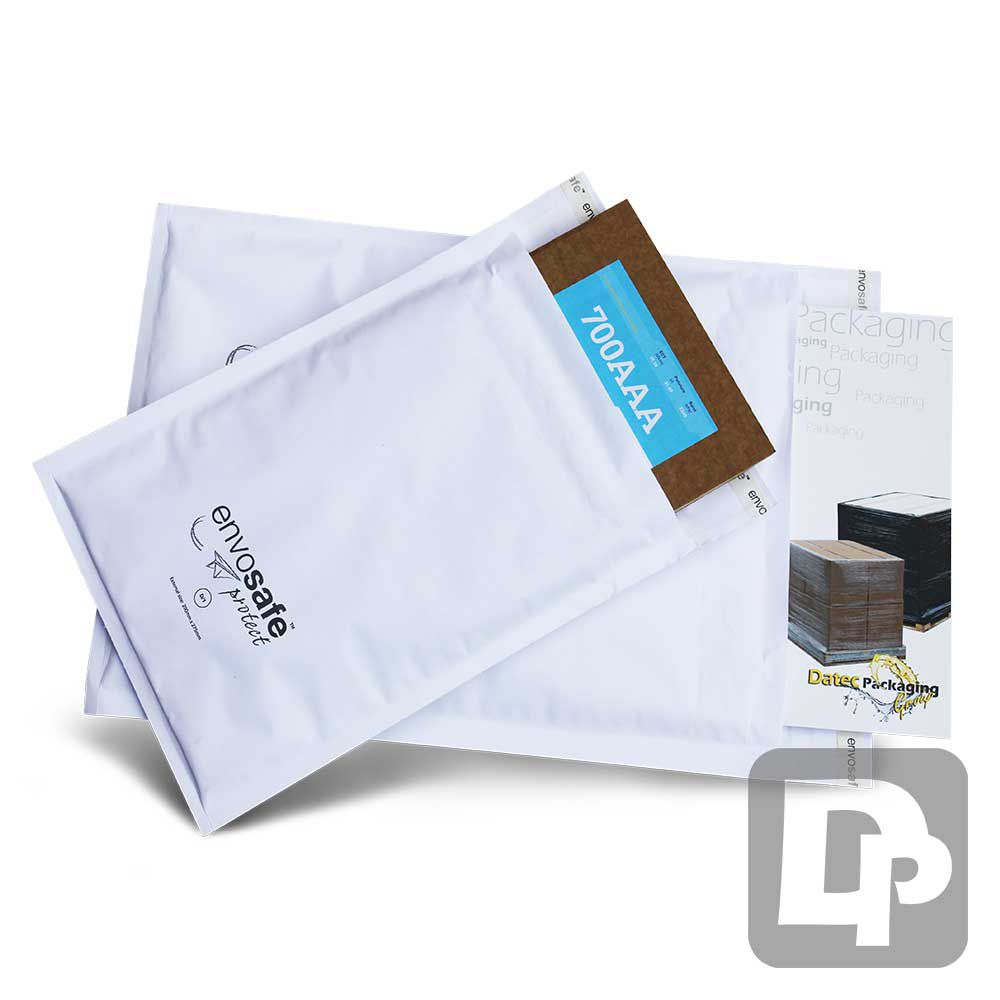 ​180mm x 265mm D/1 Jiffy Bag White A5 Padded Envelope Envosafe Protect (Box of 100)
The popular bubble padded envelope in a useful A5 size for packing & sending items in the post.
White A5 Padded Envelopes
Premium quality white A5 padded envelopes in the Envosafe™ brand for packing a wide range of items up to A5 in size. These high quality bubble mailers are manufactured from premium white kraft paper outer layer with a strong barrier sealed bubble wrap lining. Using these better quality materials makes these bubble lined envelopes one of the highest quality products on the market. Bubble lined Jiffy bags are very popular for quickly packing a wide range of items to send by post. The envelope style makes filling and sealing the parcel quick and easy, and they have remained a firm favorite for many years.
Introducing White A5 Padded Envelopes: The Perfect Packaging Solution
When it comes to sending important documents, photos, or delicate items through the mail, ensuring their safety and protection is crucial. White A5 padded envelopes are a reliable and popular packaging solution designed to safeguard your contents while maintaining a professional and elegant appearance. In this article, we explore the features, benefits, and various uses of white A5 padded envelopes, demonstrating why they are the go-to choice for both personal and business needs.
Features and Specifications:
White A5 padded envelopes are typically crafted from high-quality materials, combining a tough and tear-resistant exterior with a soft, cushioned interior. The exterior is often made from durable paper or cardboard, while the interior boasts a layer of bubble wrap padding. This unique design offers a dual advantage, providing the necessary rigidity to protect against bends, creases, or impacts, as well as a cushioning effect that prevents any potential damage during transit.
These envelopes usually measure 6.5 inches by 9 inches, making them the ideal size for A5 documents and smaller items. Additionally, most white A5 padded envelopes are equipped with a secure peel-and-seal strip, ensuring easy and efficient closure without the need for additional adhesives or tape.
Benefits and Advantages:
Protection and Security: The primary benefit of white A5 padded envelopes lies in their ability to shield your contents from external elements. Whether it's rainy weather or rough handling during transit, the robust exterior and internal padding provide a protective barrier, minimizing the risk of any potential damage.
Lightweight: Despite their protective qualities, white A5 padded envelopes remain lightweight, contributing to cost-effective shipping and reducing the overall shipping weight.
Professional Appearance: The crisp white color of these envelopes exudes professionalism, making them ideal for businesses or individuals who prioritize presenting a polished image to recipients.
Versatility: White A5 padded envelopes are not limited to just documents; they are suitable for a wide range of items. From photographs, small gifts, CDs, DVDs, jewelry, and more, these envelopes accommodate various contents securely.
Cost-Effective: Compared to other packaging options, white A5 padded envelopes offer a cost-effective solution for shipping delicate or valuable items, providing an economical alternative to boxes or larger padded envelopes.
Eco-Friendly Options: Many manufacturers are now offering eco-friendly versions of white A5 padded envelopes, using recycled materials for the outer layers and eco-friendly bubble wrap alternatives for the padding. This makes them an environmentally conscious choice for both businesses and individuals.
Uses:
E-commerce Shipping: Online sellers frequently utilize white A5 padded envelopes to ship products securely to their customers. The envelopes' compact size and protective capabilities make them an ideal choice for small items and documents.
Office Mailings: Businesses often rely on these envelopes to send confidential documents, contracts, invoices, or marketing materials to clients and partners.
Photography and Art: Photographers and artists use white A5 padded envelopes to deliver prints, artwork, and personalized creations, ensuring their clients receive their orders in pristine condition.
Personal Correspondence: Individuals can use white A5 padded envelopes to send greeting cards, letters, or small gifts to friends and family, adding an element of surprise and protection.
In conclusion, white A5 padded envelopes are an essential packaging solution for anyone seeking a reliable, secure, and professional way to send items through the mail. Their protective features, cost-effectiveness, and versatility make them a top choice for businesses and individuals alike. So, whether you are shipping valuable products or sending heartfelt correspondence, trust in the dependability of white A5 padded envelopes to deliver your contents safely and stylishly.
Bulk Buy Pricing on A5 Padded Envelopes
A5 padded envelopes are available to buy in bulk pallet quantities for those looking for wholesale rates. We stock many of the Jiffy bag product range here in the UK so we are a very competitive source for large quantities.

White A5 Padded Envelope Specification
Product Code: BLPBDW
Internal Dimensions: 
Length: 180mm
Width: 265mm
Material: White Kraft Outer with Bubble Lining
Weight of Bag: 18g (0.018 kg)
Finish: White
Quantity per Box: 100
Quantity per Pallet: 6800 (68 boxes)
Royal Mail Postal Size: Large Letter
Size Format: A5 size
Self Seal Strip: Yes
Eco Packaging Score: 2/5
 - Recyclable: Yes
 - Biodegradable: No
 - Sustainable Materials: Yes
 - Plastic Free: No
 - Carbon Neutral: No