500mm x 300m Super 20 Megastretch Pallet Stretch Wrap Flush Core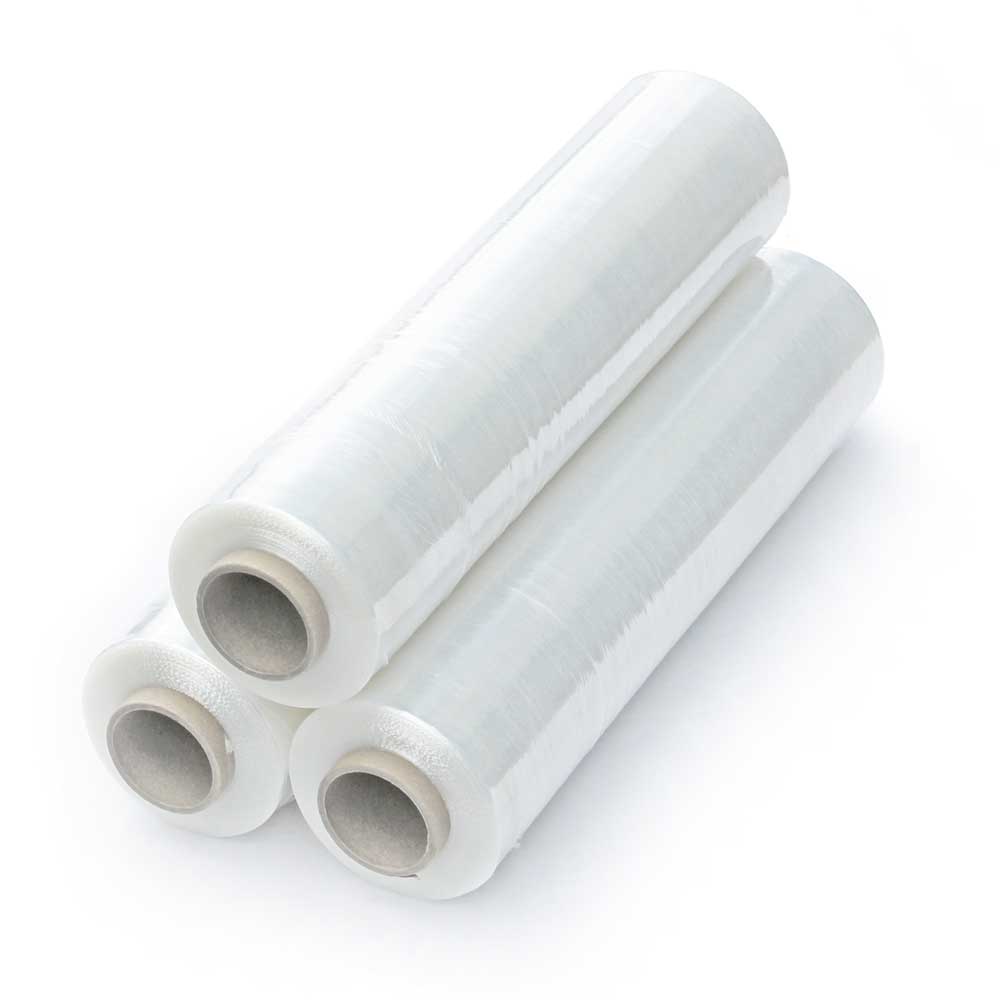 500mm x 300m Super 20 Megastretch Pallet Stretch Wrap Flush Core
A 500mm wide heavy duty stretch film in a 20mu performance grade for wrapping heavy and awkward shaped pallets for transit.
500mm Heavy Duty Pallet Wrap
Heavy duty 20mu performance stretch pallet wrap in a 500mm wide roll for faster wrapping. Our 500mm wide pallet wrap means you can wrap a pallet faster as you don't have to walk around the pallet as many times. These rolls have 25% more stretch wrap than the standard 400mm wide film rolls. The high performance film makes this stretch film a great product to use on most pallet shapes, even the most awkward pallets with sharp corners.
This stretch film is a flush core stretch wrap which can be used on a pallet wrap dispenser or by hand. This flush core design means you can get more film on the roll, making it more efficient than extended core stretch wrap. Heavy duty 20mu stretch wrap is manufactured from a high quality LLDPE which is recyclable and is wound on biodegradable cores.
500mm Heavy Duty Stretch Film Key Features:
 - Heavy duty 20mu performance film
 - Suitible for most pallets, even awkward shapes and sharp corners
 - Cast LLDPE film for quiet unwind and inside cling
 - Recyclable film with biodegradable cores
 - Flush core stretch wrap that can be used with stretch wrap dispensers
Bulk Buy Pricing on 500mm wide 20mu Stretch Wrap
500mm width, 20mu stretch film is available to buy in bulk pallet quantities for those looking for wholesale rates. We import pallet stretch film so are a very competitive source for large quantities.
500mm Wide 20mu Pallet Wrap Specification
Product Code: 547S
Wrap Dimensions: 500mm x 300m x 20mu (eqv)
Width: 500mm
Thickness eqv: 20mu
Length: 300m
Material: Cast LLDPE
Weight of Roll: 2.75 kg
Finish: Clear - one side cling
Quantity per Box: 6 Rolls
Quantity per Pallet: 240 rolls (40 boxes)
Eco-Conscious Score: 3/5
 - Recyclable: Yes
 - Biodegradable: No
 - Sustainable Materials: Yes (recyclable plastic)
 - Plastic Free: No
 - Reduced Carbon Footprint: Yes (thinner but stronger)