500mm x 20mu Standard Stretch Cast Machine Pallet Stretch Film (includes PPTax at £2.87/roll)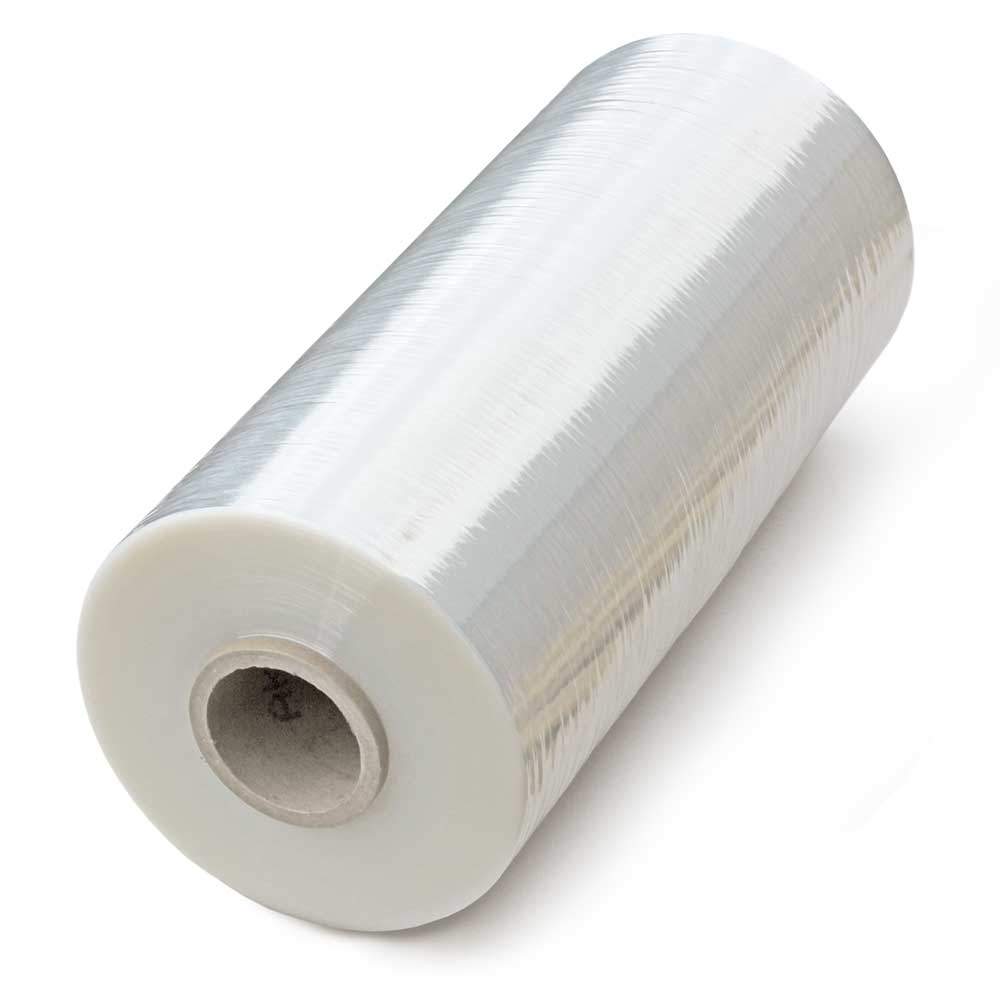 500mm x 20mu Standard Stretch Cast Machine Pallet Stretch Film (includes PPTax at £2.87/roll)
A 20mu recyclable machine pallet wrap film for use on standard stretch pallet wrappers. This recyclable stretch film is manufactured on machine reels from a high quality recyclable LLDPE film on compostable cores.
20mu Cast Machine Pallet Wrap
A 20mu cast LLDPE machine pallet wrap for use in most standard stretch pallet wrapper brands on the market. Our standard stretch 20mu stretch film can be used on any adjustable stretch pallet wrapper up to 150% stretch. This means the film will stretch up to 1.5 times it original size at the same width, and is a similar stretch wrap as is used on hand rolls. Manufactured from recyclable plastic stretch film on compostable cores makes this an eco-conscious choice for lowering environmental impact.
20mu Cast Machine Pallet Wrap Key Features:
 - 150% stretch for film yield up to 1.5 times
 - Will fit most standard stretch pallet wrapping machines
 - Manufactured with recyclable LLDPE film on biodegradable cores
 - High quality puncture resistant film for awkward pallet shapes
Bulk Buy Pricing on 20mu Cast Machine Stretch Wrap
20mu cast machine stretch wrap is available to buy in bulk pallet quantities for those looking for wholesale rates. We import pallet stretch film so are a very competitive source for large quantities.
Frequently Asked Questions on 20mu Cast Machine Film
The following questions about 20mu cast machine rolls are regularly asked by our customers, if you have any other questions please get in touch with our machine wrap team on 02476 611234 or email sales@datecpackaging.com.
How do I know if I have a standard stretch machine?
If your machine has just 1 grippy roller (rollers with a rubber or other grippy surface) in the stretching head then it's likely you have a standard stretch machine. In addition there will be a tension control knob on the top of the stretch unit, or a stretch tension dial on the control panel. This adjustable stretch allows you to set the stretching amount to suit the film.
20mu Cast Machine Pallet Wrap Specification
Product Code: 5265
Wrap Dimensions: 500mm x 20mu x 1750m
Width: 500mm
Thickness: 20mu
Length: 1750m (approx)
Material: Cast LLDPE
Weight of Roll: 16 kg
Finish: Clear - one side cling
Quantity per Pallet: 46 rolls per pallet
Eco-Conscious Score: 3/5
 - Recyclable: Yes
 - Biodegradable: No
 - Sustainable Materials: Yes (recyclable film)
 - Plastic Free: No
 - Reduced Carbon Footprint: Yes (thinner but stronger)