500mm x 23mu Power Stretch 250% Cast Machine Pallet Stretch Film 30% Recycled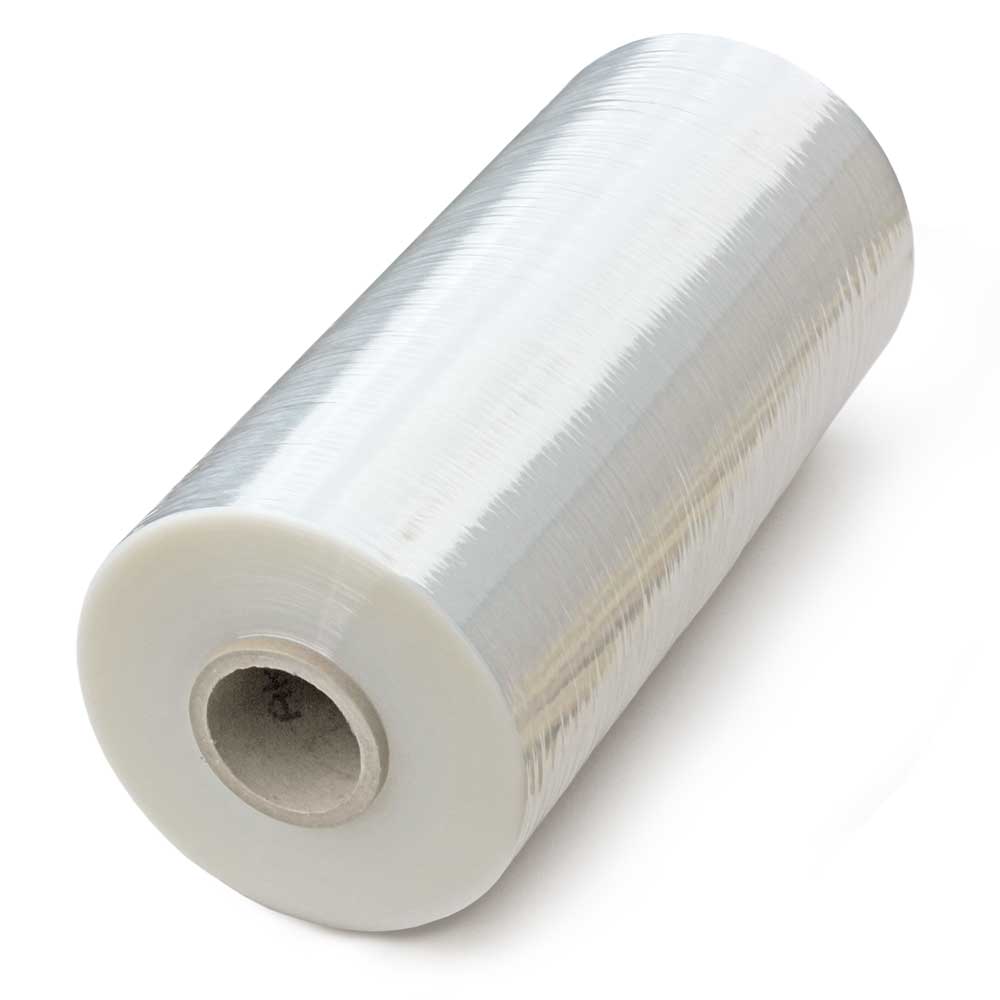 500mm x 23mu Power Stretch 250% Cast Machine Pallet Stretch Film 30% Recycled
A 23mu machine pallet wrap for use in power prestretch machines up to 250% power stretch.
23mu Machine Pallet Wrap 250% Stretch
Power prestretch machine pallet wrap, also known as powered pre-stretch pallet wrap, is a type of stretch film specifically designed to be used with pallet wrapping machines. It is an advanced and efficient packaging solution for securing and stabilizing palletized loads during transportation and storage. It is a high performance 23mu machine pallet wrap that will power stretch up to 250%. This film can use used on any adjustable stretch pallet wrapping machines that stretch up to 250%, or on fixed power prestretching machines that are geared to 250% stretch. Power prestretch film has a special additive that allows the plastic film to stretch up to 2.5 times its original length while keeping the same width. This power stretching ability makes this film much more cost effective than a standard stretch film, allowing for reduced plastic usage on each pallet.
Our 250% power prestretch film is manufactured from a recyclable LLDPE material and is wound onto biodegradable and compostable cores. This, along with its reduced carbon footprint and up to half the plastic usage on each wrapped pallet, makes it one of the most eco-conscious wrapping films available.
Key features and benefits of power prestretch machine pallet wrap:
Pre-Stretching Technology: Power prestretch machine pallet wrap utilizes advanced pre-stretching technology within the pallet wrapping machine. This technology stretches the film before applying it to the load, allowing for greater film elongation and reducing the overall consumption of stretch film.

Cost-Effective: The pre-stretching process leads to film savings, making power prestretch machine pallet wrap a cost-effective option in the long run. Less film is required to wrap each pallet, resulting in reduced material costs and fewer film roll changes during wrapping operations.

Increased Load Stability: Power prestretch machine pallet wrap provides excellent load containment and stability, ensuring that the contents of the pallet remain tightly bound together during transportation. This minimizes the risk of shifting, sliding, or toppling, reducing the chances of product damage and potential safety hazards.

Uniform Film Distribution: The pre-stretching process ensures an even and consistent distribution of the film across the load, resulting in uniform tension and improved load integrity.

Improved Productivity: Pallet wrapping machines equipped with power prestretch capabilities can wrap pallets more quickly and efficiently compared to manual wrapping methods. This improves productivity and streamlines packaging operations, especially in high-volume warehouses or distribution centers.

Operator-Friendly: Power prestretch machine pallet wrap is user-friendly and requires minimal operator effort. The machine automates the wrapping process, reducing physical strain and fatigue for operators.

Load Visibility: Power prestretch machine pallet wrap is available in various film thicknesses and transparency levels. Some versions are clear, providing good load visibility for barcode scanning and inventory management.
Power prestretch machine pallet wrap is widely used across industries where efficient and secure pallet wrapping is crucial. Its ability to save on film usage, improve load stability, and enhance wrapping speed makes it a popular choice for businesses seeking cost-effective and reliable pallet packaging solutions.
23mu Machine Pallet Wrap Key Features:
 250% Power Prestretch for film yield up to 2.5 times
 Will fit most power prestretching pallet wrapping machines
 Manufactured with recyclable LLDPE film on biodegradable cores
 High quality puncture resistant film for awkward pallet shapes
Bulk Buy Pricing on 23mu Machine Stretch Wrap
23mu machine stretch wrap film is available to buy in bulk pallet quantities for those looking for wholesale rates. We import pallet stretch film so are a very competitive source for large quantities.
Frequently Asked Questions on 23mu Power Stretch Machine Film
The following questions about 23mu power stretch machine rolls are regularly asked by our customers, if you have any other questions please get in touch with our machine wrap team on
02476 611234
or email sales@datecpackaging.com.
How do I know if I have a 250% power prestretch machine?
If your machine has 2 or 3 grippy rollers (rollers with a rubber or other grippy surface) in the stretching head then it's likely you have a power stretch machine. In addition to the grippy rollers there will be a pre-stretching knob, dial, or setting on the control panel. This adjustable pre-stretch option allows you to set the prestretch level to suit the film.

23mu Machine Pallet Wrap Specification
Product Code: 5238
Wrap Dimensions: 500mm x 23mu
Width: 500mm
Thickness: 23mu
Length: 1500m (approx)
Material: Cast LLDPE
Weight of Roll: 16 kg
Finish: Clear - one side cling
Quantity per Pallet: 46 rolls per pallet
Eco-Conscious Score: 3/5
 - Recyclable: Yes
 - Biodegradable: No
 - Sustainable Materials: Yes (recyclable film)
 - Plastic Free: No
 - Reduced Carbon Footprint: Yes (thinner but stronger)