400mm x 300m Super 20 Megastretch Plus Cast Pallet Wrap Ex Core (includes PPTax at 37.6p/roll)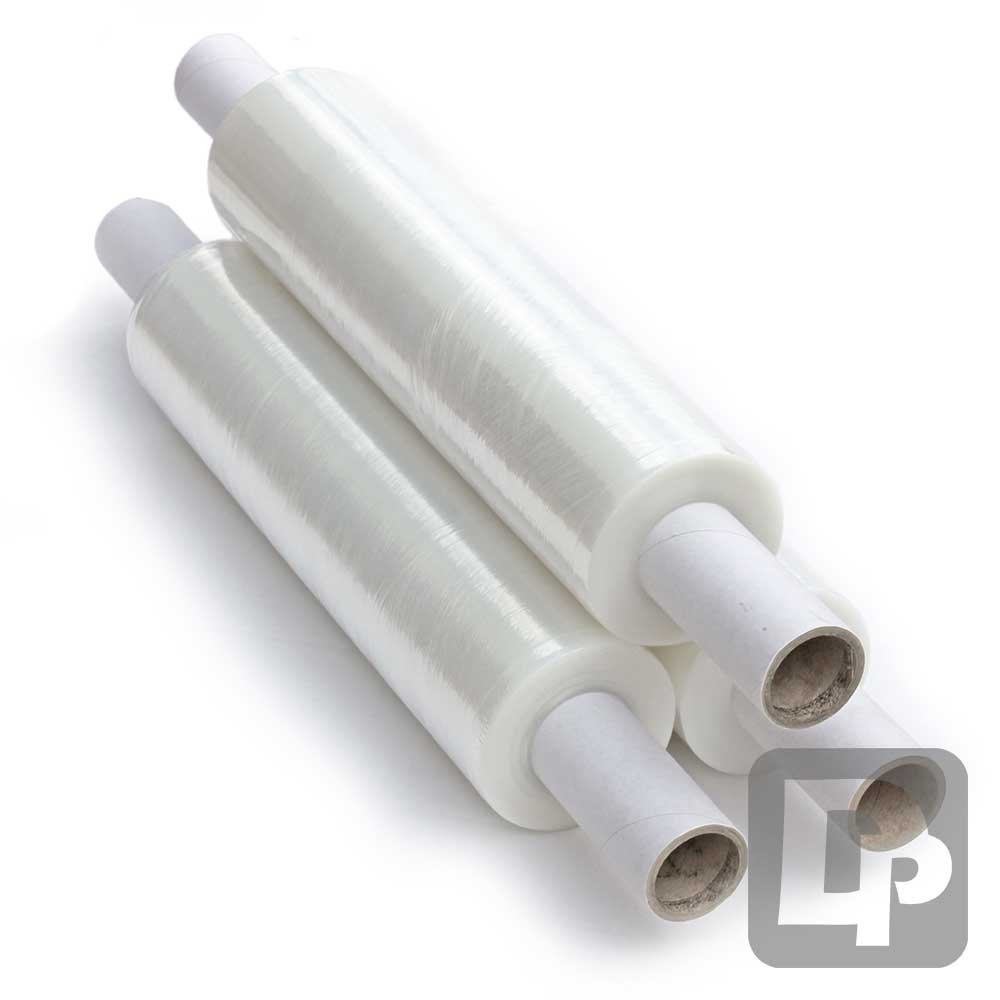 400mm x 300m Super 20 Megastretch Plus Cast Pallet Wrap Ex Core (includes PPTax at 37.6p/roll)
A heavy duty 20mu performance stretch film for wrapping all types of pallets. A premium quality allrounder pallet wrap.
20mu Pallet Wrap
Our 20mu performance pallet stretch wrap is a heavy duty stretch wrap designed for pallets that have sharp corners and irregular shaped loads. Irregular loads can puncture stretch film causing it to tear when wrapping so our 20mu performance pallet wrap is beefed up to tackle those tricky corners. This pallet stretch wrap is suitable for all but the heaviest pallets and sharpest corners and is a great stretch wrap to have on your shelf when our general purpose stretch wrapping product isn't quite good enough. Super 20 pallet wrap is manufactured from recyclable LLDPE which includes 30%+ recycled plastic making it a very eco-conscious choice for those looking to cut the environmental impact. It also boasts reduced carbon footprint thanks to its thinner but stronger film, and has extended biodegradable cores which act as handles for ease of use without needing a dispenser.
20mu Pallet Wrap Key Features:
 - Heavy duty 20mu performance
 - Can be used for wrapping all but the most difficult pallets
 - Recyclable and low carbon footprint film
 - Contains 30%+ recycled plastic
 - Biodegradable extended core handles for easy wrapping without a dispenser
 - A premium quality wrapping solution
Bulk Buy Pricing on 20mu Stretch Wrap
20mu stretch film is available to buy in bulk pallet quantities for those looking for wholesale rates. We import pallet stretch film so are a very competitive source for large quantities.
20mu Pallet Wrap Specification
Product Code: 447X
Wrap Dimensions: 400mm x 300m x 20mu (eqv)
Width: 400mm
Thickness eqv: 20mu
Length: 300m
Material: Cast LLDPE
Weight of Roll: 1.89 kg
Finish: Clear - one side cling
Quantity per Box: 6 Rolls
Quantity per Pallet: 270 rolls (45 boxes)
Eco-Conscious Score: 3/5
 - Recyclable: Yes
 - Biodegradable: No
 - Sustainable Materials: Yes (contains 30%+recycled plastic)
 - Plastic Free: No
 - Reduced Carbon Footprint: Yes (thinner but stronger)