400mm x 300m Super 17 Megastretch Plus Cast Pallet Wrap Ex Core (includes PPTax at 28.8p/roll)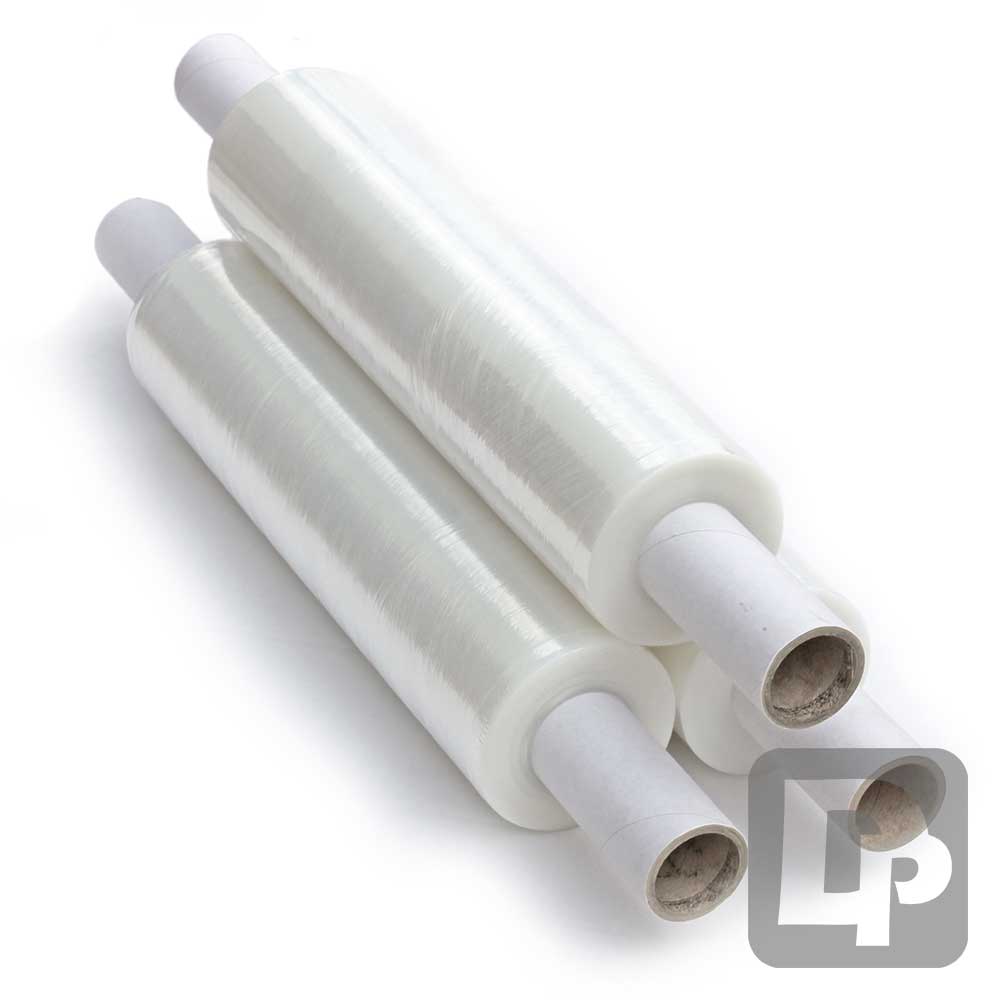 400mm x 300m Super 17 Megastretch Plus Cast Pallet Wrap Ex Core (includes PPTax at 28.8p/roll)
A general purpose 17mu performance stretch film for wrapping regular pallets.
17mu Pallet Wrap
A good quality 17mu performance pallet wrap for general purpose stretch wrapping of regular pallets. Our general purpose stretch wrap is great for wrapping regular shaped pallets and other large items such as cabinets. It is a low cost alternative to our thicker stretch films but still strong enough to wrap most pallet types. The thinner film is easier to stretch making it easier to wrap pallets and reduces fatigue while wrapping pallets.
Our stretch wrap film is manufactured from recyclable LLDPE with a high performance additive allowing reduced thickness for the same performance. This special film formulation means a reduced plastic usage, reduced carbon footprint, and gives a plastic film that is readily recyclable in most kerbside recycling schemes.
17mu Pallet Wrap Key Features:
 - General purpose 17mu performance
 - Can be used for wrapping most regular pallets
 - Recyclable and low carbon footprint film
 - Extended core handles for easy wrapping without a dispenser
 - A low cost wrapping solution
Bulk Buy Pricing on 17mu Stretch Wrap
17mu stretch film is available to buy in bulk pallet quantities for those looking for wholesale rates. We import pallet stretch film so are a very competitive source for large quantities.
17mu Pallet Wrap Specification
Product Code: 427X
Wrap Dimensions: 400mm x 300m x 17mu (eqv)
Width: 400mm
Thickness eqv: 17mu
Length: 300m
Material: Cast LLDPE
Weight of Roll: 1.44 kg
Finish: Clear - one side cling
Quantity per Box: 6 Rolls
Quantity per Pallet: 270 rolls (45 boxes)
Eco-Conscious Score: 3/5
 - Recyclable: Yes
 - Biodegradable: No
 - Sustainable Materials: Yes (recyclable plastic)
 - Plastic Free: No
 - Reduced Carbon Footprint: Yes (thinner but stronger)