​Envosafe B/00 120mm x 215mm White Protect (Box of 200)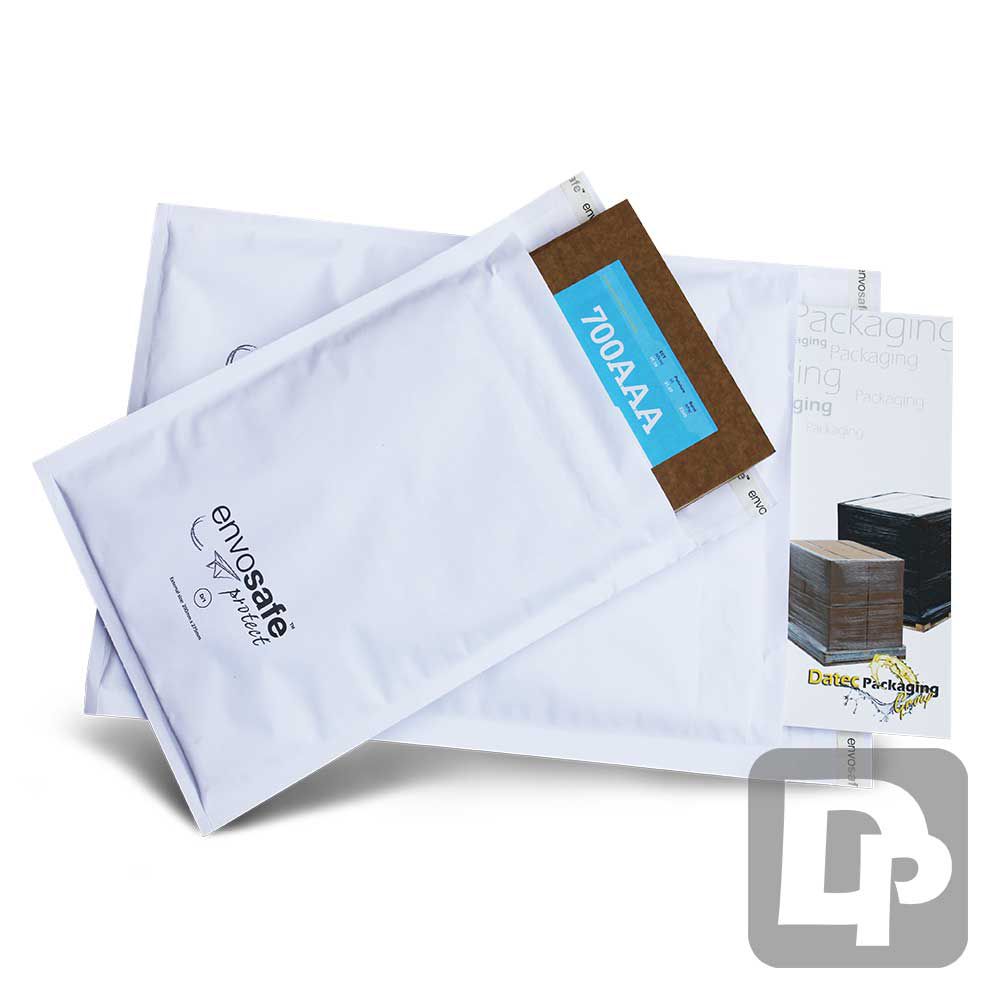 ​Envosafe B/00 120mm x 215mm White Protect (Box of 200)
A small mailer with bubble padding for posting items up to 120mm x 215mm in size. Great for packing and sending small items, the inner padding coupled with the strong paper mailer gives a reliable and popular mailing bag.
Embrace Safe and Secure Shipping with Small 120mm x 215mm White Bubble Mailers
In today's fast-paced world, efficient and reliable shipping solutions are essential for businesses and individuals alike. When it comes to protecting your items during transit, small 120mm x 215mm white bubble mailers offer a compact yet powerful packaging option. In this article, we explore the features, benefits, and diverse applications of these white bubble mailers, showcasing why they are the perfect choice for safeguarding your valuable contents.
Features and Specifications:
Small 120mm x 215mm white bubble mailers are designed with attention to detail, focusing on the balance between size and protection. Measuring at 120mm x 215mm, these mailers are compact enough to accommodate small items while providing ample space for various contents. The exterior is made from durable, tear-resistant white paper, giving the mailer its clean and professional appearance.
The key feature of these bubble mailers lies within the interior. The mailers are lined with a layer of bubble wrap, creating a cushioned barrier that protects against impact, shocks, and potential damage. This bubble padding ensures that even fragile items reach their destination intact and undamaged.
Benefits and Advantages:
Optimal Protection: The bubble-lined interior of these white mailers guarantees exceptional protection for delicate and valuable items. Whether it's jewelry, electronics, cosmetics, or small keepsakes, the bubble padding shields the contents from potential harm during shipping.
Cost-Effective Shipping: Small B/00 white bubble lined bags offer a cost-efficient shipping solution. Their lightweight construction reduces shipping costs while maintaining a high level of protection, making them an economical choice for businesses and individuals.
Versatility: These mailers cater to a wide range of products, making them a versatile packaging option for various industries. From e-commerce businesses shipping small items to crafters and sellers dispatching handmade goods, these mailers securely accommodate diverse contents.
User-Friendly Design: Equipped with a peel-and-seal strip, these small bubble mailers ensure convenient and hassle-free closure. The peel-and-seal feature eliminates the need for additional adhesives or tape, streamlining the packaging process.
Professional Appearance: The clean, white exterior of these bubble mailers presents a professional and sophisticated image. This makes them an ideal choice for businesses that value brand presentation and want to leave a positive impression on their customers.
Eco-Friendly Options: To address environmental concerns, many manufacturers offer eco-friendly versions of these white bubble lined bags. These options utilize recycled materials for the outer layer and eco-friendly bubble wrap alternatives for the padding, providing a greener packaging solution.
Applications:
E-commerce Shipping: Online retailers widely use small 120mm x 215mm white bubble mailers to ship a variety of small products, ensuring their safe arrival to customers' doorsteps.
Stationery and Small Office Items: Businesses that sell stationery, small office supplies, or tech gadgets benefit from using these bubble mailers for efficient and secure shipping.
Crafters and Artisans: Artists, crafters, and creators rely on these bubble mailers to send their handmade crafts, artwork, and personalized gifts to customers, galleries, or exhibitions.
Personal Use: For individuals, these white bubble mailers are perfect for sending gifts, greeting cards, or small sentimental items to friends and family, adding an extra layer of care and protection.
In conclusion, small 120mm x 215mm white bubble mailers offer an unbeatable combination of size, protection, and versatility. Their ability to safeguard delicate items, cost-effectiveness, and potential for eco-friendliness make them a top choice for businesses and individuals alike. Whether you run an online store or need to send a thoughtful gift, trust in the reliability and security of small 120mm x 215mm white bubble lined bags to ensure your items arrive in pristine condition.